Academy of Art University
Animation
79 New Montgomery St., San Francisco, CA 94105
Claim Listing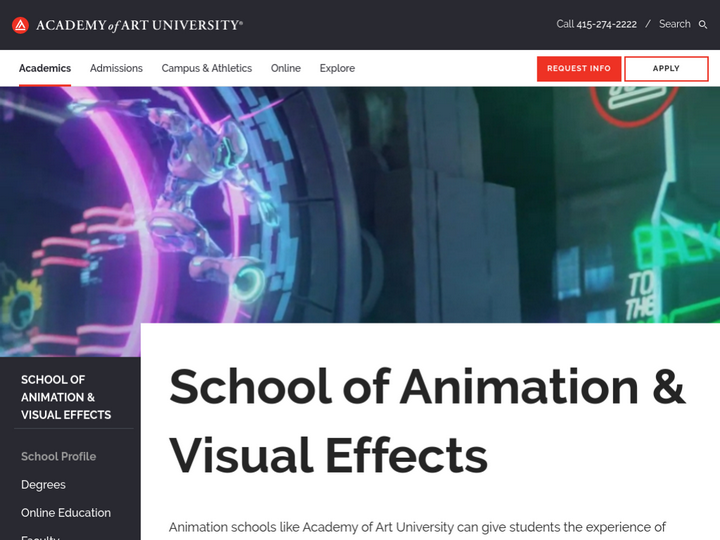 Company Description
For nearly 90 years, artists and designers have called Academy of Art University their home. Founded in San Francisco and family owned since 1929, it is the largest private art and design university in the nation.
Review & Rating

Hello everyone, my name is Breana! I am a current student at AAU. I was wondering if I could get some help on finding a place to get my sculpture casted for a reasonable price! I did this sculpture in my Ecorche class at Academy of Art in my online course, and really love how it turned out. I made it about a year and a half ago and have had no luck finding a place to cast it into a more permanent material. Now I'm starting to see it forming cracks, I don't think it will last another summer, and it's breaking my heart. I put so much work into this piece. If anyone has any information on where I could get this done I would greatly appreciate it! My sculpture is about 31x13x4 inches and is made from oil based clay. I'm located in San Andreas CA, but am willing to travel as far as 4 hours to get this done.

If you're looking to be pushed and built into a success within your field, AAU is for you! Just make sure you're extremely dedicated and willing to work for your dream and you'll do well. With amazing professors who currently work in their industry, you'll get industry knowledge, all while learning to appreciate the minor details!

I love this school I've been trying for 4yrs to get into a school and I was about to give up when I remembered I had inquired about AAU a while ago and looked back into it. I am so happy to be attending this school online there classes are great and I've loved my instructors so far and can't wait to graduate in a few years. This school saved my dreams from being forgotten.

It's a really good school, you have to be dedicated to do well and get good marks. It's not easy (as everything shouldn't be that easy), it's challenging and you have to put in the work. The professors are good, although some were better than others. I'm a fashion design major and although I've noticed that I became a better designer and my work has grown A LOT, I still have a long way to go and I really am excited for this semester to help me. BUT, the only problem I have and the reason why it's three stars...it's so expensive, like I want to graduate but the cost is way to much and I could only afford a certain amount of classes at a time. It's just crazy!

Consider going to another school, don't take my word for it look it up and other places outside of AAU pages. Look it up on yelp and google, their score is 2 out of 5 stars and all the complaints are similar.

Horrible service...signed my daughter up for the virtual open house today but never received any information on where to watch or anything!! Called the schol numerous times and nobody could give me ANY information on the event. They even tried several extensions and could not even reach ANY staff involved in the event. And I am supposed to entrust this school with my daughters education. If they can't even manage an online event properly? Very disappointed. As someone who has worked in film for over 20 years, I expected more professionalism from an institution like this..

wasted my time for the past two months telling me that to finish my associates degree was going to cost roughly about 24,000$/ year. then all of the sudden i am getting told 15 days before that it is going cost 83,000$ to finish my degree for the next 2 years. no one should have to pay that much. ridiculous.

We are very excited about our son's opportunities after visiting ArtU. I am a mom, and I get all choked up about the thought of our son leaving for school...but not after this visit. I believe this is a fantastic place for our son's next step in life and beyond.

The best art training ever but that also translates to the toughest. If you want to go here I won't tell you "yes" or "no", instead I'll say "Only if you're willing to give it 110% of your effort." Even students who come in with high levels of skill are challenged by the first semester foundations classes.

This is a good school of you are willing to work for it. People keep talking about the low graduation rate, and that's because it's 100% acceptance rate for undergrad. So of course graduation rate will be low. The Graduate program for art history is great. The professors are in constant communication with me, and I've learned a lot about my field. It's not for someone thinking they can pass it on a whim. I have not had a problem with my recruiters or financial aid either, and they have been accommodating. Over all,good school. But again. Really depends on your mentality going in.

Opening Hours
Mon

Closed

Tue

5:00 pm - 9:00 pm

Wed

Closed

Thu

5:00 pm - 9:00 pm

Fri

Closed

Sat

Closed

Sun

Closed
Authorize your self with either of these to view contact details, your information will not be shared to any one
Newsletter Subscription for Virtuous Reviews LLP
One more step and you will be subscribed to our newsletters
We have sent you a verification mail on your email id, please verify it.