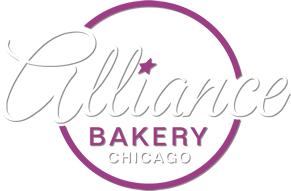 Alliance Bakery
#95 in USA
#41 in Chicago
Delis
1736 W. Division Street, Chicago, IL 60622
Claim Listing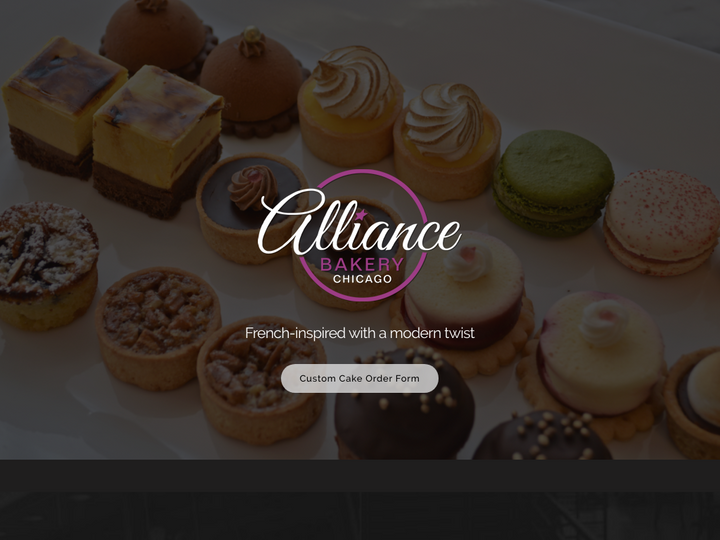 Company Description
CARBA Regional Cake Decorating Competition 2012: 1st Place Overall Grand Prize, 1st Place Wedding Cake Category, 2nd Place 2D/3D Cake, 3rd Place 10″ Fondant Cake Category Pillsbury National Cake Decorating Competition 2011: 3rd Place overall, 1st Place 2D/3D Cake Category, 1st Place Fondant Cakes, 2nd Place Wedding Cake Category
Review & Rating

Amazing local bakery w wonderful and friendly staff. Limited vegan options that are so good they usually sell out! =(

I came around 2 pm and the line is light. We had the almond croissant and the morning bun. I had tried thousands of croissants and this almond croissant is the greatest and best one I have ever had! Highly highly recommend! You won't forget its elegance!

Could not be happier - I reached out to Alliance for a custom cake for my husband's birthday and they killed it. I asked for a heavy-metal themed cake and gave them some of his favorite band names. They sent me a drawing, complete with a skeleton playing a guitar (awesome on it's own), and when I asked if they could make it look like Dime Bag's guitar, they said yes! I was blown away by what they created and everyone at the party was clamoring to get a picture with the cake. There were band names all around the sides and a picture of Ozzy, plus it was carrot cake - incredibly delicious. This cake made my husband's night!

Got 2 of their chocolate flavors. Their butter cream was a tad bit on the sweeter side. Very average tasting, nothing to special about it. The butter cream was a little grainy and the cake was good and moist but not a place I would visit again. Just a very average place with nothing really special atleast for chocolate desserts.

I hired Alliance Bakery to make our wedding cake for our October 2018 wedding. My now husband and I live in Phoenix, so we communicated with them through email. A few days prior to our wedding one of their employees emailed us stating that they had never received our check for our cake. I doubled checked my account and the check had cleared. I contacted them via phone and they said they never received it and they would need it ASAP in order to guarantee our cake. Shocked, I contacted my bank and they said the check was mailed weeks ago and cleared through our bill pay account. The employee at Alliance said that we would have to write another check. Stressed of course to find this out only a few days before we come to Chicago to get married. It turns out after they checked their books that they indeed did receive our check and had already cashed it. For all the stress and inconvenience we were promised a replica of our wedding cake top tier and a box of macaroons for our first anniversary. I was happy that the problem was resolved or at least I thought it was. When we accepted their offer, they told us that we would have to come and pick up the cake for our first wedding anniversary. Well, we live in Phoenix, and I don't know how that possible and Alliance Bakery was well informed that was the case. Then an employee of Alliance Bakery informed us that they would take care of it and would send us our cake for our anniversary. I sent a reminder email to check up to ensure that we would have our cake for our first wedding anniversary and now the owner, Peter is saying that they could give us a gift card because they don't have the capabilities to ship a cake overnight. As a business owner there is ZERO excuse that they are not fulfilling their mistakes to begin with. Peter sent an email saying it cost $100 to ship overnight, etc. I don't care how much it cost, as Alliance Bakery was in the wrong and now they are going back on their word. So now, my husband and I won't be celebrating our first anniversary as I had envisioned. The entire experience with them had been not only a major disappointment, but a major F U we received from Chef Peter.

amazing desserts, if you want to eat something different and with good taste. I recommend this place. I love pastries like key lime tart, rose is woooo and passion fruit flavor pastries . I can't suggest one because I love everything .

I had ordered an anniversary cake from this place. Simple sponge cake with raspberry filling and rose-raspberry buttercream frosting piped in rosettes. The cake was beautifully made with a perfect balance of flavor! The staff in the store even stayed some extra time after the closing time since I couldn't reach the place before. A little on the expensive side, but worth it.

Alliance is an amazing place to get your sweets. This was one of the first bakeries that we went to when we moved to Chicago, Delicious deserts and croissants! You will not be disappointed in the menu and service. They have a separate seating area which is nice and quiet. You can sit and enjoy your dessert. Recommended by locals. Services was exceptional

The customer service was excellent!! Very, very nice but the cupcakes were very dry. I ordered 4 of them and they were not to good.

I love coming into this local bakery for macaroons and to buy my partner a cupcake or something else delicious. They always have a fun display that shows off their creative cake decorating expertise.

Opening Hours
Mon

Closed

Tue

5:00 pm - 9:00 pm

Wed

Closed

Thu

5:00 pm - 9:00 pm

Fri

Closed

Sat

Closed

Sun

Closed
People Also View
Authorize your self with either of these to view contact details, your information will not be shared to any one
Newsletter Subscription for Virtuous Reviews LLP
One more step and you will be subscribed to our newsletters
We have sent you a verification mail on your email id, please verify it.