Aunt Jenny's Catfish Restaurant
Posted in :
Claim Listing
1217 Washington Ave, Ocean Springs, MS 39565 USA
(+1) 228-875-9201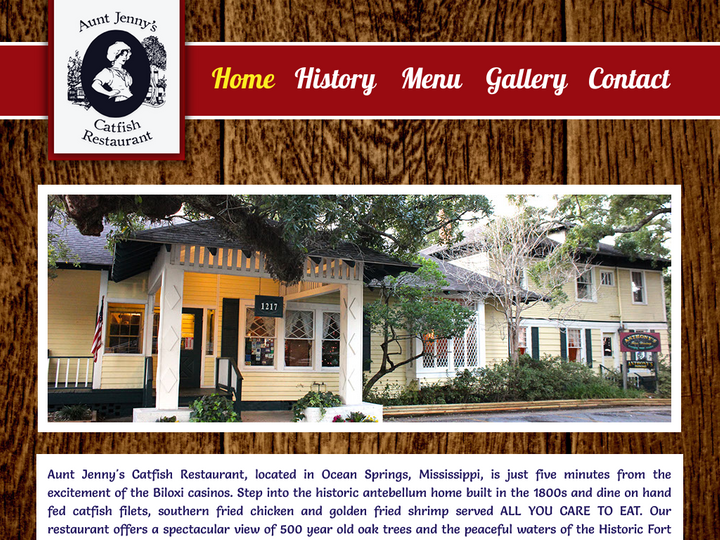 Opening Hours
Mon

Closed

Tue

5:00 pm - 9:00 pm

Wed

Closed

Thu

5:00 pm - 9:00 pm

Fri

Closed

Sat

Closed

Sun

Closed
Company Description
Years ago before the white man came, Ocean Springs was called "E-ca-ma-cha-ha," which means the "Holy Ground." From all the surrounding areas, the Indians came to drink of the water of the Great Spirit. They knew of its Curative Powers.
Review & Rating

Fresh seafood made to order. All you can eat with complimentary fresh baked biscuits and family style coleslaw. Feels like you're at a family dinner.

Down in Mississippi there's an old white house down by the river, under the bridge, near the fishery where you can get a huge helping of catfish, biscuits, and hush puppies that will make you want to slap your mama. A big bucket of coleslaw is set in the middle of the table for everyone to share. The catfish is amazing, breaded just enough to give you that crunch as your first bite into it, and then that juicy meat steals the show with flavor catfish has no right to have, and the perfect level of tenderness. The staff is the very picture of southern hospitality. No visit to Mississippi is complete without visiting Aunt Jenny!

Last night 12/19/19, service was good. Food cold & seemed to be reheated. 3 of the 5 of us that had the catfish got sick! We won't be back!

This is a historical restaurant in every sense of the word. Beautiful view. Antique furniture. Super friendly staff. Large portions of delicious catfish, shrimp, or chicken. Free delicious biscuits and coleslaw(as much as you want). You can get baked ham or fries with your entree.

Waitress was an air head or not trained can't give you her name because she didn't introduce herself and noname tag.she didn't know the menu ordered drinks and the bar was closed only draft beer ok had 1 and it was warm. I ordered fried chicken she comes back and said would be 15 minutes said that was ok. Took 30 minutes over cooked and the baked sweet potato was cold it wouldn't melt fake butter that was on the table when we arrived. 2nd time we had been there but never again. I wish it had been better a waist of money. Oh and waitress assumed we were on one check which wasn't what we wanted

This place was amazing. The catfish was crisp and juicy, and so fresh! The accompaniments were also tasty and the drinks downstairs were a great way to end the night! Staff at the restaurant and the Julep Room were courteous, friendly, and quick to serve. I'd definitely recommend and can't wait to visit Biloxi and stop in again! Cheers!

Delicious Mississippi catfish and shrimp served family style in a historic circa 1856 hotel. The rumors of ghostly apparitions and the fact that my daughter is a server only a few of the reasons it's one of our favorite restaurants in beautiful Ocean Springs.

I like the setting of this place on the water. The building is quaint and very old but lacks a descent pest control looking at all the spider webs in the corners as we walked to our seats in the back. They brought out biscuits and jelly which are rather tasty and the coleslaw although it has a nice crisp texture it lacks any real flavor. I ordered the fried chicken and the breading is average and the fries are the same. I tried my wife's fried catfish and father-in-law's shrimp creole and thought the catfish was average and the creole not good at all. The service here is phenomenal, friendly and efficient. This is my 2nd visit here with family and I personally don't feel it's that great but my wife seems to like it.

The room we were in had 3 other couples and no background music so was really quiet. The coleslaw came in a bucket and had too much juice in it and was bland. The shrimp was overdone and the chicken, which somehow I thought would be tenders, but was whole pieces, was greasy. Catfish though was good so might would try that again. Wouldn't order chicken though or slaw. When leaving the girl asked how everything was and I mentioned barely ok. She didn't care to even all what was wrong.

Food was awesome. Service was awesome. Great prices. Great atmosphere. Keep up the good work you guys.😍😍😍

Service was excellent. 5 stars for that. Food not so much. Most of it was fried hard. All of us had digestive issues from the food. Wish I could say otherwise but it was pretty bad. Atmosphere was nice.

Oh man! We just moved to Ocean Springs. Aunt Jenny's is just up Washington Ave from us. Fried catfish fillets, fried shrimp, and fried chicken. They also have some specialty dishes. They have multiple price choices including "all you can eat". The food was fantastic! Even the fries were delicious. Wine is available. My wife and I agreed. Aunt Jennie's will be our go to place here in Ocean Springs!

Newsletter Subscription for Virtuous Reviews LLP
One more step and you will be subscribed to our newsletters
We have sent you a verification mail on your email id, please verify it.