Brenau University
#90 in USA
#48 in Atlanta
MBA
3139 Campus Drive Suite 300, Norcross, Georgia 30071
Claim Listing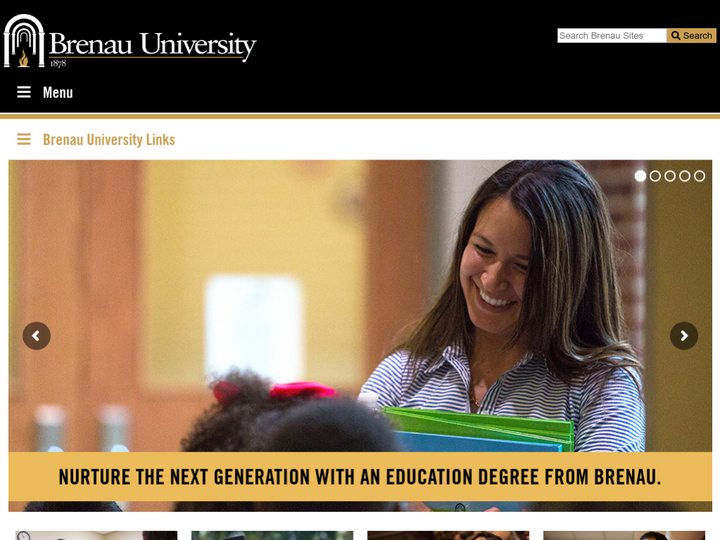 Company Description
Not just excellent — extraordinary. At Brenau, this is education: Using your language skills to translate scientific research from a foreign language to complete a biology experiment; learning dance by participating and performing with a professional company; researching zoology, speaking Spanish and studying Mayan culture deep in the Yucatan forest.
Review & Rating

Brenau University's tremendous Professors inspired me as I earned my Masters Degree in the Department of Education. They motivated me to want to learn more. Congratulations to Brenau's present day Professors and Administrators for your numerous Awards and rapid growth as an Educational Leader in South East USA. Dr. Helen T. Fish-Lacey

I graduated from The Women's College in 1983. There is not enough space here to tell you all the gifts I gained from my four years. It is so much more than what happens in the classroom. I entered as a 17 year old child and left as a changed young woman. The friendships I made have continued throughout my whole life. We are now on several continents but we learned the world is a small place. My sister followed me to graduate in 1989, my cousin in 2016 and now my sister's daughter. I thank Brenau for opening my eyes, changing my heart, and helping shape me into who I am today.

This is a very good private school. I am proud to be a part of this outstanding institution. The professors and staff are great to work with and I had 4 years of a great educational and learning experience. Thank you. GO TIGERS!

Privileged to hear eight very talented singers at the Lanier ladies club meeting today. They were exceptional, talented, and a real Christmas gift.

I loved going to Brenau and will always consider it one of the best decisions that I made in my life. I achieved many personal goals as well as academic goals. If I had it to do all over again I would. No regrets at all. The professors were/are amazing and always challenging you to reach higher and go beyond your comfort zone. I could go on and on but it's more than an education. It's a ladder or pathway to success in life.

I gave it 4 stars because. . .tuition goes up every year and the finance department is very aggressive with getting your balance cleared. However, Brenau was the BEST decision I've ever made. I am entering my senior year here, and I can say that Brenau has transformed me from a shy and uncertain girl, to a strong, wise, vibrant leading lady. Every class I've taken at this school, on campus and online, has taught me so much. Each class is very hands on, and the professors do everything they can to make sure you do well in their class. The academics are very dated. I have applied everything I've learned thus far to real life situations.

I want to update my review. As a woman who works in business, I know mistakes happen and quite often unfortunately. However, I believe the measure of a person (or in this case, school) is based on how they handle those mistakes. Brenau owed their mistakes and is fixing them. It was such a relief to feel like my voice was finally heard and know there are people to support and guide my academic career. Has it been an easy road? No, which is why I did not give them a 5 but moving forward, I'm confident that the online students will get the support they need. Despite the issues I've had, the classes have been amazing, interesting, and informative. I've enjoyed being the non traditional student who is breaking the mold. I wouldn't say it's been a smooth ride but I can say it's been worth it so far.

I am a student in Brenau's online MBA program, and I am an active duty Soldier in the Army National Guard. I have found my experience thus far with Brenau to be nothing short of excellent. The courses are challenging, but manageable; the instructors are expert and helpful; and the support staff is, well, supportive. Also, I have found the administrators to be very sensitive to the specific challenges of military students. I would recommend Brenau to anyone interested in an online MBA, and especially to military students.

Brenau is phenomenal in my book! As a parent of a recent graduate, class of 2018, I couldn't be more proud and grateful of the education my daughter received.She was given challenges and supported at the same time to acheive her goals. Each department I'm sure is great but I can speak about the fantastic music department as that was her major. She has grown as a musician from the exposure and guidance. From the first time we step foot on campus in 2014, we knew this was the school for her. It was the right fit, with the right people,students, programs, opportunities and supports. I will forever be grateful for the four years at Brenau and would highly recommend Brenau to any young lady seeking higher education. It is a jewel of a university!

This year, the flu is almost impossible to control. So many children and healthy adults have died due to society forgetting how dangerous the flu really is. Staying away from people is the healthy and ethical thing to do. Unfortunately, Gay Hammond in the theatre dept has no ethics. They demand you show up and possibly put others in danger. What does this teach, especially for theatre? You work in small, often intimate settings in theatre. Hammond, even when being told by campus health that a person should not be on campus, still puts their own narcissistic desires and demands over the health and safety of the community.

Opening Hours
Mon

Closed

Tue

5:00 pm - 9:00 pm

Wed

Closed

Thu

5:00 pm - 9:00 pm

Fri

Closed

Sat

Closed

Sun

Closed
Authorize your self with either of these to view contact details, your information will not be shared to any one
Newsletter Subscription for Virtuous Reviews LLP
One more step and you will be subscribed to our newsletters
We have sent you a verification mail on your email id, please verify it.