Center for Bioethics & Humanities University of Colorado
Arts, Law, Languages & Teaching
13080 E. 19th Avenue, Aurora, CO 80045
Claim Listing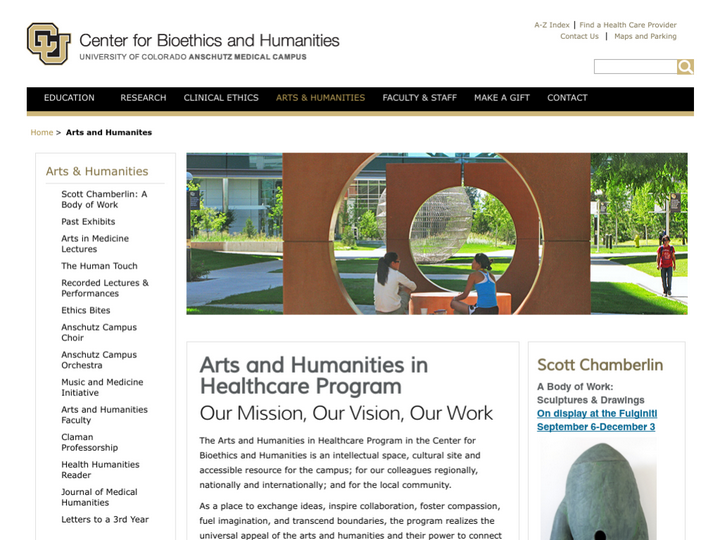 Company Description
The University of Colorado Anschutz Medical Campus is the largest academic health center in the Rocky Mountain region. The campus combines interdisciplinary teaching, research and clinical facilities to prepare the region's future health care professionals, provide the best available health care at two nationally recognized hospitals and be a national leader in life sciences research.
Review & Rating

My son attends CU and comments made by one of your professors is totally racist, disgraceful, and unprofessional! Not sure my son is at the right college that serves his interests.

It is a disgrace that you allow Michelle Herren to continue to be paid to make racist and vile comments online. How dare you keep her on staff! That's ok, like I said on UC's page, I'll get my masters elsewhere you're not getting a dime of my money.

They took great care of me here when I had my kidney transplant. One drs mistake shouldn't be the whole institutions fault. I'd gladly go there again, which I will for check ups :)

I understand Michelle is entitled to say what she wants off the clock...but when your a professional who works with all cultures you can't be racist...ijs

To allow this kind of racist rhetoric to go unchallenged is both disturbing and distressing. Your lack of action and attention contributes to the negative climate faced by people of color right now, allows this to be the voice of your institution. Racism cannot go unchecked. You must do better.

Ad a mother who has raised a doctor, I know all the hard work and sacrifice that goes into becoming a doctor. I was also present when my child took her Hippocratic Oath. First, do no harm. When you have a doctor on staff that is blatantly racist, that exhibits poor judgement and impulse control, that shows a distinct lack of respect for someone of color as well as being the First Lady of this nation, whose own character was on display for all to see, I don't see how she can avoid doing harm. How does she treat students of color? Does she see them as apes? Speaking Ebonics? Does she give them lower grades for the same work as their counterparts? Her presence at your fine institution is a stain on your reputation. Please address this with a post on this page to assure us this is being taken seriously.

Bias:cause to feel or show inclination or prejudice for or against someone or something. Now that we have that all taken care of, to continue to keep this woman employed shows that you're okay with her bias against black people. I am quite sure that if we take a look at the grades of the students she has taught that were "apes in heels", a trend would be discovered.

To allow a woman who posts an extremely bigoted post on her facebook to stay on as a staff member since very disgusting. She may have done this in her personal time but she is still a representative of you. As long as that woman is employed by you, you will set yourself up for lawsuits when she kills the people of color that she obviously dipoesnt like, but I am sure that most people will avoid your hospital like the plague.

If you are a public person, teaching or treating people then stay off public social media! This was racist and very arrogant on this Doctor's behalf and I would NOT willingly want her to treat me or teach my child! Unfortunately President-elect Trump has reopened a door that was shut tight, making some people say what has been in their hearts forever!! Fire her and keep her off the staff of any hospital for the sake of all people of color's life!!

Shame shame shame. This is rediculous. A woman named michelle herren made racial comments about the first lady and to top it off she is allowed to keep her job. She was saying the first lady spoke "ebonics." Michelle Obama is highly educated and that is a racial and ingnorant statement. Are you serious? Why is that? Allowing her to keep her job is saying it's ok to make racial slurs. So I'm assuming you're ok with that. I'm also assuming you all are racist too. What a shame. I expected professionalism from educated people, but I guess that's far fetched.

Opening Hours
Mon

Closed

Tue

5:00 pm - 9:00 pm

Wed

Closed

Thu

5:00 pm - 9:00 pm

Fri

Closed

Sat

Closed

Sun

Closed
Authorize your self with either of these to view contact details, your information will not be shared to any one
Newsletter Subscription for Virtuous Reviews LLP
One more step and you will be subscribed to our newsletters
We have sent you a verification mail on your email id, please verify it.