Chíeftaín Irish Pub & Restaurant
Bars
198 5th St, San Francisco, CA 94103, USA
Claim Listing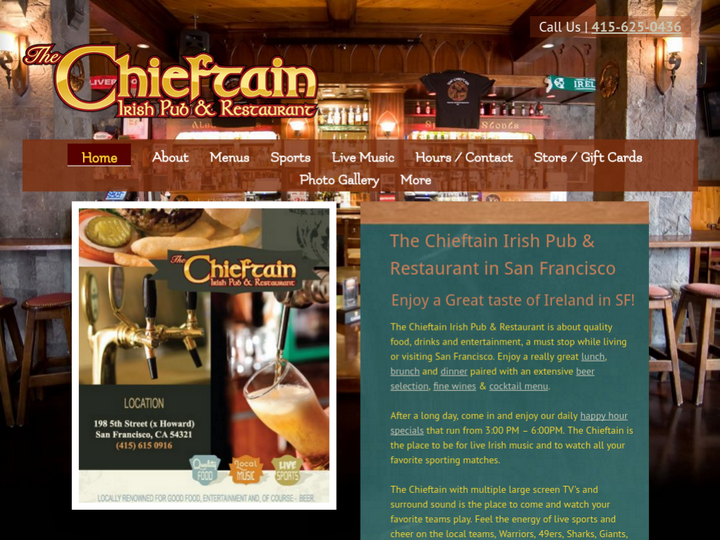 Company Description
The Chieftain is located one block from the Moscone Convention Center, and a short walk from many of downtown San Francisco's most familiar hotels, attractions, and eclectic businesses.
Review & Rating

Some of the best fish and chips I've had. Absolutely love this place.

Great place to get a ice cold big pint of Guinness. Always have a good time here. Highly recommended.

Great food and drink. Fish and chips were excellent. Staff were attentive.

Hands down the best version of an Irish pub I've been to in the United States. Food was excellent, fish and chips were cooked perfectly, and the atmosphere is authentic without feeling fake or over the top

This Irish pub is exactly what it is. Good bar tender, local friendly regular in the corner. Variety of sports playing on the T.V's. Good to down a few brews after a long day at work.

First time in San Francisco and thought I'd stop here. First thing I noticed when I walked in was the lack of service as I had to go to the waitress and ask where to sit. The service continued to go down hill from there. The waitress ignored our table, when my sister asked for a glass of water it was almost tossed on our table. My drink order was forgotten, even after the waitress checked my ID. The food was lacking. I ordered the beer battered fish with chips and it was soggy and had an overwhelming taste of soggy fish. The chips were very good. My sister ordered the beef stew and it tasted as if it came out of a can. The only good thing that was ordered was the corn beef, it was very good. I usually tip at a restaurant, especially when I have a good waitress. I left no tip on this trip, as I felt the service didn't warrant one. Towards the end we were the only patrons in the pub, but still no service was offered to us, instead the waitress' and bartender sat around chatting with each other.The waitress had the audacity to follow us outside of the restaurant and demand a tip from us, and tell us that a tip was mandatory. She pointed to the bottom of the receipt, and I pointed out that it was suggested not mandatory. She than asked if we were from there, which made no sense to me. To end if I return to San Francisco, this is one restaurant I will avoid in the future. I should have read the reviews as this seems common for this restaurant.

I went down from the Bryant Street court house an they were so accommodating with my time schedule. Good food, nice people. Their fish and chips are perfect.

I found this location by using Yelp and Foursquare for reviews because I was in San Francisco for work. When I got to this location it was very family-oriented. I'm not necessarily saying that they're a bunch of kids but it seemed like everybody was close and like they knew each other. The food was excellent and my drink was excellent so I had no complaints. I could tell though that the waitress thought that I was trying to complain about her when I asked for the manager. Little did she know I was actually asking for the manager so that way I can give her a compliment. Soo this should be a lesson for all the waiters, you never know what a person is going to say to the manager. I know most of the time it's negative but just keep on smiling and see what happens because they could be like me. They could be giving you a wonderful compliment.

We were here from out of town. Close to our hotel. The atmosphere is fun. The choices of beer is excellent. The food is outstanding! The service was truly wonderful! I highly recommend this pub.

Irish pub; I can't remember much of note other than the book binding museum had just closed (my original intent for visiting sf). Had the impossible burger, typically among the more expensive burgers on most restaurant menus, and it looked and tasted -- in terms of flavor and texture -- a lot like ground beef. Surprisingly, this is actually a negative for me, but I do recommend you trying the impossible burger at places that offer it as a vegan alternative to regular meat products. Also a couple pints of Guinness -- maybe just drink more of that. Pleasant place, good service, etc! Don't let the stars scare you.

Opening Hours
Mon

Closed

Tue

5:00 pm - 9:00 pm

Wed

Closed

Thu

5:00 pm - 9:00 pm

Fri

Closed

Sat

Closed

Sun

Closed
Authorize your self with either of these to view contact details, your information will not be shared to any one
Newsletter Subscription for Virtuous Reviews LLP
One more step and you will be subscribed to our newsletters
We have sent you a verification mail on your email id, please verify it.