Kilkenny's Irish Pub
Bars
1413 E 15th St, Tulsa, OK 74120, USA
Claim Listing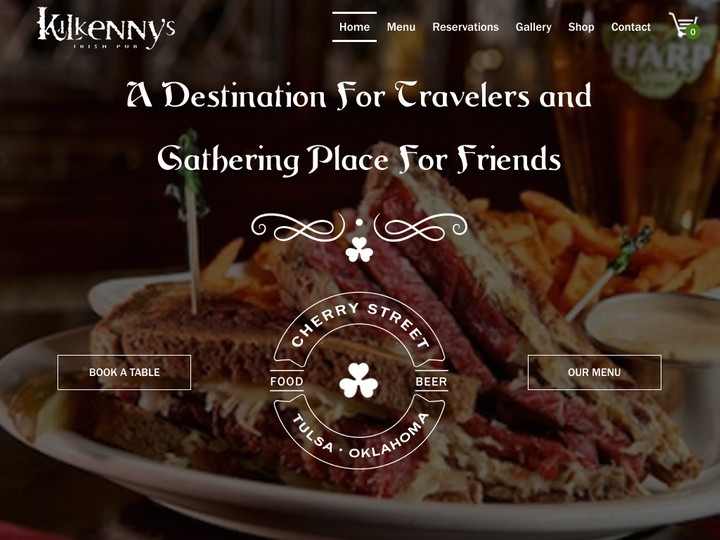 Company Description
Welcome To Tulsa's best destination for Travelers and Gathering Place For Friends. Owner Brett Rehorn brought his passion and talents together to create a unique and one of the tops of the nation rated Irish Pubs right here in Tulsa Oklahoma. With an extremely large menu and choice selection of beverages, Kilkenny has something for the whole family.
Review & Rating

If you love beer, you will love this place! I suggest the Spaten. Their food menu is a huge and really nice quality. We always have great service here. The atmosphere is cozy, and designed with small nooks instead of a large open space. If you can't find a beer that you like here, it's time to take up wine (which they also have).

The place was very quaint and cozy, even though it was quite full. Some of the downsides are of course parking (downtown is known to be quite crazy so I expected nothing less) and some of the seating can make you get closer to your neighbors than you might like. The food was great (I got the chicken pot pie which was made in a different way than I had previously known, but it was a very nice upgrade in my opinion) and 1 out of the 3 alcoholic drinks I got were very good (the other 2 were drinkable, but were nothing really special). It was a bit pricey, but definitely not overboard, just a couple dollars more than some other restaurants I have been to. Overall, I'd say its definitely a place that's worth a visit if you enjoy Irish cuisine paired with a nice selection of booze, just make sure to make a reservation before you come in if you want to be seated right away.

We drive up from Oklahoma City to have brunch here. Totally worth it! The food is authentic, service and atmosphere are impeccable! Gives you a feel of being at pub in Ireland. Which we have been.

Great atmosphere, good service. You can get half servings of lots of menu items at lunch. This time, I had a cup of potato soup, which was very good, followed by a half order of fish n chips, which was almost as good as Blue Mermaid in San Francisco. I'm also a fan of their cottage/shepherd's pie. Pull in through the alley to reach multiple small parking lots (big pickups not the best ride here).

My new favorite plate! Amazing food that doesn't stopor downsize at 9:00 like so many places, awesome people, incredible service, impressive drink selection, fun atmosphere.... I don't think you can ask for anything better FYI, I'd say it's not much for a college crowd... Your choice if that's a bonus or not. The drinks aren't college drink prices. They're better than that.

Went to brunch at Kilkennys midday on a Saturday!! Easily the best menu options I have eaten in Tulsa for brunch. It's also refreshing because items such as waffles, pancakes, french toast are not $10 like most brunch places. In fact, the pancakes were only $4. That's right, pancakes at brunch for $4. The food was amazing and the prices were very low. The service is great, the Irish coffee was excellent, and the environment is very fun. Thanks for a great time Kilkenny's. I will be coming back!

OMG! We just moved to the Tulsa area in December, and a friend of a friend suggested this quaint, AWESOME spot. We WILL be back!!! Fun menu, GREAT atmosphere! FABULOUS food with generous portions! WOW!

One of my favorite restaurants in Tulsa. I love that they have late hours on nights and weekends. The service is always very friendly and they have a very extensive menu. They are located right on Cherry Street in Tulsa near downtown. Recommended steak and Guinness pie with sweet potato fries.

Loved this restaurant! The food was light years better than the food in Ireland, and the prices were so reasonable. Other than that difference, I really felt like I was back in an Irish pub! Beautiful place, with so many fun things to look at everywhere. I can't wait to return the next time I visit Tulsa. It was my favorite restaurant in the five days I was in town! The food was so delish!

Kilkenny's Pub is absolutely the QUINTESSENTIAL Irish pub. I have been to many a pub, however aside from Scotland, Ireland and Amsterdam, Kilkenny's is by far the best I have been to Stateside. The atmosphere is as authentic as you can get, the beer selection is fantastic, but the food is PHENOMENAL ! I plan many return trips as I very much want to try everything on the menu. So far I have had the Fish & Chips ( you won't find better outside of the UK ) and the Irish Stew served in an Irish Soda bread bowl. OUTSTANDING !!! Joey was our server and he was knowledgeable of the menu, extremely courteous, and exceedingly personable. I could not possibly say enough good things about Kilkenny's Irish Pub.

Authorize your self with either of these to view contact details, your information will not be shared to any one
Newsletter Subscription for Virtuous Reviews LLP
One more step and you will be subscribed to our newsletters
We have sent you a verification mail on your email id, please verify it.