Chef Rob's Caribbean Cafe & Upscale Lounge
Restaurant
5920 ROSWELL ROAD, NE, ATLANTA, GA 30328 USA
Claim Listing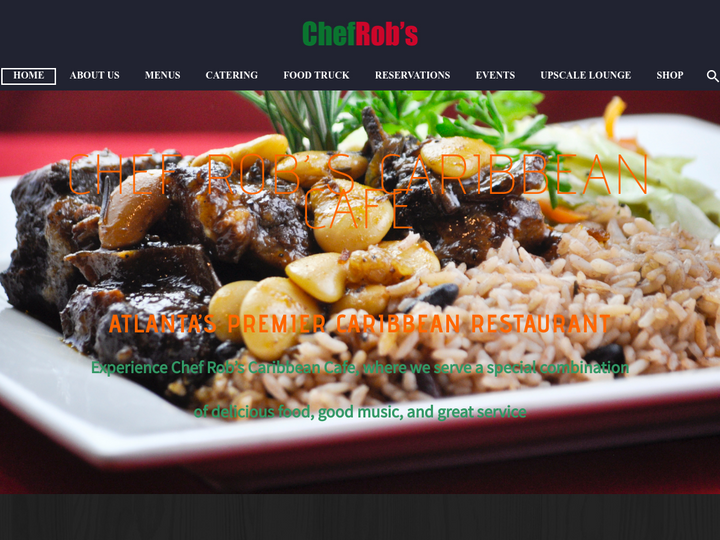 Company Description
CHEF ROB'S CARIBBEAN CAFE IS DESCRIBED IN MOUTH-WATERING REVIEWS BY SOME OF THE BEST FOOD CRITICS IN THE INDUSTRY WITH COMMENTARIES AND FEATURES IN MANY NEWSPAPERS, MAGAZINE ARTICLES, AND INDUSTRY FOOD & RESTAURANT SHOWS.
Review & Rating

Well, my wife and I are getting close to two hours in the restaurant with no food in sight. We heard the food here was good. But we'll never know since we're leaving after this insane wait and not coming back. Worst managed restaurant I've ever been to.

First and foremost, the food is delicious. A restaurant needs more than good food to be successful, however. Customer service is paramount. On two occasions, we placed phone orders "to go" and our orders were incorrect, causing me to wait at least 20 minutes in what should have been a quick pick up transaction. That's an issue but frankly not my complaint. Anyone can make a mistake with an order. It so happens that it happened with us twice. My complaint is with the curt--no nasty attitude of the employee. Granted, I gently expressed my disdain about the "to go" service, and her attitude went south. She never expressed regret for the poor service; never said thank you; and her demeanor was disastrous. So I asked for a manager. I explained to the manager basically what I expressed above, and she gave me a $5.00 off coupon for our next visit. While I guess that was a good gesture, I wasn't looking for that but rather some satisfaction that the employee issue would be addressed. I can't read minds, or know exactly the steps management may take to train the employee on basic customer service skills, but my "feeling" was no corrective action would be taken. I hope I'm wrong. I'm writing this not to discourage patrons from enjoying this restaurant. Rather, I hope the owner(s) will read this review and develop and execute an improvement plan to ensure their business's long-term success. I will return with high hopes of better customer service.

I walked in Chef Rob's at 930pm. The server did not addressed me with "Hi, we close in 30mimutes". I said that my order was simply for take out. The same server said, "Let me check if the kitchen is closed'". They close at 10pm, why would the kitchen close 30minutes early?? She quickly came back and announced the kitchen could take my order Yeah me!!😳 I walked to the bar, and asked the bartender for a "drink". She said, you guessed it..."The bar is closed". I said, "30 minutes before you actually close?". She said, "We are closed for ALCOHOL". I replied, "I just want a coke, I'm driving." She never asked me....WHAT I wanted...what level of service is this....ZERO. If they want to close the kitchen and bar...why not close at 930pm? The food was ok, but the service certainly cast a shadow on top of what should have been a simple take out order. Bad Service is BAD...

Customer service and atmosphere is everything. ... why have such a mean mugged face on that beautiful face God gave you.. just saying ....the food was awesome though...my taste buds could tell they put lots of love in the food.. but will I go back? I don't know because again Customer Service, atmosphere & how you great people is so important.

Awesome vibe! The DJ was on point played a lot of 90s hits with more up to date music dispersed throughout. The rum punch was lovely. The crowd was grown and sexy. Just go!

Came as a group of five last night for late night entertainment and hookah. We ended up ordering drinks and wings. The wings were big, crispy, and juicy. Absolutely delicious. Drinks were priced as expected. Hookah was on the expensive side at 35$ a stand, but we enjoyed the night nonetheless. DJ RS was cool and wasn't offended by our song requests. We were living it up, and I would come again.

The drinks were good and when the food came out there was no silverware so we waited 15 minutes while another server that was not even our server assisted us and told us "we need to find silverware because we don't have any" so when it was found our food was cold. Our actual server it took forever to even see where she was so I went to the manager to address our concerns and says on what you want me to do "Re- warm the food? I'm confused who asks to to re-warm the food? No I want y'all to have silverware. The customer service was very unprofessional and I would not recommend coming here. I been to several restaurants and never experience a restaurant that does not have silverware. There was not any real concern to even make the situation right from the manager or the server. Thank you to the one server that was not even our server to even find silverware.

Wonderful service and delicious island eats! It's a favorite spot for my Jamaican family, particularly for my daughter! Our servers always remember our faces, our favorites, and we are always made to feel special! Food is made to order, fresh and flavorful. ❤ (I only wish the playlist was that of Jamaican music rather than pop and top 40.😑)

Cool spot. I've been here twice. The first time was for a comedy show. There is no stage which basically put the comedy in the audience but it was funny and I had a good time. There were not enough waitresses for the crowd. One waitress forgot her deodorant that day and it was very close quarters. She also forgot I order some wings so they didn't come until close to the end of the show. The wings and chef robs punch were good. The second time I came I had the jerk chicken ( pictured) I started eating before I remembered to take a picture. It was delicious and flavorful. The service the second time was great.

Awesome food, a little pricey but worth it. Enjoyed the ambience and the customer service was great. Will be back. Chef Robert Gayle has a great thing going here. Keep up the good work my brother. Come check this place out.

Opening Hours
Mon

Closed

Tue

5:00 pm - 9:00 pm

Wed

Closed

Thu

5:00 pm - 9:00 pm

Fri

Closed

Sat

Closed

Sun

Closed
People Also View
Authorize your self with either of these to view contact details, your information will not be shared to any one
Newsletter Subscription for Virtuous Reviews LLP
One more step and you will be subscribed to our newsletters
We have sent you a verification mail on your email id, please verify it.