Chicago Cosmetic Surgery and Dermatology
Surgeons
20 West Kinzie, Suite 1130, Chicago, IL 60654 USA
Claim Listing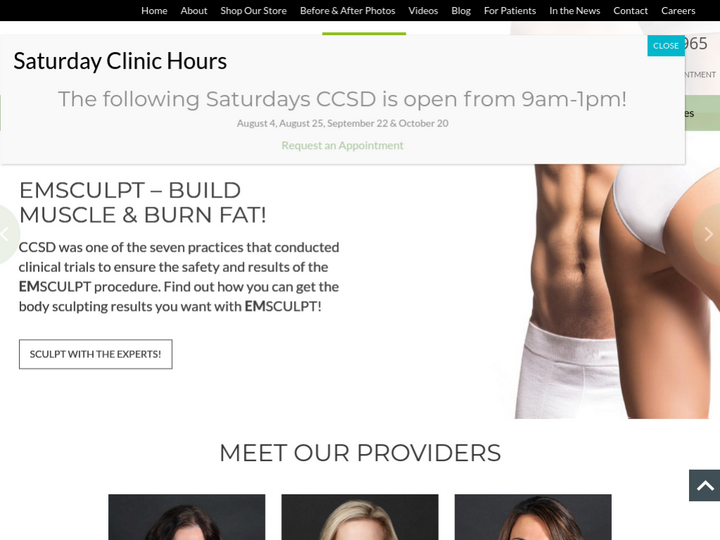 Company Description
Under the direction of Harvard-Trained Cosmetic and Laser Surgeon and Board Certified Dermatologist Dr. Carolyn Jacob, CCSD offers an array of medical procedures and services, from general dermatology, to cosmetic procedures, anti-aging, and skin-rejuvenating treatments.
Review & Rating

This facility does not operate as dermatology medical professionals, as their goal is to push cosmetic procedures. If you go for actual dermatology issues, they will recommend unnecessary procedures and prescribe an various prescriptions even though they are unable to diagnose the actual issue or root cause. Conditions didn't improve, rather, things worsened, which led to more prescriptions that were ineffective. They also charged me for a follow-up visit that was scheduled to follow up on the last procedure, which made my condition worse (removed mole, 2 more came back in its place). They collected payment for that visit, then they contacted me later to collect an additional balance because they said they miscalculated the patient pay.

By far some of the best experiences I've ever had. Great staff, great environment.

I have always been able to talk to the doctors and staffs at CCSD to get my problems resolved. My appointments are always on time and interacting with doctors or staff is like you are talking to a close friend who listens. I have recommended CCSD to many friends and family members and they all agree that Result Satisfaction is what you will receive.

I just love this place!! They stay current on all the new ways to keep my skin at it's best. 👍🏼👍🏼

I would not recommend this dermatologist. I went for a yearly checkup and they overcharged to get my moles biopsied, they insisted that I get one removed completely but did not provide me with the accurate laboratory results. ( I did not let them remove it.) If you go expect to pay for everything immediately after your appointment, as they do not let you know of additional fee's or check with your insurance before charging you. Better options for dermatologists that can do lasers, and full body exams. Don't waste your time or money here.

I've seen Dr. Jacob 3 times now. The first time for Dysport between my brows, upper lip injection, under eye fillers and cheek fillers. The second time just an update on the Dysport between the brows and yesterday updated my undereye and cheeks. Absolutely beautiful work. Especially this last time. I have a look of nice, high defined cheekbones without looking over done. She is very professional. The woman knows her stuff I feel lucky to have found someone that is really into what she does and takes it seriously. Yesterday she had an assistant in the room so I got to hear her explain what she was doing and why and I can just really tell she is very precise, she doesnt just poke needles wherever. She also used the PERFECT amount on me which I'm sure can be tough to gauge. I definitely do not want to over fill. She was explaining to the assistant about my particular age, skin elasticity, bone structure from one side of my face to the other (she pointed out how my cheek bone on my left side is more prominant than my right) which is absolutely true but the untrained eye would not notice that and I never pointed that out to her. She really tailored it to my specific situation. When I got my upper lip done back in November 2017 I was obsessed. It was so beautiful and I still have not felt I needed to touch that up again yet. Also when I first saw her for the upper lip, I told her I was thinking about getting a little in my bottom lip but she really didn't think I should and I'm glad I didnt. I have a pretty full bottom lip, and she explained the ratio and why it would potentially be too much. The upper lip made all the difference I needed. I trust that when the time comes, she will let me know. Thank you Dr. Jacob!!!

Very smooth from our initial call to our first visit. My Fiance said the staff was very pleasant, knowledgeable and efficient.

I have seen both Dr. Pritzker and Dr. Jacobs at Chicago Cosmetic Surgery and Dermatology and had great experiences with both! I have since referred my daughter and son who also were impressed with the service. We will all be back for follow-ups and I hope to avail myself of some of their awesome cosmetic procedures. Gorgeous offices, great products and great staff, as well!

Dr. Pritzker is the best! She has completely transformed my skin and I couldn't be happier with the results. I highly recommend her!

I had my lips injected by Dr. Jacob and it was the best experience ever! Her technique was absolutely flawless. My lips look amazing!!

Opening Hours
Mon

Closed

Tue

5:00 pm - 9:00 pm

Wed

Closed

Thu

5:00 pm - 9:00 pm

Fri

Closed

Sat

Closed

Sun

Closed
Authorize your self with either of these to view contact details, your information will not be shared to any one
Newsletter Subscription for Virtuous Reviews LLP
One more step and you will be subscribed to our newsletters
We have sent you a verification mail on your email id, please verify it.