Cleveland Water
Hire
1201 Lakeside Ave E, Cleveland, OH 44114, USA
Claim Listing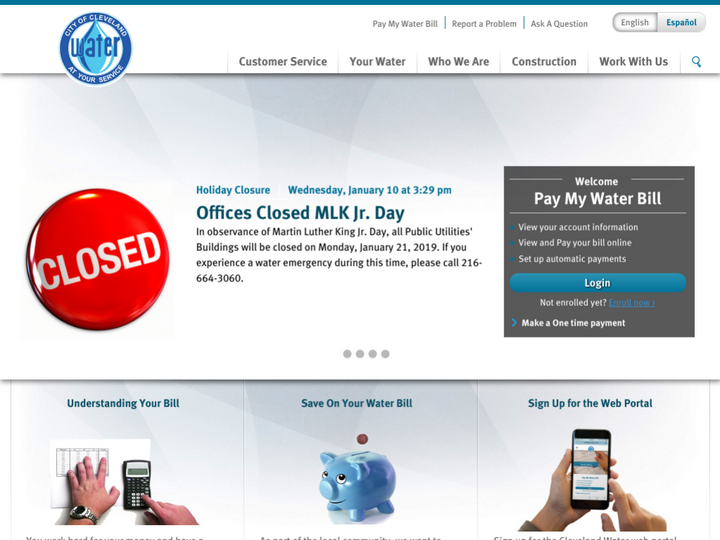 Company Description
Cleveland Water has a long history of providing safe and great-tasting water. Since our founding in 1856, we have worked hard to help our City – and the surrounding region – grow and expand.
Review & Rating

Went to have water turned on at a vacant house we just bought that needs to be remodeled. They said someone had to be present for the next 48 hours and no time window or courtesy call was possible. They were pretty condescending about the matter - as if people should go hang out in vacant homes without water for 2 days during business house so that they don't have to make a simple courtesy call. Just poor customer service.

What a miserable place. Thick plate glass windows with speakers and microphones and some of the slowest customer service representatives I have ever witnessed. Make sure you bring a couple dollars worth of quarters as you're going to need to feed the meter for at least an hour just to pay a water bill. If you thought the DMV was bad wait till you get to experience this nightmare.

Zero help. Called to see why a recurring payment was taken out twice and they had no answer for me. Even put me on hold thinking they would help but nothing! Guess I'll just stop my recurring payment and pay manually. Super annoying

I paid on 6/20 $100 to water and $100 to sewer. Account number located above on subject line. On line i paid it as a one time payment. Then you tried taking out an additional 100 6/22 without my authorization. Then yet again on 6/26 without my authorization for another $100. I called and spoke to two representatives then a manager called me back to advice it wouldn't happen again but needed to know about the remaining balance; however i told her i just paid what i could and that's not why i needed her help. Very careless individuals. Today 6/28 I'm guessing the managers request there was a notice to shut off my water and sewer. I would post bank and shut off notices but it won't allow me. I can't believe after all that she did that to me, the amount of stress i have is extreme. May god be with you all. Thank you Sent from my iPhone

Avoid their automatic billing system like the plague. I was slammed with over $100 in fees because I entered a number in wrong (honestly I don't even know if this is the case, but it's the most likely scenario). But since its a third party service, everyone at the call center either genuinely has no clue how to help, or puts on a good show pretending that's the case. The lady I spoke with this afternoon just hung up on me cause she didn't know what to do. Completely unrelated, the tours they hold occasionally are pretty awesome. Way friendly folks than the people I've spoken with on the phone.

I called to get a final bill because I sold my house. They told me to "call back in a week" because it takes a long time to transfer the title. It transferred overnight. I WILL be calling back this morning. They spend way more time trying to get out of doing any work than actually working.

Just called to get water transferred into my name.. and the lady was the rudest most disrespectful person I have ever talked to! Your company needs to find some new employees. Real fast.

I have had an ongoing billing / "meter" Issue since September, it is now end of December & no resolution. Each time I call, the customer service reps are kind, but, I get a different story & explanation. Last time we called we requested to speak to a manager after over an hour on the phone. The manager would not get on the phone, made up a lie to the have the rep tell us someone would be out in 2 weeks to do a meter read. That was 3 weeks ago, I called back today & the new rep told me the manager lied. I am so appalled by this organization. The "leadership" have quite wonderful claims on their website, it's too bad with all of this talent & expensive payroll they can't lead the rest of the team to provide 1/2 a decent product. I truly feel bad for the people who work in the call center. I can't believe business is being conducted in this manner in 2018.

One of my biggest pet peeves is people that work at a Job every day, and instead of actually help you to understand it's moronic rules and practices, they act like youre dumb for not knowing their job. I'm sorry but I've never heard of another company or utility that charges a house and not a person. Even if most people know this it doesn't excuse rudeness. Sorry that they didn't have a "dealing with a horrible water company 101" class in college. Is it supposed to be common sense that buying a house, not living there yet and never having asked for service to be turned on gets me charged for an extra month?

Opening Hours
Mon

Closed

Tue

5:00 pm - 9:00 pm

Wed

Closed

Thu

5:00 pm - 9:00 pm

Fri

Closed

Sat

Closed

Sun

Closed
Authorize your self with either of these to view contact details, your information will not be shared to any one
Newsletter Subscription for Virtuous Reviews LLP
One more step and you will be subscribed to our newsletters
We have sent you a verification mail on your email id, please verify it.