Clinic for Women
Clinics
3607 West 16th Street Suite B-2, Indianapolis, IN. 46222
Claim Listing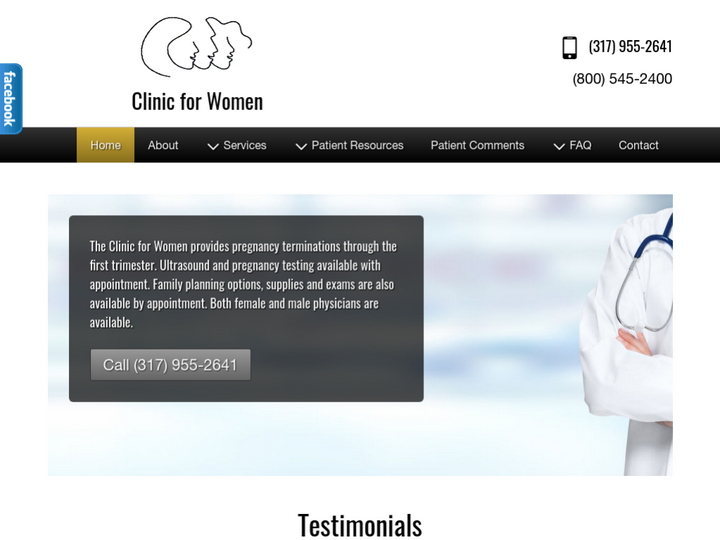 Company Description
Since 1977, Clinic for Women has provided safe, legal first-trimester abortions in Indianapolis. We are a member of the National Abortion Federation and the National Coalition of Abortion Providers. The choice to terminate a pregnancy is one of the most private and difficult decisions a woman may make. We recognize that no two women are the same and are dedicated to meeting and exceeding the needs of every woman.
Review & Rating

Zero customer service. The most rudest receptionist ever. I won't visit this place again and won't recommend anyone to visit this place ever !

lakdjkdj ljalj;dfjajjf
UK
They we're nice and efficient for what was taking place.

I am going thru a very difficult situation, just relocated from San Diego to Indiana and and called to inquire on services and a couple of questions regarding sliding scale fees and what not. Since the web site puts it out so pretty. But when I called to inquire the lady left me on hold for more than 30 min. Which was my brake time. And when calling again a little after 4:45 the lady that responded (which was the same person that had left me on hold for eternity) rudely answered and just gave me a phone number that is not working at all it just gives a non stop busy tone no matter what time or day you call. It's hard enough to get courage to call you guys and to be treated like a pice of nothing leaves people feeling even more hopeless and like there's no way out. I've been in the medical field for more than 10 years front and back office and in my heart I can't imagine not being able to feel that I am here to serve and give the best of me. No matter the situation of a person one should never be judgmental or cold let alone rude!! It's sad to be treated in a way I would not ever treat someone going thru a sad and hurtful time. This place offers no help what so ever and makes you feel horrible and even more hopeless if going thru difficult times. So sad!!

The place was very clean and sanitary the staff were very caring and knowledgeable.

The woman who did the ultrasound was extremely rude. She's lucky the door was shut and no one saw how she was talking to me. I wanted to know if I was in the process of miscarrying & if it even had a heartbeat anymore. I wasnt sure I even needed the procedure at that point. Despite the paper saying I wanted to hear the heartbeat, she did not deliver that. She wanted to hurry up and get me out so she could get the next girl in. Not only that, but she DID talk down to me. She isn't cut out for this line of work & clearly does not value the patients as people.

You kill babies.

Ayo this place is full of kind and awesome people helped me(the love of my life and my wife actually) out with my personal problem

this is the most unprofessional place I've been to majority of the staff are rude from the very beginning they made the situation even harder for me when i scheduled the appointment i called the day before to confirm my appointment time the receptionist told ne they do not confirm appointments so i basically would've been assed out if i didn't find the paper i wrote the time on...even the doctor, doctor "P" who performed the surgical procedure was even rude the staff warned us that he is "rough" because hes use to dealing with patients who are put to sleep during the procedure which was not comforting at all considering the fact its true the doctor very ROUGH during and the procedure he yelled at me.. I will not recommend this place to anyone ladies you are better off going to the white ppl (planned parenthood) at least they treat you with some type of compassion DO NOT GO HERE

I was recommended to this place by a friend. This place was great the staff was warm and friendly.

Their commitment to women, men, and gender non conforming folks, as well as the community as a whole, is unparalleled. These are kind, compassionate individuals who take pride in their work and are professional and calm, even in the face of extreme backlash. Truly a gem of an institution.

Opening Hours
Mon

Closed

Tue

5:00 pm - 9:00 pm

Wed

Closed

Thu

5:00 pm - 9:00 pm

Fri

Closed

Sat

Closed

Sun

Closed
Authorize your self with either of these to view contact details, your information will not be shared to any one
Newsletter Subscription for Virtuous Reviews LLP
One more step and you will be subscribed to our newsletters
We have sent you a verification mail on your email id, please verify it.