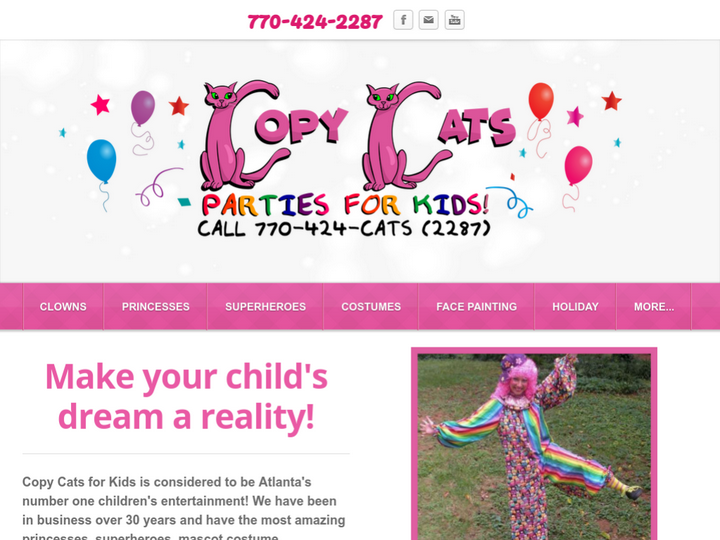 Company Description
We offer no characters from TV or Film. We only have professional theatrical costumes. It is not our intention to violate any copyright laws. The characters that we offer are NOT name brand copyrighted characters.
Review & Rating

This is my 3rd time using Copy Cats for kids. Trish was the host at my daughter's party and she's by far the best!!!! Thank you so much!!!!

Booked my grandaughters 1st birthday party. We had a hawaiian princess. My granddaughter love her and all the other kids. Magic, facepainting and even brought a gift for her 👍👍👍👍👍.

I'm really disappointed with the clown / minion who I hired for my sons 5th birthday party. While he did do his job and kept the children entertained he was extremely crud and lacked any sort of manners. He was late showed up very disheveled and hade the attitude of obviously wanting to be a million other places then entertaining children. He made many off color remarks resembling something of a washed up comedian I drew the line when he told a Korean child who was touching his suitcase that there was no Kimchi in it! I paid him early and rushed him out of the door. If you want to be totally embarrassed apologizing to the mothers for the entertainment these are the people to hire!

I want to thank copy cats and Trish for her outstanding help booking our party. This is the second party we used Copy cats,She sent Michael who did a great job entertaining and engaging the children!

Great Experience! Black Panther was a hit!

Awesome customer service... you won't be disappointed

Duncan, the Red Ranger was beyond Phenomenal. He exceeded all my expectations. We asked for a Red Ranger for our 5-year-old son, and we got a PARTY. He truly went above and beyond. We held his party at Get Air, and Duncan the Red Ranger jumped with my son Liem and all his friends (totally unexpected). He even performed stunts for them. I totally forgot about the balloon animals for the kids, considering everything he had already done it wasn't necessary. But Duncan set up shop and begin creating balloon animals for my son guest, and even went back to jumping again once he was done. Duncan if you read this, thank you for making my son dream come true of meeting a Ranger. Thank you for holding his hand and running right behind him whenever he went. And most importantly Thank You for being able to make not only the Birthday Boy special, but all his friends. Copy Cats, I look forward to my next booking!!

If I could give more stars, I would. First, our princess we hired from "gigmasters" (fairytale pruncess) cancelled on us. In a panic, I found this company. They went out of their way to make it happen. "Belle" aka Cierra, was absolutely AMAZING! She made my daughter's 4th birthday, one she will never forget. From her interaction with the girls, to the face painting, dancing, story book, it was an absolute treat for everyone. Everyone was so impressed. It couldn't have been any better. I thank you all, for making my sweet girls "Princess birthday", everything she was dreaming of.

I have been using this company for 17 years. (My oldest son is 17 years old. They always deliver excellent service. Only this pass weekend I had an issue with the service I received and when I tell you one call that's all it was handled!!!!!!!!!!!!!!!! Trisha who is in the office is truly an amazing person. Not only did she listen to me and was very understanding but she even volunteered to give me a refund on my deposit and also have someone else come back out to do an appearance or whatever I would like. I was happy with her just listening to me but that wasn't enough Trish. After about a hour for the first time I spoke with her I received another call for her and she just wanted to let me know that she had issued a refund for my deposit and to also let me know that Olathe OWNER of the company wanted to apologize and that he would be sending me an additional check for the amount I paid. I was shocked and overwhelmed. Not only did I receive a total refund and basically a credit for them to come to anything I have this summer, I received excellent customer service. This is the kind of company you do business with. The entertainer was so dedicated to make sure she was at my kids party even after just having a surgical procedure done that morning and wasn't feeling good. I commend her on her effort and dedication to the kids that's Copy Cats for kids service. I pray for a speedy recovery and thank you so much to Trish and the Owner for being number 1 when it comes to children entertainment and customers service. I would recommend everyone to use this company. I have for 17 years

Had a great experience using this company. When I called, all of my questions were answered. I was even given options in case I wanted some ideas. The price was very reasonable. I opted for a clown and Mickey Mouse. I received a confirmation call ahead of time to let me know what to expect and to voice any concerns or suggestions that I may have. On the day of the young lady, Vee was there 15 minutes before start time as promised. She was very professional and engaging. She kept the kids entertained and she kept me abreast of everything she was doing along the way. The kids thoroughly enjoyed the entertainment. I would definitely use this company again.

Opening Hours
Mon

Closed

Tue

5:00 pm - 9:00 pm

Wed

Closed

Thu

5:00 pm - 9:00 pm

Fri

Closed

Sat

Closed

Sun

Closed
Authorize your self with either of these to view contact details, your information will not be shared to any one
Newsletter Subscription for Virtuous Reviews LLP
One more step and you will be subscribed to our newsletters
We have sent you a verification mail on your email id, please verify it.