Costume World
Hire
13621 Inwood Rd, Dallas, TX 75244
Claim Listing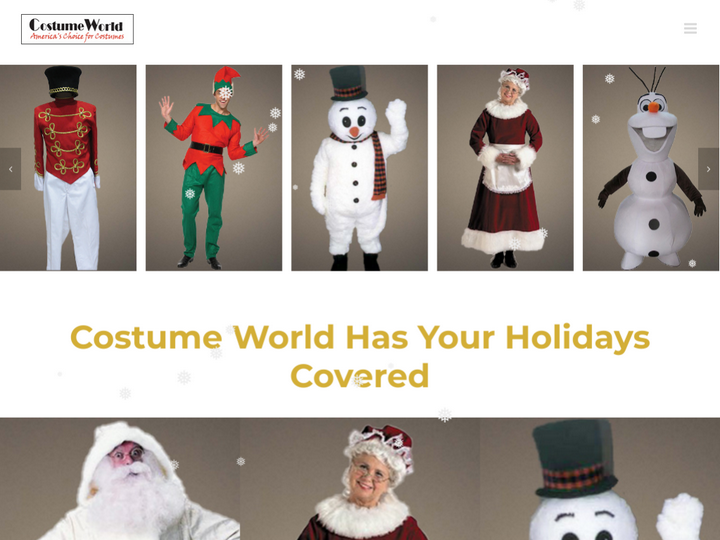 Company Description
Costume World is a cutting-edge costume rental company that not only houses the largest collection of costumes in the United States, but also offers personalized, knowledgeable services that are absolutely unbeatable.
Review & Rating

Joy was an absolute delight!! Went to rent for a great gaspy and she had us looking great! Her consumer service was outstanding!!

Huge selection of costumes at decent prices

Joy was amazingly helpful and nice with helping me pick out effects makeup! Large selection of everything costume and able to order anything not in stock. Definitely recommend!

Employees in the rental area WERE SO RUDE. Tone of voice and facial expressions like I was stupid for asking questions, especially the girl with the long blonde hair. I've never rented a costume before and was looking forward to getting help and ideas for a costume but the ruined the experience in the place. I won't be going there again!

I've visited this location a few times over the last 5 years and while I never had the best impression of the place, I'm afraid it's gotten much worse. I'll not be back, nor will I recommend it to anyone. In the past, you were allowed to walk in and browse the costumes, have a look around at their collections. It was an interesting, albeit very overpriced experience but at least it was entertaining. Not so any more. Once you walk in the entrance, there's the makeup counter, the payment counter and the rest of the store.is roped off with a sign to please wait for assistance. We were told that these days you have to have an escort to look through their costumes and that they're pretty understaffed so there's a wait. Wow. Okay, so I won't be renting a costume here then, thanks. I'll just buy my make up here. Except that's a problem too. They didn't order but a limited selection of high quality body and face paints (Paradise Aq or Mehron) or makeup setters like Ben Nye so they don't have what I need. The girl at the counter assured me that a different brand was identical to what I needed, even called another employee over to verify the information. They seemed familiarwith the product and I asked if the item could be used with a wet brush (important for correct application), and they both said yes so I guess it should be fine. I gather my items, go to pay for them at the counter and pay more than I ever have for both the same and similar items in the 9 years that I've used them. Look over onto the counter as I'm signing my receipt and notice there's a half hidden sign under some.costume stuff that says "NO RETURNS OR EXCHANGES, ALL SALES FINAL". Well, that's great. I'm stuck with it now. Got home, proceed to attempt using the makeup and what do you know, it's NOT the same thing. At all. She sold me an insanely overpriced face powder, not a face and body paint. I tried multiple times, wasting hours of application and my own expensive products to no avail simply because this powder is nothing like what I wanted. Even the setting powder she highly recommended is junk compared to what I initially requested and have previously used. $45 down the drain. All in all, this place is useless, overpriced and their employees will tell you anything to make a sale and you'll be stuck with whatever trash they sell you.

Has a lot of interesting costumes. If you are wanting something unusual this is the place to go. The staff is extremely helpful with costumes and makeup. Very good to excellent quality.

Dana helped me a lot and it was a team effort! ALL the employees were so courteous and helpful and patient! (AND they made it so FUN!!) I HIGHLY recommend Costume World!

I discovered this great place last year. I wasn't sure what to dress-up as. Since I was a heftier guy, it kinda limited my choices, no matter where I went. As I was looking up costume stores, I somehow came across this Native American costume. It came with a head dress (feathers) but it seemed too simple. What's great about this place is that they have a local person at the store that can make alterations to the costumes that are for purchase. I told him that I didn't want to have full length pants (to keep me cool) and asked if he could modify the head dress that came with it. So what was great was that he shortened my pant, but he did something additional for the pants bec they didn't have any pockets. He added a pocket to the inside of the pant, so I could store my cash/ID, etc.as I would be walking around in the costume. I really appreciated that he modified the costume and changed the head dress. But ultimately, I ended up choosing a different head dress, which I thought was much more elaborate. He also added slits into the bottom of the shortened pant and to the top. So all in all, I was very impressed with Costume World and I will be going back this year. I would definitely recommend it to my friends!

I had the most unbelievable experience here. I needed a costume pretty quickly for a Vegas themed event, and Joy helped me put it together in about 30 minutes. The price was fair for everything I rented, and the return process was super easy. Cannot recommend this place more highly. They have TONS of costumes, for renting or buying, so you're definitely going to find what you need here. Love Love Love the entire staff! Thank you!!

This is a serious costume/theatrical shop with serious prices. Need something BIG? They probably have it. They have some cheaper packaged costumes too and lots of accessories to complete your look. I was disappointed they wouldn't offer a discount for a military charity event when I've had no trouble securing one with so many others.

Opening Hours
Mon

Closed

Tue

5:00 pm - 9:00 pm

Wed

Closed

Thu

5:00 pm - 9:00 pm

Fri

Closed

Sat

Closed

Sun

Closed
Authorize your self with either of these to view contact details, your information will not be shared to any one
Newsletter Subscription for Virtuous Reviews LLP
One more step and you will be subscribed to our newsletters
We have sent you a verification mail on your email id, please verify it.