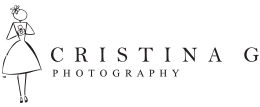 Cristina G Photography
Wedding Photographers
1819 W Wilson, Chicago IL 60640 USA
Claim Listing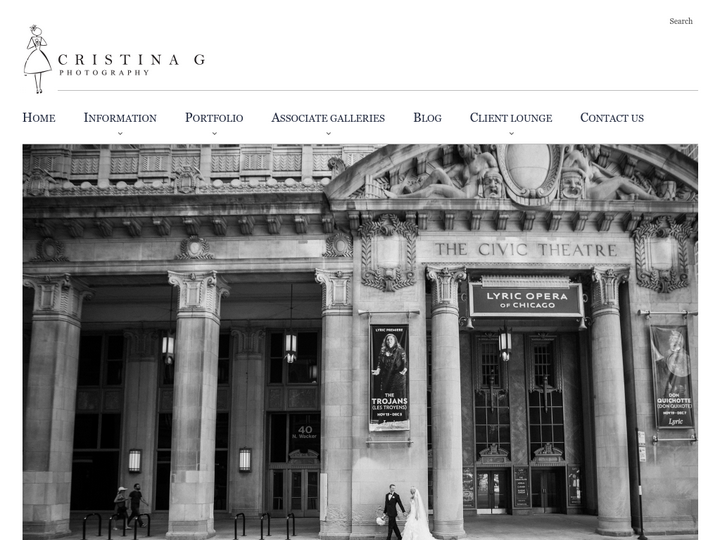 Company Description
I am Cristina G and this company is my life's passion. Being invited to document your wedding is an honor and a privilege. Wedding photography is more than just a job for me.
Review & Rating

The minute I saw Cristina's work I knew she was the one to shoot our wedding. She was so bubbly and excited during our first meeting and was ever so patient in answering all of our questions. She provided a few different pricing proposals and wasn't pushy at all - she let us decide what was best for our needs and budget. She provided a lot of great guidance during the process for the best photo locations, things to expect and was always responsive and professional. The day of our wedding was spectacular and she was able to capture so many great moments we'll treasure. It even rained and she was able to take advantage to get some fun shots with one of our favorites being the end of the night nighttime portrait.

I first became obsessed with Cristina's work after following her on Instagram so when it came time for me to select a photographer for my wedding there was no doubt I had to meet with her. After our initial meeting my husband and I both felt Cristina's amazing passion for what she does and knew we had to work with her. On the day of our wedding Cristina and team were so organized and knew exactly what they needed to do to get the shot. She helped us stay on schedule when we went around the city taking photos and of course her bubbly personality just made everything more fun. Fast forward to receiving our first look at the photos she captured and we were blown away! Every single photo was magnificent and artistic. The way she works with lighting is magical and unlike anything I've ever seen. If you are looking for a wedding photographer who will be fun, get you to open up in front of the camera and provide the most memorable shots- Cristina is your girl!

My wife and I couldn't be more thrilled and appreciative of the work that Cristina and her crew did on our wedding day. We first met Cristina at her office in Chicago where we got to learn about her and her background and we immediately felt comfortable. This was the perfect person to shoot our engagement and wedding photos. Cristina showed extreme flexibility. My wife (then fiancé) wanted engagement photos along the Chicago lakefront, however part of the beach was blocked off making it a challenge to get great shots. Cristina could have told us "oh well" but she suggested we walk ~15 minutes around the blockage to get to an area that would allow us to capture the shots. She didn't have to do that, but she did and all with a smile on her face. Of course, the shots came out incredible. I don't know much about photography, but a critical aspect that we were looking for was someone who could take control of the process, but also be very flexible, creative, patient, and of course friendly. Cristina and her crew struck a perfect balance on all of those aspects, and it was extremely impressive. We were blessed to have no rain on our wedding day, but we did get hit with a major heat wave which led to 100+ degree heat. Our wedding portraits and ceremony were shot outside. It was amazing how composed Cristina and the staff were working through the heat. Never once complaining, always asking us if we needed anything (they ran and brought us cookies, water and orange juice to keep us fueled). I couldn't imagine a better group of people to have shot our portraits. They were very understanding and very helpful. I don't need to provide my opinion on her work because it frankly speaks for itself. We were amazed and thrilled with how our photos turned out. We haven't seen our full wedding portfolio yet, but I have no doubt that they will come out as strong as our engagement photos. When my future friends get married, I will ask if they have a photographer. If they do not, I will beg them to choose Cristina. We couldn't have made a better decision.

Having Cristina as our wedding photographer was hands down one of my favorite parts of the wedding planning process. I had worked with Cristina twice before as a bridesmaid in two of my cousin's weddings so I was familiar with her work, but when I got engaged, I wanted to do my due diligence and research myself so I reached out to another dozen or so photographers. Every single time I came back to Cristina- there just isn't anyone better out there! If you look through Cristina's portfolio, you can see that she really caters to each couple and each album is very different. She is able to take the "typical" wedding group photos in a way that doesn't seem overdone and catches each and every little detail. My husband and I are not the "posing" kind or like to be the center of attention, but Cristina and Konstantin help you feel like you are doing everything right and it feels natural. We also had a blast doing a champagne spray and smoke bomb photo that turned out amazing! What other photographer thinks of stuff like that?! Cristina truly wants your wedding day to be amazing and for you to have unbelievable photos to remember it by. Cristina is also amazing at offering advice and recommendations for all other aspects of wedding planning! She sent me recommendations for hair, makeup, music- she is not only an expert in photography, but an expert in the wedding industry as a whole!! You can tell that both Cristina and Konstantin are passionate about what they do and strive to be the best in their industry. So happy I had the chance to work with Cristina throughout the wedding process (and for the 3rd family wedding)! I would highly recommend Cristina to any and all engaged couples and will definitely be recommending her to my engaged friends, I will miss working with her on my own wedding!

When we were planning our wedding, I did not have a lot of "must-haves." The exception to this, was that I HAD to have Cristina as my photographer. I had seen her work before and knew that she would be the one that would capture my day in the best way. She completely exceeded my expectations and I could not be happier with our choice to have her as our photographer. From day 1, Cristina made us feel like we were family and that she was going to treat our wedding as such. She took a lot of time, both in person and over the phone, to go over our vision and to ensure the moments that were most important to us were captured. One of the things that I appreciated the most about Cristina's planning process is that she provided us with a questionnaire several weeks before our wedding day and asked us details about our wedding vendors but, more importantly, she asked us to provide her with the names of our family members (we did not have a bridal party) and to specify what group photos we wanted. The reason this stood out to me so much is that I felt like it was a great way for my husband and I to put some time and thought over the pictures we wanted. I have friends and family who were so disappointed when they got married because they forgot to tell their photographer on the wedding day to make sure a certain picture was taken. Because we were able to plan, this took all of that stress off of us on the wedding day. On the wedding day, Cristina took charge and was able to move everything along in a timely manner. Anyone that has been in a wedding or has attempted to take large group pictures know how difficult that is to do, but Cristina make it look easy! Not only does Cristina's work speak for itself, but she is a fantastic person. We loved having her with us on our wedding day, and you could tell that she was invested in us and wanted to provide us with the best experience. Our pictures and our album completely blew us away. We have so many friends who have told us that our pictures look like they belong in a magazine because of how beautifully Cristina took them and the vision she put together for each one. We are so grateful for these memories and we have Cristina to thank for that! I would also like to mention that we had a reception with a lot of our family and friends the night before the wedding and we had Cristina's associate, Konstantin, capture the night. He also was with Cristina on our wedding day. Konstantin was absolutely fantastic! He was the only person who could get my 7 month old niece to smile in pictures. More importantly, he made sure to discuss with me what pictures we wanted before the night started, and he consulted with family members throughout the night about what other pictures to capture because he did not want to bother my husband or I. He was an absolute pleasure to work with and we felt so lucky that we had the opportunity to work with him.

I don't even know where to start this glowing review of Cristina G Photography. My husband and I hired Cristina over a year ago to do our engagement photos and then our wedding this past March. From our first meeting with Cristina we knew she was the one. She made us feel comfortable and confident that she would guide us through some posed photos but also capture those special candid moments of our big day and most importantly, she acted as excited to be a part of our wedding as we were. She made us feel like our wedding day was incredibly important to her, not just because we are her clients but because she understood that these photos would serve as memories documenting one of the best days of our lives for years and years to come. Her excitement and professionalism made her very easy to trust with one of the most important aspects of our big day. We are two people not very comfortable in front of the camera but she helped us be as prepared as possible with her guidance around everything from outfits to hair and makeup to locations for our engagement photos and our big day. Our engagement photos were RIDICULOUS! I can't tell you how many people described them as they best they've ever seen. She captured our love beautifully but also guided us to iconic locations and beautiful backdrops in the city where we fell in love and started our lives together (Chicago). The photos from our wedding day are even more stunning and every single scenario we wanted was captured from high impact scenic shots in downtown Chicago to candid shots of our families on the dancefloor. Her signature champagne shot at the end of the night is MANDATORY for all couples (not by her, I'm just saying you're crazy if you don't do it)! It is the MOST joyful and happy photo from our wedding day, I can't look at it without breaking into a smile and maybe even a few happy tears. Thank you Cristina for everything you and your team did to give us the photos that will help us remember our special day for the rest of our lives.

AMAZING!!!!! I truly do not have the words to express how extremely grateful and impressed we are with Cristina G Photography for making our wedding day so memorable and special for us to look back on. The photos turned out absolutely incredible. Cristina and her team captured our vision perfectly. My Husband and I are beyond impressed with the talent, hard work and kindness we received working with Cristina G. Thank you, from the bottom of our hearts!!

My husband and I booked Cristina G Photography for our February 2019 wedding and could not be happier with our decision! When we first walked into Cristina's studio, we knew we were exactly where we were meant to be. From the moment we sat down and began describing our wedding photography visions, to reflecting back on our day while looking through our photos, Cristina and her team were the perfect choice who made all of our dreams come to life! We had a 30 person wedding party, yes- 15 bridesmaids and 15 groomsmen, and requested an 80+ person family photo at church-- it was no sweat to Cristina! She was patient, took charge, gave direction and made sure all of our photos were something we will cherish for the rest of our lives. After receiving our wedding album this past week, we could not be more "in awe" of the quality of the album. Classy, elegant, stunning. A staple we are SO proud to display in our home. Cristina's work is spectacular and we are forever grateful that we chose her to capture our wedding day! We look forward to working together in the many more exciting chapter of life and will continue referring her to our family and friends looking to hire the perfect photographer! Thank you, Cristina! You are one in a million!! XO- Jordan and Caitlin

Cristina G Photography was absolutely amazing! She helped to guide my now husband and I on where we should take our pictures and how long everything would take. I loved all my pictures so much that I wanted more! She's incredible and perfectly captured our day. Any Brides-to-be out there reading this...look no further! Cristina G Photography and her team were so amazing. I wish I could hire her for more events in my life!

I cannot say enough good things about Cristina G Photography! I had seen Cristina G tagged in several posts on Instagram by wedding professionals and thought "Wow" what beautiful pictures. When my parents and I began our search for photographers for my wedding, I knew we need to inquire. From our first email correspondence, Cristina was so excited and friendly, which was so pleasant compared to others we had reached out to as well. My parents and I requested to meet with her in person to discuss what are vision and hopes were regarding wedding photography. The minute we stepped into her adorable studio and poured us champagne, we knew we had to go with her. It was by far one of the BEST decisions we made. Throughout the entire wedding planning process, Cristina always maintained her cheerful and positive attitude. When my fiance and I were taking our engagement photos, we were so nervous because of how awkward we felt they would be. Cristina made us feel so comfortable and offered the best direction. Fast forward to our wedding and again was such a calm, friendly presence. She was never aggressive in trying to get photos but felt like we had a friend taking them. Once we received our album after the wedding, we were STUNNED! They were so beautiful and every person has complimented us and the amazing shots she was able to capture. I would recommend her to ANYONE getting married in Chicago!! I can assure you, you will not regret it!! I only wish we could do it all over again :)

Opening Hours
Mon

Closed

Tue

5:00 pm - 9:00 pm

Wed

Closed

Thu

5:00 pm - 9:00 pm

Fri

Closed

Sat

Closed

Sun

Closed
People Also View
Authorize your self with either of these to view contact details, your information will not be shared to any one
Newsletter Subscription for Virtuous Reviews LLP
One more step and you will be subscribed to our newsletters
We have sent you a verification mail on your email id, please verify it.