Culver City Toyota
Used Cars
9077 Washington Blvd, Culver City, CA 90232
Claim Listing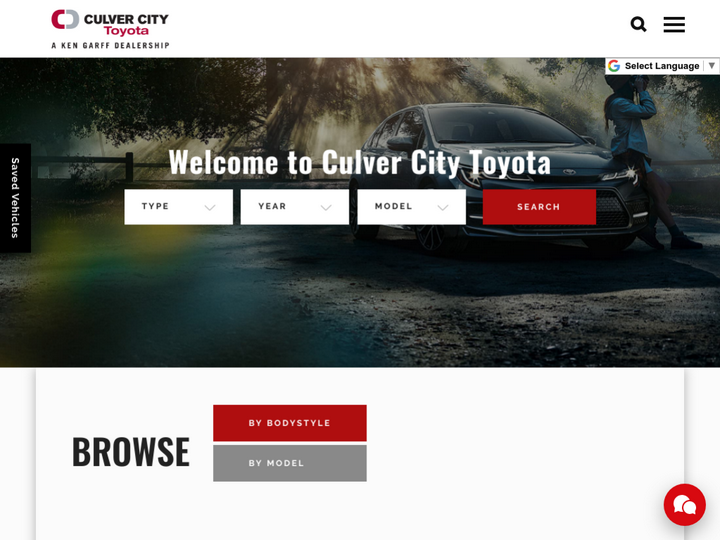 Company Description
We are driven at Culver City Toyota to bring you our best sales and service experience every day. We are proud to bring honesty and reliability in a Toyota dealer. We are located on Washington Blvd. in Culver City California. If you're in Santa Monica, Inglewood, or Los Angeles, we are just a short drive from you and the level of service you will receive will absolutely be worth it.
Review & Rating

Brought my 2016 4Runner in a for a recall two weeks ago. I requested to have my brakes serviced and a service foreman also recommended an alignment as "recommended maintenance." (along with some other non-required "recommended maintenance" that he admitted upon my questioning that there were no issues present to recommend; throttle service, MAF service) However I went ahead and had the alignment completed even though I never experienced alignment issues. Vehicle drove straight as an arrow the entire time I have owned it but did notice some mild tire wear on the outside of the tires. So I was in for a shock when I picked the vehicle up and all of a sudden my 4Runner could no longer drive in a straight line. After bringing my vehicle back to Culver City Toyota 4 separate times they finally admitted their alignment machine was broken and provided me with a refund. Brought my vehicle to another Toyota dealership in the area for the same service ($30 cheaper) and the vehicle still WILL NOT drive straight. Prior to bringing it in to Culver City Toyota my 4Runner has driven perfect the entire time I owned it. Long story short I brought my vehicle in for a recall and Culver City Toyota somehow completely wrecked my 2016 4Runner's steering with "recommended maintenance" that the vehicle did not need. I still don't know how to resolve this. They did nothing to help resolve the situation other than offering a refund and blaming the machines.

My wife and I went to look at a vehicle at Culver City Toyota and was treated like we were family. Thanks much to Marcus and Bobby. They were the best. Also Collin was great to talk and do business with. If you are looking for a car or truck. Stop by and give them a chance for your business. You will be happy with all they have to offer. Thanks much again. Culver City Toyota!!!! 👍👍👍

I spotted a vehicle I was very interested in purchasing on Culver City Toyota's website. I called to ask if it was still on the lot. I got a call back saying it was, and would I like to schedule an appointment for a test drive? I said yes and we agreed I would come in Saturday morning 3/9 at 9:00 a.m. for a test drive. The saleswoman sent me a calendar invitation which I accepted. On Saturday morning I arrived for my appointment and was told that all the salespeople were in a meeting. The receptionist sent someone upstairs to see if my salesperson would leave the meeting and come down for our appointment. Nothing happened. After 20 minutes, the receptionist said she wasn't sure when the meeting would end. I left my name and number with the receptionist and asked for a call back. It is now more than 27 hours later...no call, no email no text to apologize for standing me up. I don't believe I have ever encountered such terrible customer service in any business. This dealership needs to cover basic common courtesy during those sales meetings.

Brandon Toney was my sales person and he was patient and helpful. The used vehicle I was interested in I found online. It was perfect. Kind odd buying a BMW from a Toyota dealer

This was, hands-down, the worst car-buying experience of my life. I arrived at the dealership at 9:30 am and left after 3pm in a rental car. After spending hours testing vehicles, trading in my current car and negotiating, I purchased the car (2019 Corolla) only to get in it and realize that there was no cold air blowing. I was told that the car had just come in that day and it was sold to me without Toyota doing their new car diagnostic, which apparently requires the installation of a fuse related to the AC. The sales person that sold me the car, Marcus, failed to mention that and basically went MIA after handing me the keys. After patiently waiting for over an hour for my car, I had to walk up to a sales manager and ask for an update, only for him to offer me a rental car to leave with until the car was ready TWO days later! I left the dealership with a new car that I couldn't even drive. Marcus, the sales manager nor anyone else offered any sort of ammends for this botched sales experience. On Monday, I called the dealership for an update on my car and was told (after I had to call them) that my car was ready. I arrived and handed in the keys to the rental to Charles, who informed me that he doesn't really "handle rentals" but will take the keys anyway. He didn't provide me with any type of receipt of my return and I had to get the service manager involved just to simply get a handwritten note saying that I returned the car. I roamed the dealership and found Marcus, who handed me the keys to my actual car. I got in the car, cranked it up and realized that the gas tank was only half full. I guess the days of getting a full tank of gas with a new car are gone at Culver City Toyota, as is any semblance of customer service.

Sales people were patient and helpful. It was stressful in general buying a new car but Craig, Steve, and Nary were always friendly. They were in communication with us a few times since the first visit to Toyota to follow up on our questions. We decided to go back to make an offer on a car after finishing our research because of the overall positive experience.

I went to narrow down my choices, not to buy today. Salesman Miguel Cervantes was very nice and helpful. But they only have male salespeople today. There were lots of them. Why are they not hiring women? They lost a deal. I went where there was a woman salesperson.

I've been here 3 times, each time I go it takes a long time. Like they'll tell me 2 hours require that I have an appointment, then it takes upwards of 3 hours maybe even longer. The Waiting area is nice, I don't want to be here for 1-2 extra hours in addition to what I was originally told.

Dealerships are low-class places in general, but this place proves it very clearly! *Salespeople are dishonest and fake. *Managers are a bunch of liars. They change the general manager every two years. *They promise you a good deal which they never get you *They promise guarantee, customer loyalty, and much more useful stuff but they never provide you one. *They never answer your phone after you bought/lease the car. *They never call you back. *They tell you this dealership is the number one in sales in the country, but the truth is they only sold 250 cars on March 2019 which is the terrible terrible number for the dealership. *They said one of our typical salesmen made $50,000.00 last month, but the truth is their general sales manager made this last year. DO NOT GO THERE!!!!

The staff at Culver City Toyota are so nice and passionate. I wanted a specific car and I worked with them for a month to get it (I was willing to wait that long because working with them was easy going, not pushy at all which I've experienced at other dealerships). They continuously thanked me for my patience and gave me a great deal on the car. This was my third car purchased with Culver City Toyota and trust me when I say I will go back to them when I am ready to purchase another car!

Opening Hours
Mon

Closed

Tue

5:00 pm - 9:00 pm

Wed

Closed

Thu

5:00 pm - 9:00 pm

Fri

Closed

Sat

Closed

Sun

Closed
Authorize your self with either of these to view contact details, your information will not be shared to any one
Newsletter Subscription for Virtuous Reviews LLP
One more step and you will be subscribed to our newsletters
We have sent you a verification mail on your email id, please verify it.