Das Schnitzel Haus
Restaurant
5728 Pearl Rd, Parma, OH 44129, United States
Claim Listing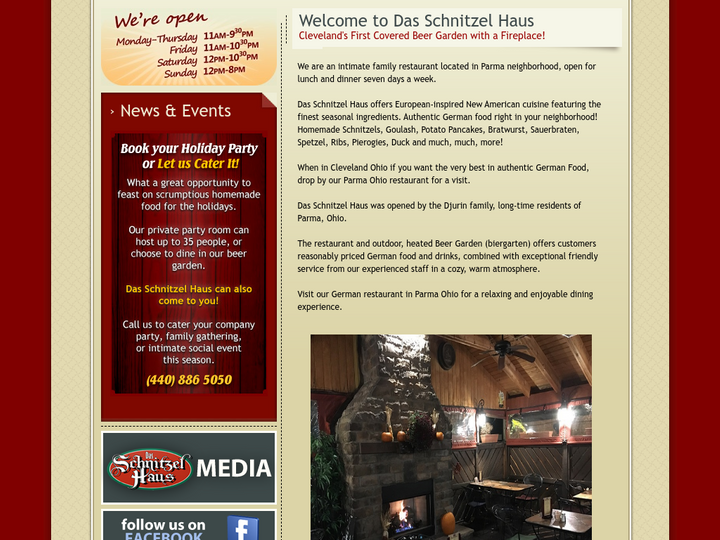 Company Description
Das Schnitzel Haus offers European-inspired New American cuisine featuring the finest seasonal ingredients. Authentic German food right in your neighborhood! Homemade Schnitzels, Goulash, Potato Pancakes, Bratwurst, Sauerbraten, Spetzel, Ribs, Pierogies, Duck and much, much, more!
Review & Rating

Cozy German house, filled with warmth and love! No kidding, I felt appreciated here and was well attended to by the staff who was warm and genuinely interested in my satisfaction. A couple good German beers and a great pork schnitzel is enough to make anyone happy!

I must say, my parents love this place and ha e loved it for years. I just tried it recently for the first time and had the chicken paprikash with spatzels and a salad and it was amazing. Y daughter ordered the pork schnitzel and she loved it. The portions are enough for two meals. Even the kids meals are delicious! My youngest ordered spaghetti and meatballs and she enjoyed it. A must try if you love a good meal in a nice restaurant with great service.

I had dinner here on 11-13-19. I had the Wurst Plate which was good. German potato salad was really good. The lager beer was just okay. Service was by far the worst part. My total with two drinks was about $25 before tip. While it was good, and I would go back if it were really close to my house, I'd rather go to Haufbrau Haus since the food is as good and the beer is much better. Das Schnitzel Haus was still a good local place, just not a destination place.

Great food, low key dining. I loved the food. The wait staff was great and provided good recommendations. I would definitely go again.

Authentic German food offered at this restaurant. All our food at our table arrived promptly and very hot. Waiter was courteous and gracious. All of us enjoyed our food. Arrived as we requested. Plenty of food to eat. Restaurant was smaller than I thought. Reservations are probably necessary during busy times. Will go again.

I'm Slovak and I enjoy eastern European cuisine. I was taught by my grandma and mom how to make many of these dishes but it's nice to have someone else cook your favorite ethnic dishes for you. Love the schnitzel, spaetzle and duck!

I've been going to Das Schnitzel Haus for over ten years and have always had a great dining experience. The food is excellent, I never have found a place that makes better German food. Service is always good with a friendly staff and tonight my girlfriend and son ate there and had the best experience yet! We had Vinnie as our waiter and he was the best waiter we ever had, he made sure we had refills before we ran out and delivered our best experience yet!

I am a Cincinnati transplant and grew up in a very German family so finding this place was like a taste of home! Simple, delicious, home-cooked German food just like my mom and grandmother make. I had the jäger schnitzel with sauerkraut and German potato salad and it was delightful. The schnitzel was nice and thin, fried very well and was perfectly crunchy. The gravy was loaded with mushrooms and wasn't too salty. The kraut was good with nice bits of ham in it but needed some salt and pepper. The German potato salad though, was probably the best I've ever had (please don't tell me grandma!). Warm, sour, not too sweet and wonderfully seasoned. I wanted to order a second helping! I will be back for sure because their menu is stacked with classics I want to try!

Very tasty German-American fare –and homemade to boot. This was my first visit to the restaurant on a busy Saturday evening while visiting Cleveland. Reservations are recommended for the restaurant is a bit on the smaller side, and we had about an hour wait. The restaurant interior was very simple and tasteful. I enjoyed all the food and the spatzle was some of the best I had, surpassing Schmidt's in Columbus and some places I've been to in Chicago. However, emphasis needs to be given on the "American" part of German-American. Some menu items unnecessarily deep-fried, such as the potato pancakes. Because of this factor, the meal did not settle fully on my stomach. Prices were steep, $15-20 per entree but portions were plentiful and there was value due to the homemade factor. Our server, the younger gentleman with curly black hair, was very efficient on delivering food and worked hard during a busy and chaotic dinner hour. Overall, a good but not %100 interpretation of German food, and ridiculously flavorful and delicious. I would return many times.

This food is authentic!! I lived in Germany for a couple years for school. The moment I walked up to the door even, it smelled just like I was back in Germany. I had the veal schnitzel and it was really good. We also all got different desserts and they were all really good! The service was so kind too!

Opening Hours
Mon

Closed

Tue

5:00 pm - 9:00 pm

Wed

Closed

Thu

5:00 pm - 9:00 pm

Fri

Closed

Sat

Closed

Sun

Closed
People Also View
Authorize your self with either of these to view contact details, your information will not be shared to any one
Newsletter Subscription for Virtuous Reviews LLP
One more step and you will be subscribed to our newsletters
We have sent you a verification mail on your email id, please verify it.