Dental Implant Center
Dentists
5120 W Lovers Ln, Dallas, TX 75209, USA
Claim Listing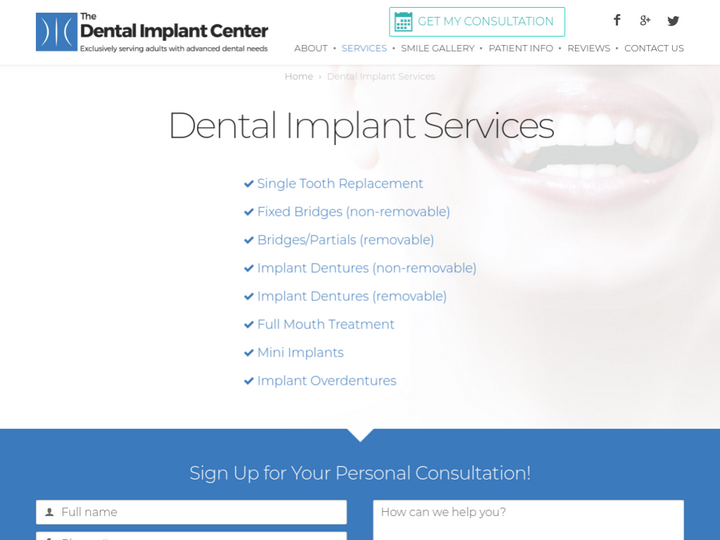 Company Description
The Dental Implant Center specializes in dental, implant and restoration services as well as advanced dental procedures and dental prosthetics. Patients choose our office for the laid-back, relaxed atmosphere and the personalized, one-on-one care they receive from our staff.
Review & Rating

Dr. Mcfadden and staff deserve a 6 star rating for going the extra miles to treat me as a patient with previous problems. I was so extremely troubled with having more work done on my mouth. Dr Mcfadden had No qualms taking over my case, rectifying my issues and then took the time to call me personally the evening after my surgery . The best experience ever with a dental office. Kudos to you Dr. David McFadden and your excellent staff. Alice

When I first visited Dr. David McFadden for some dental work about 20 years ago, I didn't know what a prosthodontist was . . . or that I needed one . . . or how much I could benefit from this obscure specialty of his. I just wanted some relief from a toothache! But actually, my whole mouth was a mess – a product of poor genetics, neglected care and a chronic avoidance of dentists after horrific childhood experiences in the chair of a "family friend" whose dental tools and techniques were far better suited to CIA interrogation. Anyway, in Dr. McFadden's hands, I had my first-ever really positive experience with the dental profession in 50+ years. Not only did he resolve my immediate problem but he brought a level of genuine empathy to the procedure that absolutely convinced me he was as concerned about minimizing my discomfort as I was. It was only gradually, over the next several years as Dr. McFadden began, step by step, to give me far better teeth, functionally and cosmetically, than I was born with, that I began to realize how lucky I was to have stumbled upon this guy. Not only was his specialty of prosthodontics precisely the skill set my poor mouth needed, but I discovered that he was widely esteemed among his peers for his mastery of it. More than once we had to schedule my appointments around his invitations to speak at conferences around the world. It's certainly reassuring to hear that your doctor is highly regarded in his profession as "one of the best," or to know he wrote the book that is considered to be "the bible" on what it takes to build a model prosthodontic practice. But, for me, the real proof that I'm getting the best possible care is the quality of work he's done for me and the little personal touches he brings to every encounter I've had with him. Dr. David McFadden is a rare combination of a fanatical perfectionist in his work, yet someone whose easy, genial nature will make you feel supremely secure in his care.

For all "dental cowards" out there, I highly recommend Dr. McFadden. My teeth were destroyed by a pain medication I took for several years; the resulting infection moved into the bone and made an unholy mess out of everything. Dr. McFadden was compassionate and reassuring, and I never felt one bit of pain during the entire procedure. And here's the other half of the equation: his staff is wonderful, too. So often, a terrific doctor will have a less-than-enthusiastic staff, and it affects the quality of care. But every member of Dr. McFadden's staff is fantastic. The follow-up care has been just as caring and devoted to detail as the initial procedure, so I have only the highest praise for Dr. David McFadden and everyone at his clinic. I would love to give him a 10 star rating, if I could. Sami Swan Thompson (not such a dental coward now)

I have known and utilized Dr. McFadden's services for over 10 years and can not give him enough accolades! My mouth was a mess due to incompetent dental work that had gone from bad to horrific. Dr. McFadden exhibits impeccable skills that are second to none. Thumbs up in office atmosphere, gentleness, and in always providing outstanding work regardless of issues! I certainly trust him and his ability with 100% confidence.

Dr.McFadden has helped restore my mother's dental health after a horrible dental combination work of 3 dentists that mutually destroyed 4 of my mother's teeth. As a result of losing 4 back to back teeth the same spot, there was a substantial amount of bone loss. Dr.McFadden took time to first analyze the problem and prepared the extensive treatment plan. The whole treatment lasted 1.5 years from the first visit until all 4 implants were fully completed as my mother had to have a substantial amount of bone grafting to do before implant work could even begin. Dr.McFadden took personal approach to solving my mom's major dental problem. Dr.McFadden performed the work at relatively reasonable price. If you are looking for a dentist that will fix your dental problem after other dentists told you that your dental problem is impossible to fix, Dr.McFadden is one you need to visit.

I highly recommend Dr. McFadden. He is sharp, punctual and extremely detail oriented. If you are looking for someone who will take their time to explain the treatment options and deliver impeccable quality, this is the dentist/prosthodontist you go to! His staff is very knowledgeable and accommodating. Definitely one of the best in Dallas!

Dr. McFadden is great! He did 7 implants for my husband and me. We are happy with the implants! However the accountant's work is very sloppy! I paid full for the service on 2/27/2017. My insurance sent $1668.12 of reimbursement to his office on 3/8/2017. I called several times, also sent letter to the accountant asked to send me my check, but till now (8/4/2017), I got nothing! The same thing happened to my husband also! I don't understand why you keep poor people's money for so long!?

During my 50's, as a result of a medical issue which caused extreme dry mouth, I began to suffer rapid tooth decay and the gradual loss of my teeth. This same dry mouth issue made the wearing of normal dentures an improbable solution for me. Dr. McFadden gave me various options that would fit within my budget, and our journey began. He met head-on one challenge after another to accommodate my specific and varied needs. Recently when breakage of the dentures became an ongoing problem (due to my very strong bite), Dr. McFadden designed a prosthetic device strong enough to remedy the issue. I am currently thrilled with my restored smile! Dr. McFadden is a perfectionist – which has proven to contribute to my happiness as his patient. I would definitely give him a five-star rating in every aspect of his profession.

Dr. McFadden is not only professional, but takes exceptional pride in the work he performs to his patients. One of those patients being my sig-other, Kevin B. He did a complete mouth reconstruction and I can honestly say that I've never been so impressed with a dental professional as I (we) were with Dr. McFadden. If you're searching for a dental pro to help you create the smile you've always wanted, we'll spare you the search– please go and see Dr. McFadden. You'll get that and so much more with his practice. We can't thank him enough for his attention to detail and the incredible passion for the work that he takes great pride in. His bed-side manner is second to none, and I really mean that. We highly, highly recommend this great man!

Opening Hours
Mon

Closed

Tue

5:00 pm - 9:00 pm

Wed

Closed

Thu

5:00 pm - 9:00 pm

Fri

Closed

Sat

Closed

Sun

Closed
Authorize your self with either of these to view contact details, your information will not be shared to any one
Newsletter Subscription for Virtuous Reviews LLP
One more step and you will be subscribed to our newsletters
We have sent you a verification mail on your email id, please verify it.