Dutch Kitchen Restaurant
Posted in :
Claim Listing
433 South Lehigh Avenue, Frackville, PA 17931 USA
(+1) 570-874-3265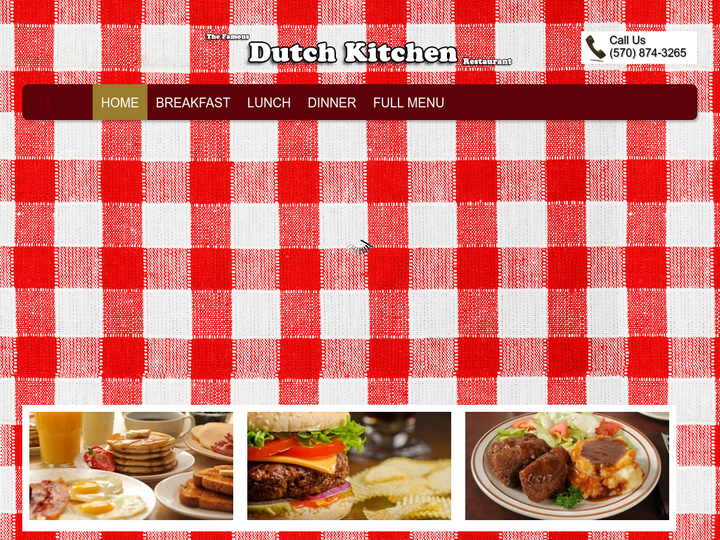 Opening Hours
Mon

Closed

Tue

5:00 pm - 9:00 pm

Wed

Closed

Thu

5:00 pm - 9:00 pm

Fri

Closed

Sat

Closed

Sun

Closed
Company Description
Vintage, mom-&-pop American eatery offering homestyle dishes & all-day breakfast in old-school digs.
Review & Rating

Wasn't expecting much, when walking up to the place. But wow! It was great especially for the price. The 3 of us enjoyed our meal very much. Peach iced tea was great. Definitely warrants a return vist!

Just what I wanted today and I also had their special. Our server was very friendly and came by enough times to check on our comfort without being too intrusive. The food was good and they were efficient in bringing it. The cashier was not as friendly according to my son who paid for the meal.

Small, clean little diner. Food isn't pricey and staff was very quick to set us, grab drinks and order our food. Definitely a place to come back to.

Restaurant's been there for decades and you can always count on consistency. Don't go in looking for a 5 star experience but if diner-style home cooking is your thing you'll be happy. Home-made, freshly baked bread is a plus.

Cozy hometown atmosphere, great service. Good strong coffee. Food's great. Going back there!

Great place to stop for breakfast. Pick from a traditional 60's style booth or a restaurant and table setting. Coffee is always hot and service was quick and efficient. Will stop by again when passing through.

I've driven past here thousands of times and finally stopped. It seemed like a nice place. Clean and organized. Waitresses were friendly and attentive. The booths were way too tight. I'm not a big guy at 190lbs, and i could barely fit in between the bench and table. The food was good, but took forever (and the place was nearly empty, busy was not an excuse) and was cold when it got there. This was a 1 star , maybe 2 star visit at best, but it may have been an off night. Gave the benefit of the doubt and went with 3. Would like to try again someday,

Love the breakfast, I order what's called " The Jack's " it's two eggs , two strips of bacon, toast, and two pancakes, but I highly suggest ordering a side order of their Unique Home Fries with melted America Cheese and Onion.. it's Perfection .. Only improvement would be if they added some milk to fluff up the scrambled eggs. But overall best in the county. I know you are thinking, how can anyone mess up breakfast, well I've tried tons of places, and most stink... Yes Virginia there is a Santa Claus and he eats his breakfast at The Dutch Kitchen...

They sang happy birthday to my now 17 year old son. They brought him a cookie with a candle in it. I have a video. Decorative items all over the place most are for sale. I'm going back here to eat and buy their recipe books for my daughter for Christmas. Everybody was sweet and nice, very attentive. I gave him an extra dollar on his tip. If you want good healthy food go to this place. The atmosphere is great. Great music on. It's better then top of the 80's and dennys.

Very polite, friendly and accommodating staff. Food is served hot, tasty and generous portion size. Facility is clean and decor is entertaining. A favorite stop for us because they consistently meet our expectations. This includes being handicapped accessable.

Newsletter Subscription for Virtuous Reviews LLP
One more step and you will be subscribed to our newsletters
We have sent you a verification mail on your email id, please verify it.