Dutch Valley Restaurant
Posted in :
Claim Listing
6721 S. Tamiami Trail, Sarasota, Florida 34231 USA
(+1) 941-924-1770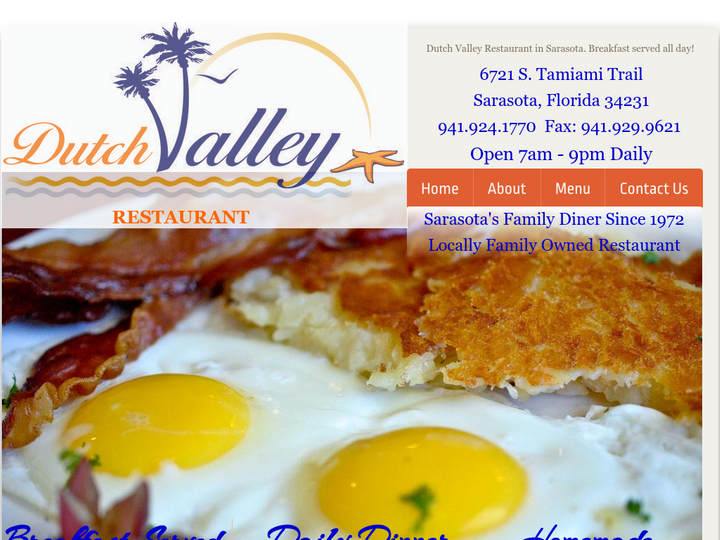 Opening Hours
Mon

Closed

Tue

5:00 pm - 9:00 pm

Wed

Closed

Thu

5:00 pm - 9:00 pm

Fri

Closed

Sat

Closed

Sun

Closed
Company Description
In 1972, a small restaurant named Dutch Valley Restaurant in Sarasota opened just a few blocks away from the present location.
Review & Rating

It was excellent. Great food and amazing service by kitty kat. She is the best. She made My husband Chris and I visit very pleasant. We recommend this place 100%

Food was ok. I had a gyro and Greek salad. Ordered fries but never got them. Usually a gyro is wrapped in foil this wasn't so was a big mess. Husband had eggplant parmigiana but not really that good. Was here years past and was much better.

It wasn't a long wait for the table, but it was a wait to get seen by the server. Once we did, it was decent service. The food was good and the coffee was hot. It wasn't anything too special, so probably will not be back.

I've been in this restaurant many times over the years; the food is very good and the service is good. The last two times I've been in for the Broasted Chicken and asked for all white meat, they have twice refused to sell it because it's the weekend. I pleaded nicely to get it and even offered to buy two meals and there was zero customer service effort from the management t to make me happy or make an exception. It's a shame to be treated like this and it has soured my experience of the restaurant and will prevent me going there so frequently when they don't accommodate a regular customer.

Great place to eat! No wonder why all the locals love it. Wonderful atmosphere and awesome servise.

I'm sure this is a great place but it would have been nice to know that it would be a set menu tonight. We went in looking for certain things but was unaware of the Thanksgiving limited menu. I did call more than once and finally set a reservation as instructed and you would think someone could have told us. Food - we had to send the cheese burger back because it wasn't well done and within a minute it was back with a new slice of cheese on top of the cheese already on the burger, needless to say it still wasn't well done and a safe bet they just threw another piece of cheese on it and sent it back out to us. We were told a manager would be over shortly but that didn't happen either. To be honest this experience deserves a one rating but the ham dinner was good and the prime rib was okay considering. Our server was friendly and did her best. I've waited awhile to visit this place and the reviews I've read gave me high expectations but didn't delivery. It was tough paying $70 for this meal. We will visit again at some point and try the full menu hoping that it was a bad night, not the norm.

Best fried chicken in town and dinner entree comes with delicious hot soup and salad, potato, and dessert. Entire meal under $15. Typical diner ambiance. Service is prompt and efficient. They are busy all the time but they turn tables quickly.

Awesome breakfast everything was cooked the way it was ordered. The only thing was the linked sausage had to much sage in them. Our waitress was quick and very friendly.

Good but I wouldn't say great. Our waitress was very sweet but service took FOREVER. However it was busy but we finally just forfeited the included dessert so that we could leave (after being there almost 2 hours!) The food was pretty good, portions were generous and prices were fair. We ordered lunch type food. If I go back, I want to try their breakfast dishes, they looked very good!

I was here with two friends, and none of us had been here before. The restaurant has a comfortable atmosphere, even when it was almost completely packed. There was an open window into the kitchen, but the dining area did not reek overly of food. Our server Tammy was incredibly friendly and put our group at ease while foreseeing our possible needs. (She asked if I'd want water in addition to the fresh orange juice. I thought I wouldn't need it, but it turned out that later I would, so thank you!) My friends ordered a gyro and a ground sirloin burger, which they very much enjoyed. (My friend would definitely recommend the gyro she ate to her father who's on a search for the "perfect gyro.") For dessert, I ordered a slice of chocolate cake and Dutch apple pie. Our server dressed them up, which made the already mouthwatering desserts more tantalizing. The flavors, to me were balanced; I usually have problems finishing chocolate cakes, even if I'm sharing, because they're usually sugar piled on top of sugar, but the cake maintained the chocolate flavor while not being overwhelming. The three of us shared the Dutch apple pie, and I stopped halfway to try the chocolate cake, so I offered the remainder of the pie to one of my friends. She hungrily (despite claiming being full from her burger) and happily JUMPED on that. When we got the check, I was surprised by the total. It was a delicious meal at a very reasonable price! I would highly recommend this restaurant!

Newsletter Subscription for Virtuous Reviews LLP
One more step and you will be subscribed to our newsletters
We have sent you a verification mail on your email id, please verify it.