Edelweiss Biergarten
Posted in :
Claim Listing
2625 E. Bell Rd. Phoenix, Arizona 85032 USA
(+1) 602-404-5919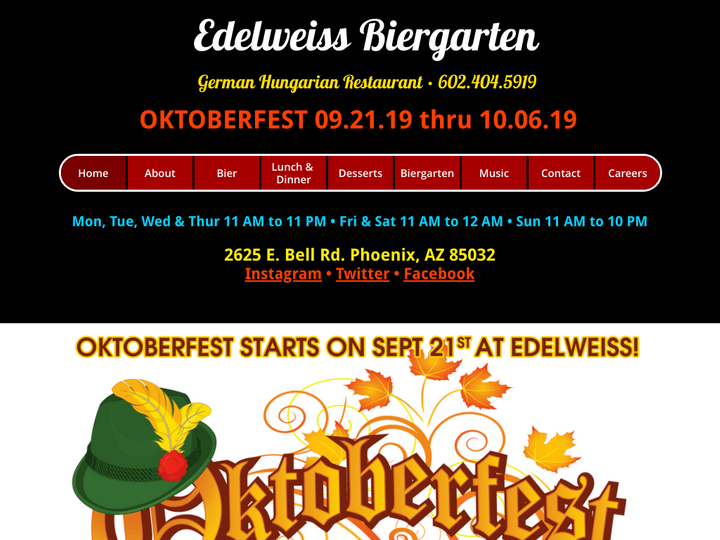 Opening Hours
Mon

Closed

Tue

5:00 pm - 9:00 pm

Wed

Closed

Thu

5:00 pm - 9:00 pm

Fri

Closed

Sat

Closed

Sun

Closed
Company Description
The Edelweiss Biergarten Restaurant in Phoenix, Arizona is the newest restaurant specializing in German and Hungarian Cuisine.
Review & Rating

A great alternative to the predictable Mexican and Asian restaurants. Home cooked food with live accordion music in the evenings! Yeah, you read that right. Accordion music. It's fun and the food is great. Good place to take a dog (outside in their spacious back courtyard). They have a live pig in the back! My 15 year old son is always begging me to go there. (HINT: Ask what is off the menu because they usually have some special treat that the cooks put together.)

Atmosphere was great. Perfect for lunch or dinner. I unfortunately was unable to indulge in the wonderful beers they offered.

Wonderful atmosphere! Super friendly and attentive staff. Fritz the pig was so cute and entertaining! Very happy to interact with everyone. The food was great!!!

I really enjoyed this place. First time eating here and will definitely come back. The service was amazing. Food was excellent and the atmosphere was fun. They even have a pet pig that roams the biergarten.

Great food, large portions. Many favorite German beers on tap or by the bottle. Waitstaff friendly and knowledgeable. Live entertainment was also experienced.

Very good service. Great beer. Very good Jaeger schnitzel but really short on the sauce. They wanted $1.00 for more sauce. 😡 That's not right.

Good food, priced right. Could easily be 5 Stars if the brats were not cold, and my wife's speatzle weren't cold either. Signs of a rushed kitchen, where stocks are made well before the order. Schnitzel was excellent.

Was alone so I ate at the bar. Service was quick and friendly. Food was top notch, much better than the ambience. Used to be a bar that served food on the side. Only updated the kitchen not the decor. None the less I will be going back.

The food is good and there's plenty of it. The staff seem to know exactly when you need them without hovering. The atmosphere is fun with an accordion player and some audience participation. You also don't feel crowded because it's spacious. The only down side is parking can be challenging.

I absolutely love this place! We take our family to this restaurant every time they are in town because we all love it so much. They have great food, great beer, and pretty doggone good prices! The atmosphere cannot be beat! Being from Wisconsin, it makes me feel like I'm in Milwaukee again

This place is fantastic food is spectacular beer is amazing and service was the best! Our waiter Greg was awesome it was our first time here and he was kind enough to give us a complimentary dessert. We also accidentally dropped a piece of our weinersnitzel and he brought us a whole new one without us even asking free of charge. He was also helpful with suggestions for beers and sausage. This place takes care of their customers. We will definitely be back!

Newsletter Subscription for Virtuous Reviews LLP
One more step and you will be subscribed to our newsletters
We have sent you a verification mail on your email id, please verify it.