Fisher Honda Acura
New Cars
6025 Arapahoe Road, Boulder, CO 80303 USA
Claim Listing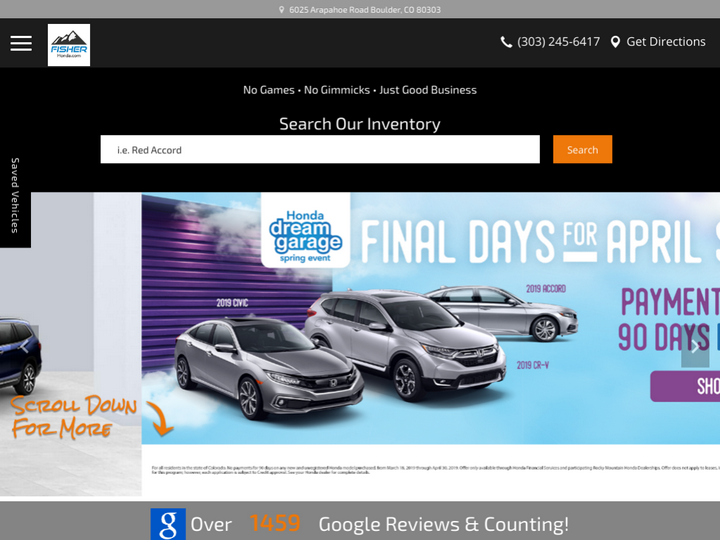 Company Description
Fisher Honda stands out in the Denver, Colo., area for its service, honest treatment, and competitive pricing! Whether you're looking for a sleek sports car, reliable four-door sedan, efficient hybrid, the minivan that fits your whole family, the powerful SUV that braves the fiercest mountain weather, or the truck that gives you the freedom to haul whatever you need, wherever you want, Fisher Honda in Boulder, Colo., has just the right vehicle for you!
Review & Rating

I saw a used car on the website, but no price. I guess that's a secret, which is not conducive to selling any product or very customer service oriented. I was already at a dealer next door who had sold the car I came to look at, so I decided to go talk to someone at Fisher to learn the price of the car I'd seen and see what else they had available. I had previously purchased a new Chevy Suburban here back when they were a Chevy dealer, and a used car for my son a few years back. Those were both reasonably good experiences. Not today, not in current times. Today I walked in and no one acknowledged my presence for almost 15 mins even as several staff passed me multiple times. I must have been invisible. Finally someone asked if I had been helped. I said no. They introduced me to a guy I expected to be a salesman. I asked simply for the price of the car from the website. He started wandering the lot looking for the car. Never found it. I said I would expect him to know the inventory. He said he was the finance guy. So I just left after wasting 30 mins. I had started a chat off their website while waiting in the lobby. This person asked if I had been helped. I said I just wanted to find the price of the car. They couldn't tell me either. It is a nearly useless off-site service. Asked if I wanted someone to get back to me. I said no. How the hell do these people expect to sell anything when they cannot even tell you the price of the product? I will never return.

Great experience. I just told DOC, Dennis O'connor, what kind of a used car I was looking for and he called me as soon one came in that matched my requirements. This is my eight Honda ( third one from Fisher). I couldn't be happier with the sales and my Service Advisor Jason Norman.

Can't say enough about this dealership. Traded in my Honda CRV for a new one yesterday. Ty walked me through the whole process, answered all my questions patiently and two hours later I drove off in a beautiful new car! The leasing process was amazingly fast and thorough thanks to Sean and I now have a lower monthly rate! If I could give them all 10 stars I would, hope to do business with them for many more years!

I've been coming here since 2016 and every time that I come here, I leave with a pleasant experience and knowing that I'm being taken care of. For example, I came in this morning without an appointment after a emissions service light came on last night. Fortunately, Jason, who I always ask for, was there and took my vehicle in right away and even asked what time I needed to leave to be at work on time. I found out the reason for the service light coming on after about a short 45 minutes and was relieved that it was something fixable and wasn't going to cost me my whole paycheck. I've left reviews here before but wanted to reiterate that the service and honesty and knowledgeable staff are top notch. I'm really glad that I found Fisher Honda to make sure that my vehicle is in great shape.

Got a great deal on a sedan that was exactly what I was looking for. The Salesman Doc O'Connor was very helpful. Telling me what it sounded like I was looking for after I looked in a few cars that didn't meet my preferences. The agent who was helping me finance it was very helpful. The deal he got when he contacted my credit card company was for 9% interest on the monthly payments, but he knew it was way too high for my auto-credit. So he didn't take the deal and replied to them telling them that they did something wrong, and the new deal I got was barely over 5% interest. Most dealers would have 1. Not done any repairs on the used car I got before putting it up for sale, and 2. sold it for way over $10k despite the mileage already put on the car and 3. sealed the deal with my credit company for 9% interest without asking questions. but not Fisher, I had heard beforehand that they maintain a high reputation in customer satisfaction and I was not disappointed.

Exceptional customer service & car maintenance each & EVERY time I visit Fisher Honda in Boulder. Whether I need a basic oil change or something more for my Honda Fit, the staff is always helpful & friendly and the service is timely & thorough. My partner & I are treated so well here that we will drive from Broomfield whenever needed & know we will get the best service & peace of mind with both of our vehicles.

This kind of excellent customer service and excellent work done in a timely matter at an honest price is so rare in today's world. Tammie was so kind, helpful and efficient in setting up appointment and processing my account. The work done was perfectly and finished a half a day early. THE BEST

Great experience today. We have moved back to Colorado recently (well, 2 oil changes ago) and today was a 5 star experience. I had my 3 yr old with me and the play room for the kids was great (small, but the bean bags and the box with the beads and wires were a big hit. Those always are). The service reps even gave my son a Hot Wheels truck! The Express service was fast as advertised. I had to come back after the service to check an engine code, and Derek was wonderful talking me through my options. It was informative but not pushy, as I had been used to with the Acura dealership we had come from. Good work today Derek and Fisher Acura!

I have nothing but wonderful things to say about Fisher Honda Acura! I spoke with Richard E. Before coming in and made an appointment no problem. Richard was extremely helpful, and actually helped me to get a car that was way better than I expected for a price I could afford. They were super reliable, extremely understanding, and all around great people.

If you're looking for a terrific & knowledgeable partner for your next car, look no further than Fisher Honda in Boulder. Dennis O. took time to understand what I needed, for what purpose and what I wanted to spend. After a night to think about which direction to go, when I arrived all the paperwork was ready for me upon my arrival. Caleb in the finance department provided me with excellent communication and explained any questions I had. He provided a few different financing institutions and allowed me to check on my own. Overall, as a salesperson myself, I can say that NOBODY wants to be sold to but customers do appreciate someone who is a true resource and is easy to work with... Which is exactly what you get with this group!

Opening Hours
Mon

Closed

Tue

5:00 pm - 9:00 pm

Wed

Closed

Thu

5:00 pm - 9:00 pm

Fri

Closed

Sat

Closed

Sun

Closed
Authorize your self with either of these to view contact details, your information will not be shared to any one
Newsletter Subscription for Virtuous Reviews LLP
One more step and you will be subscribed to our newsletters
We have sent you a verification mail on your email id, please verify it.