Houston Methodist Hospital
Doctors
6560 Fannin Street, Scurlock Tower, Suite 570, Houston, TX 77030 USA
Claim Listing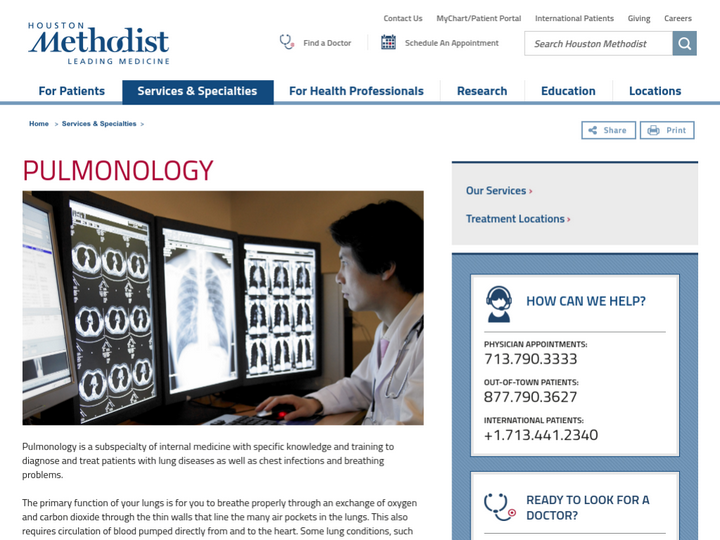 Company Description
Pulmonology is a subspecialty of internal medicine with specific knowledge and training to diagnose and treat patients with lung diseases as well as chest infections and breathing problems.
Review & Rating

Go here if you want to see your loved one left untreated for 10 hours and die.

Whoever nurse Ann is that works in the Jones tower is rude as hell . She's tall with glasses and a African or Jamaican accent . She came in with an attitude and was slick talking to me then she stuck me wrong when she was trying to get blood then left out the room with an attitude and didn't even have the decency to put a bandage on where I was bleeding after she stuck me!!! She needs to find a new job if this ain't for her. And I called for a nurse for a whole hour and nobody came then I ended up throwing up by time somebody did come and the nurse didn't even want to bring me new sheets since I got threw up on them ! This was my worse experience ever at Methodist!!!!!🙅🏽‍♀️🙅🏽‍♀️😡😠

My care at Houston Methodist Medical Centet was excellent. The staff was professional. I appreciated the follow up call after going home. I would recommend this hospital.

Superb physicians and nurses. Overall staff and volunteers very attentive, pleasant and friendly. If you need serious medical help, this is your best choice...by far!

If I could give 0 stars I would. This hospital is a research school for new nurses and residents. People please be mindful of this because they will use you or your family as a teachable moment. Run all kind of testing just to bill insurance and still u will have no diagnosis. Please be mindful just because it's the medical center doesn't mean you receive the best care or treatment!!!!

We put my grandma here and every day was a pain. The other reviewers are right about this place, avoid at all cost. Not only are they getting paid very well, but they absolutely do not care. My grandma was not being fed until the nurses were yelled at, there was not one person there that knew her situation. The finale was that they told her she was ready to go home, we packed her bags, then were told they made a mistake that they read the wrong patient, and then three hours later told us she was ready to go home again. I can't believe they still call this a business. Avoid this hospital at all cost, nobody here cares about their patients, it's just another job.

If there was an option for 0 or negative starts, that's what they are worth. The hospital is all about making money and generating profit. There is no 'service' angle in their medical services, only profit counts because everyone has their goal to meet by ethical or unethical means. The most disturbing and unethical practice, which hurts patient financially, by this hospital is that it bills you for the services without performing them. I had such experience twice and have decided to stop going there in future. Both the occasions they did not listen or try try to fix their mistake. On the other hand, so far I had extremely good experience with the other equally large and diverse hospital in Houston - Memorial Herman who always have patient service as heir top priority.

Rickjamesrodriguez Annalisa12
UK
My mother in law is in hospice here in Methodist we were a little traumatized with the first nurse we got, she very ruff and rude and insensitive then we were blessed with a great nurse named Edgar he is the best!! He has been extremely attentive prompt caring respectful he is truly a blessing

If I could give Methodist Hospital, a 0, instead of a 1 due to having the worst Communication with the family of the Patient. Let me explain why? my brother was a patient at Methodist Hospital all the Medical Staff (Dr's) there have no Customer service skills. They are very RUDE or didn't explain what the situation is when it comes to asking them a Question about my brothers care we were told I don't know or let me direct you to the right person. I was so deceived by how this Hospital is very Unorganized with the Staff. I don't know why they say this Hospital is the best Hospital in the World I don't agree with it being the best and the care you get isn't always warm. The Nurses that are from another part of the Country Don't speak very good English and don't speak very good English. To me they aren't as Compassionate as the nurses in the ER they are compassionate and caring and get the message back like a Professional medical care that should be on all floors. I hope that this Hospital retrains the nurses that have no Patient skills and to be more Compassionate and caring. Because to me they are there lacking skills to be a Nurse and are there for the Paycheck we didn't get a warm feeling there at Methodist. I can see we're not the only ones who felt this way about Methodist. Hopefully the Hospital can be more Observent on how things are being done there!

Methodist is one of the top hospitals in the nation and just recently they were able to open an artery in my father's leg to allow blood to flow to his foot. Other doctors in the past at Clear Lake were unable to. Clear Lake is still an excellent hospital though. Case workers and doctors at Methodist were professional, punctual, and kept me in the loop with daily phone calls. This is not our first visit here, we were here for open heart bypass in 2008. My top choice in Houston is Methodist.

Authorize your self with either of these to view contact details, your information will not be shared to any one
Newsletter Subscription for Virtuous Reviews LLP
One more step and you will be subscribed to our newsletters
We have sent you a verification mail on your email id, please verify it.