Krown Sports
#98 in USA
#56 in Atlanta
Clothing Alterations
278 Laredo Dr, Decatur, GA 30030
Claim Listing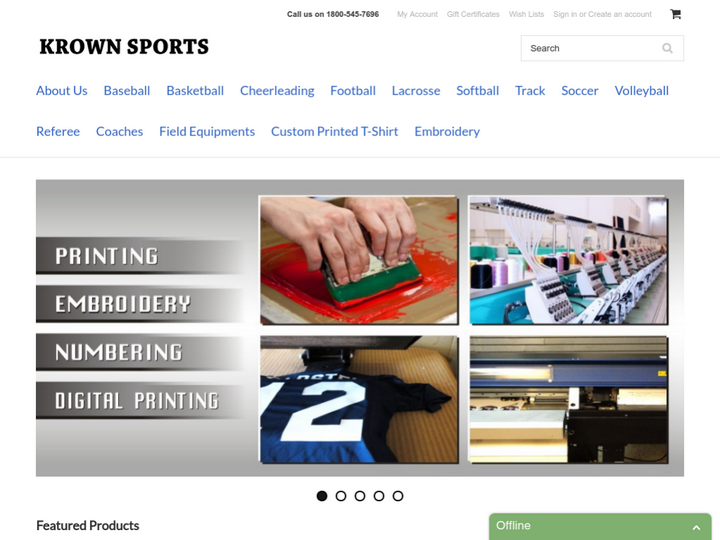 Company Description
Krown Sports a full service sports uniform and apparel company operating successfully for over 30 years. We are supplying many Parks & Rec., Schools, Colleges, Churches, Clubs, Camps, Leagues, Indoor centers and YMCA's with quality sports gear with the best prices.
Review & Rating

NEED MORE INVENTORY

On every level, Krown Sports failed me. I placed an order for T-shirts well before I needed them, and even visited the establishment two months before my event to ensure they could handle my order of 60 T-shirts. At first, they seemed promising, but then things took a turn for the worse. I was repeatedly lied to about when my order would be ready, and since they wouldn't return my calls or emails, I physically went to the establishment when I was told they'd be ready, only to find out that they were not ready ….on two occasions (and they had not even started). I finally said I wasn't leaving until I had the shirts, so I sat for two and a half hours while they started and finished my order. I was told repeatedly by the owner, AJ, that they should have never taken my business because they were too busy with tens of thousands of dollars worth of orders during soccer season, despite him being one of the employees I communicated with two months prior who said they could handle my order While I sat in the store for two and a half hours, I witnessed the most mismanaged staff that I've ever seen. First of all, the phone rang and rang and rang, but staff rarely picked up (which I already knew was a problem since I experienced that as well). On the rare occasion that one employee did answer the phone while I was there, she put the person on hold and never went back to pick up the phone again. I heard the owner on a couple of calls tell customers that he was too busy to deal with them. The place was a complete disaster. I now know that it was soccer season so things get hectic during soccer season (as the owner repeatedly told me as he was trying to excuse his mismanagement). I finally got my T-shirts and they were wrong! Despite my physically sitting with one of the employees when he took my order weeks prior, and showing him the correct front and back design to use, they used a design I had sent in earlier as a "sample" of what I was looking for, and they didn't print them correctly (they left off the back design and I had to call it to their attention despite having paid for a front and back design). I'm now stuck with these shirts. They did refund some money, and gave me $20 off, but I've calculated that I've lost about $150 worth of work time dealing with Krown Sports. I am a Decatur resident and really wanted to support a local business, but never again will I use Krown Sports. They were absolutely horrible.

Fielding Shaw DeCoursey
UK
I understand that this is a very affordable sports store and I like that they offer equipment for small kids, but when I went in the store (for a second time) to pick up a jersey that was supposed to be in, and it wasn't, I was less than impressed with the staff. After the staff called the manager to locate my daughter's jersey, someone came out from the back and told a female staff member to gather all of the soccer items (minus the jersey that still wasn't available) and give them to me. The staff member looked up, ignoring me and said "why would I do that...it isn't like she has a game or something yet." Then she continued to ignore me and the person who asked her to gather the items finally gathered them for me. Let me explain to this staff member why she should have taken care of me...I am the customer and I am standing in front of you, taking time out of my busy day to come to your store, to pick up items that should have been here. She is lucky she doesn't work for me, I would have fired her on the spot.

they are.quick!

When the jersey I ordered didn't arrive the day it was promised, I submitted an email asking for information. An employee called the next business day (after hours) and confirmed they couldn't find my order. He replaced the jersey and said I would have it by Thursday. I received it on Wednesday. I expected the worst, but they fixed the problem quickly.

So great!

Good selection of soccer merchandise.

Best prices on official USSF sanctioned referee kits and equipmemt.

I ordered a referee kit from here, they overnight shipped it to me even though they don't have that even as a shipping option. Then when ups didn't bring the package i called on a Friday night at 9:30pm when they close at 6pm the person i spoke with drove all the way from Macon back to the store in Decatur in one night and even offered to drive another HOUR to my house to PERSONALLY deliver my package because i had an 8am game the next day. This is truly an amazing store with amazing staff and it makes me sad that there are so many bad reviews because this store really tries and this is the best customer service you can get.

Excellent customer service! AJ has been in business a long time. He knows his products and how to get it done on time. Highly recommend him.

Authorize your self with either of these to view contact details, your information will not be shared to any one
Newsletter Subscription for Virtuous Reviews LLP
One more step and you will be subscribed to our newsletters
We have sent you a verification mail on your email id, please verify it.