Kubeh
#91 in USA
#29 in New York
Restaurant
464 Ave of Americas, New York, NY 10011 USA
Claim Listing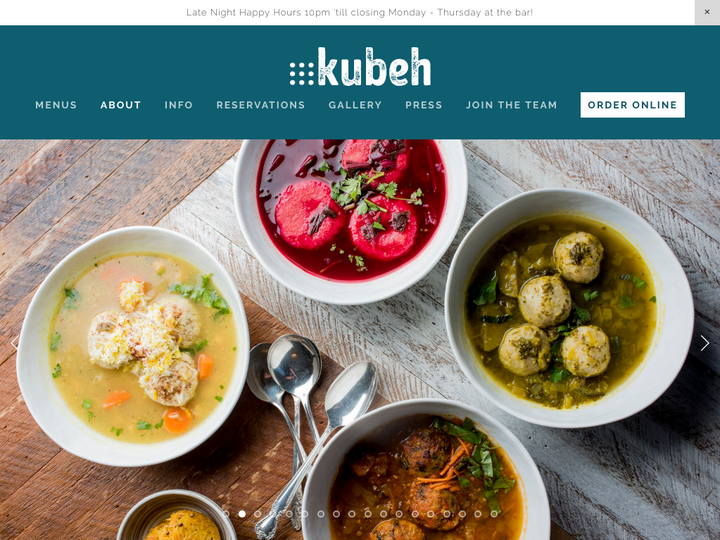 Company Description
Kubeh is a dish with widespread tradition across the Middle East and It comes in many forms. Sometimes there's an outer dough-like shell and an inner filling, sometimes the ingredients are ground together into a ball; and sometimes it's prepared in layers like a pie.
Review & Rating

Comfy place with tasty but small portions.

I love their food. They are always adding amazing dishes which have modern twists on old time favorites. Really healthy, but so flavorful. I always take out of town guests there because there really is something to suite anyone's tastes. Never a disappointing dish.

Food was delicious! Great service and atmosphere.

Stopped in with my gf this afternoon for a snack: what a find! We both grew up eating middle eastern cuisine, and the hummus is some of the best in the city. We also got the merguez sausage (lamb) and it nearly got ordered twice because of how savory and delicious it was. Servers were attentive and kind. We'll be back to try their brunch and dinner soon.

The place looks nice. The food looks very nice but the taste was just ok. Nothing too exciting. The flavors were bland, not as expected. A particular surprise was the kurdish siske kubeh with selek (beet) broth which had almost no flavor at all. Another upset was the eggplant which according to the menu is roasted but is actually fried. It was good but not what we expected.

Tasty food but portions are a bit small for the prices.

Delicious and nutritious! It's rare to find a restaurant where you can choose anything from the menu and still feel like you're eating right but Kubeh pulls it off with ease. The signature dishes are incredibly flavorful and clearly made with love. The waiter was very friendly and knowledgeable. Finally, everything was quite reasonable. I know I'll be going back!

Kubeh is a great addition to the Village. It's large enough that there is generally room, flexible enough that you can take a large group, or sit alone at the coffee bar. Yet it's quiet enough for easy conversation. Its menu offers a wide variety of Middle Eastern dishes, including some unusual ones, such as its house specialty, kubeh (a soup and dumpling dish, for which they offer several different kinds of broth and several different kinds of dumplings). The quality of the food is very high, and the cooking is delicate. And with all this, it's quite inexpensive. In short, a great place.

I took 5 of my friends here for dinner and we had a great night! Food was great, the ambience was relaxing and the staff were very attentive.

I liked this place and will try it again. Was trying to meet up with a friend for happy. The place we were supposed to meet at was closed for a private party. So we came here. I am happy I did. The bar is small, but had happy hour specials. Drinks/cocktail offerings were unique, tasty, and strong. I had the hard lemonade with rose water, and then.moved to something else. Food specials were all right. Had some red pepper spread, and pea like falafel. Both were tasty. Bartender was helpful and attentive, and the other workers always seemed to smile back. That means something!! It's a happy place, and try to make it so. Place was quiet, but that's fine if you're trying to catch up with someone. I will be back and next time try more things

Authorize your self with either of these to view contact details, your information will not be shared to any one
Newsletter Subscription for Virtuous Reviews LLP
One more step and you will be subscribed to our newsletters
We have sent you a verification mail on your email id, please verify it.