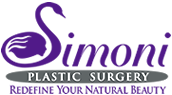 Simoni Plastic Surgery
Surgeons
421 N Rodeo Dr, Suite G8, Beverly Hills, CA 90210 USA
Claim Listing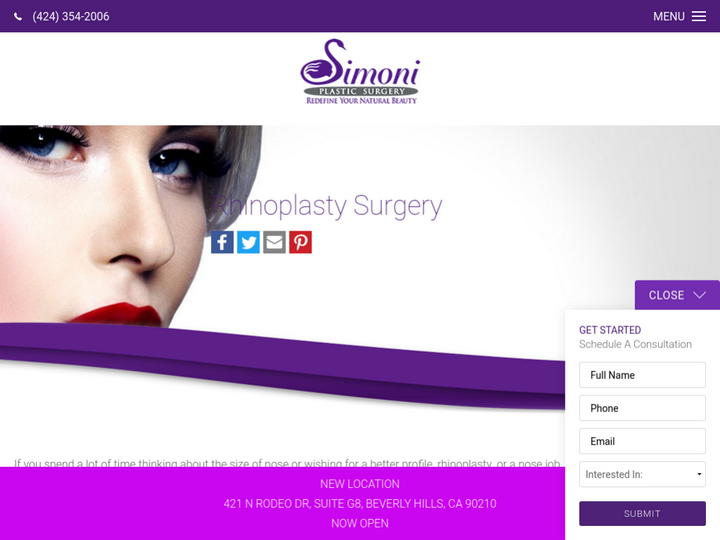 Company Description
Now honored as one of Hollywood's top five plastic surgeons and regarded as one of the best rhinoplasty surgeons in Los Angeles, Dr. Payman Simoni has offered no shortage of contributions to his field.
Review & Rating

Hello, I look better my face skin improve before my skin scar.

after having read all the negative reviews about Dr Payman Simoni now I understand why.... after rhinoplasty he refuses to tell me what exactly was done to my nose i can't believe that, i just wanted to know the details of my procedure and i think as a patient it is my right to know that, it seems like the office staff are all closely related to him because they all somehow change after the money was paid, after researching i found many many horror stories of his patients complaining online, thank god im not disfigured but I do feel sorry for them and wonder how such a man after having done so much evil 1.can still smile 2.is still allowed to perform surgery in this country?

Jessica is the best at fillers and Botox. Dr. Simoni is also a great surgeon

Really loved going in to get my under eye circles zapped out by Dr Simoni!! It was super quick, pretty painless and I can actually see it working after just 1 session! I have 3 more sessions with the doctor and can't wait to see the outcome again next time!! Highly recommended. Thanks doc!!

I came in to get my ear re-stitched my time here was very worthwhile the staffing were polite and helpful as of me sitting my appointments and my visit there the doctor did amazing job on my ear it was painless and the recovery process was perfect I would recommend this doctor to plenty of others as well. Here are some pictures of the before the stitches after doctor stitched me up and after one stitches were Taking out

I would give this place a -1000 if I could. I totally got scammed out of $1100. I went in to see about getting a steroid injection in a hypertrophic scar that had formed under my eye. Dr. Simoni and his nurse Jessica both said my only option was to get Restylane under my eyes to raise the area up so that it would blend in with the scar. My dr. In Canada warned me that some places might try to talk me into other options that would be costly and told me not to listen and boy do I wish I listened to him. I went ahead and got the filler under my eyes and finally just now after getting the filler melted several times and also getting laser treatment under my eyes are they finally starting to look normal again. I had the treatment in April. I was walking around with what looked like lumpy mashed potatoes under my eyes for almost 4 months. It was absolutely awful. Jessica did the procedure and I went back to her 4 times trying to get her to fix it. She kept putting more filler in and it just looked worse and worse. When I asked her to melt it she wouldn't. Then she blamed one eye being lumpy on a vein and said i needed to get the vein removed and gave me the number of her friend who was a vein specialist. These people were really trying to drain my bank account. They even tried to charge me more after I paid them over a thousand dollars to ruin my face. Absolutely appalling. When I was in for the last time Jessica even threatened me and told me she wouldn't see me again unless I wrote a positive review about her. Are you high?!?! You guys stole my money and ruined my face?!? Tried to charge me more, wouldn't melt the filler which is what I needed and then tried to get me to spend money at her friend the vein specialist which also wasn't needed! When I finally smartened up and went elsewhere the receptionist looked at me and the first thing she said was, "wow they overfilled you, you need hyalarauinaise to melt that." The receptionist knew! How did this surgeon not advise her the same?!? I also ended up getting the steroid injection which is all I needed! The scar completely reduces in size. They lied to me and stole my money. Stay away!!! I'll remove this review if they refund me my hard earned money they stole.

Extremely skilled, kind, sweet and overall a great doctor. I have known him for years and being a doctor myself, wholeheartedly recommend this doctor. I only deal with and trust the best of the best! He is externally gifted and doesn't even have an ego. He will answer your questions and if there is something he can do he won't hesitate to do it and delivers excellent results. . He successfully repaired the very complicated (necrotic) alar region of my nose. I'm pleased with the results and forever grateful. Skilled and awesome he should be your choice for any cosmetic/reconstructive procedure.

I've been coming to Dr. SImoni for years now! he's truly amazing at what he does, he's the only one I will allow to touch my face. I come to see him for botox and juvederm for my lips and he never fails to disappoint! He knows how to much to injection to help create the perfect pout, His office is beautiful and the staff is very friendly. Thank you Dr. Simoni for being the best there is!!

Dr. Simoni and the entire staff, every coordinator and nurse, were absolutely wonderful and caring. The results were better than my expectations. Very happy.

I'm currently getting the pain free tattoo removal and it's the most remarkable treatment ever. Dr. Simoni talks and jokes with me during the removals and it's truly pain free. Ashley at the front was so sweet and welcoming. I'm really excited to have my tattoo gone but I'll be sad not to see them any more. The new office also feels so much more private and comfortable.

Opening Hours
Mon

Closed

Tue

5:00 pm - 9:00 pm

Wed

Closed

Thu

5:00 pm - 9:00 pm

Fri

Closed

Sat

Closed

Sun

Closed
Authorize your self with either of these to view contact details, your information will not be shared to any one
Newsletter Subscription for Virtuous Reviews LLP
One more step and you will be subscribed to our newsletters
We have sent you a verification mail on your email id, please verify it.