Swimming School Miami
School
3760 Bird Rd, Miami, FL 33146, USA
Claim Listing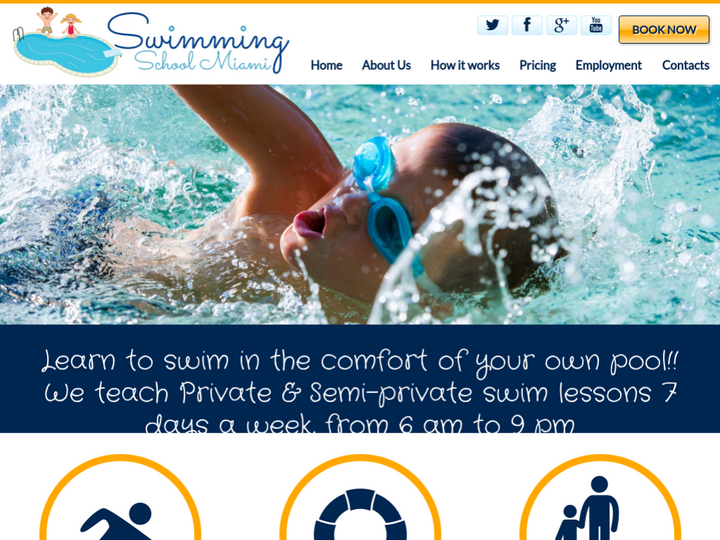 Company Description
Swimming School Miami is the main swimming lessons provider for children and adults in private pool or community pools. Our Instructors are highly qualified professionals who are subject to an extensive interview process, complete screening, and background check.
Review & Rating

My kids loved the instructions and can now swim after a full course provided by Fabio. Very efficient friendly and safety oriented.

I wanted to say thank you for organising our private swimming lessons, and pass on some feedback about Ashley. She has been absolutely wonderful with Ali, really patient, so friendly, my daughter has come such a long way in the short time she has been working with Ashley. She is an incredible asset to your business, she has done a wonderful job for us.

My son, aged 4, started having his swimming lessons with Fabio in December time. At first, he didn't like having his head under water, didn't like jumping in and was generally nervous in the water . Fabio has helped him come on so well and so quickly. Now, after say 6 or so lessons, he loves jumping in, is always going under water, can swim by himself on his back and LOVES being in the water. It's hard to get him out after the lesson has finished! Fabio has a unique teaching technique and a positive way to communicate with children. I'm looking forward to seeing how his swimming improves over the next 10 lessons.

Fabio was my niece's instructor and I can only say that I was amazed by the progress our 7-yr old made in only 6 lessons in spite of the fact that she is terribly afraid of water. At the end of 6 sessions she was swimming and breathing with the head in the water and was not even aware of it. I found Fabio to be extremely patient , professional, knowing how to relate to children, trustworthy and always punctual. I highly recommend him without any hesitation.

During my stay in Miami I looked for a swimming coach. I am very satisfied with my experience with Fabio. Thanks to his professionalism and patience I got to improve my swimming skills within a short period of time. Fabio adjusted his schedule to accommodate me a couple of times. I would fully recommend this swimming school to anyone looking for a high professional and reliable service in Miami area.

Amazing experience! I started as a complete beginner. I have always been scared of water and thought swimming will always be a fantasy until I made that phone call to Swimming School Miami. Fabio, the instructor is fantastic. Very professional and personable. He worked around my schedule and traveled to different location when needed. Within my 6 lessons I now can freestyle and do back strokes. The best part of this experience was that the price was unbelievable for 10 Lessons 45 minutes each. It such a great skill knowing how to swim. Thank you Fabio for making my fantasy reality 😀🐬

I loved my experience! Fabio was a great instructor, very patient and understanding. I felt comfortable and motivated to take my classes. I learned a lot!

My child has special needs, The instructor did a great job getting my son to feel more comfortable in the water. We now feel better that he can "safety swim" which is the minimum we asked of him (he's not a water guy).plus the staff over the phone was great, always replied to my emails and phone-calls instantly.You can't find a better swim school in the area.

I was very pleased with Fabio. He was punctual and very accommodating. My sons went from being afraid to get in the water to swimming on their own within 3 weeks. Thank you Fabio, for your services and great instruction!

Fabio is great with Jackson, 4. He makes sure Jackson is pushing himself without driving too hard. Fabio is also accommodating and flexible when weather is difficult.

Best place ever!!!! I love everything about them! Their teacher, managers, support staff. It is like being at home. You guys rock. The classes are awesome. My 2 kids are there, they love to swim and thanks to this incredible place they have learn it to perfection. THANK YOU OCAQUATICS

Authorize your self with either of these to view contact details, your information will not be shared to any one
Newsletter Subscription for Virtuous Reviews LLP
One more step and you will be subscribed to our newsletters
We have sent you a verification mail on your email id, please verify it.