The Guesthouse Hotel
#73 in USA
#20 in Chicago
Guest House
4872 N CLARK ST, CHICAGO, IL 60640 USA
Claim Listing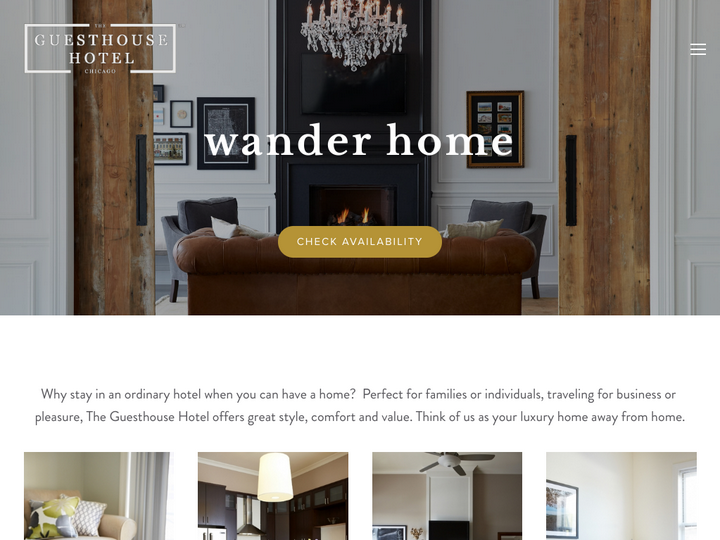 Company Description
The Guesthouse Hotel was Inherit Hotel Group's first venture and the creation of partners and husband and wife team, Dave and Simona Krug. It was a born from a building initially meant to be luxury condominiums and converted to a boutique hotel during the country's economic downturn in 2008. The 25-unit boutique Hotel features one, two- and three- bedroom accommodations.
Review & Rating

Reasonable price for really nice rooms. Staff was super nice and they upgraded our room for free.

Super fun place to stay. Perfect for a short visit or a long stay. The staff was very accommodating with an extended checkout when we overslept. Delicious eats nearby and a short drive to attractions. Recommend the bongo room nearby for brunch!

We came to Chicago for a concert in walking distance from the hotel. The Guesthouse was honestly the nicest hotel I've stayed at! The assigned parking spot in the garage was awesome because we didn't have to worry about street parking and could walk to all the nearby attractions. Our suite truly made us feel at home with the full size kitchen appliances, balcony, washer and dryer, and airy spacious rooms! I will definitely be back!!

Worked here temporarily and have to say the level of service was excellent. Guest needs were always met by any staff member. Family is the heart of this hotel. So bring yours next time you visit Chicago/Andersonville.

I loved my 3-day stay at this hotel! The "rooms" are 1 bedroom luxury condos with a full kitchen, a balcony and 14-15 foot ceilings (ceiling fan in living room and bedroom!). The bathroom featured a gorgeous, clear glass shower and excellent lighting. The bedding was luxurious and the closets are what you would expect from a home, not a hotel. The staff was friendly and genuine, providing warm, professional hospitality with charm. The parking is incredibly secure, with an assigned space in a garage like a home, with a remote garage door opener. There are restaurants in easy walking distance, but nothing noisy is close.

Just lovely. Very friendly and hospitable staff. Beautiful rooms. Definitely made me feel fancy😉❤️

I've started here twice in the last 6 months. Units are always spotless on arrival. Front desk staff is courteous and helpful. They give solid guidance on the local area. For example, we forgot a coat, and they provided several answers that met our needs (something Chicago specific, something we couldn't get elsewhere, local place). Best place to stay with kids - they have step stools, bathtub, etc as well.

Quite unique air B&B place with quiet and safe neighborhoods. Very satisfied with kind staffs. Also, individual garage is offered $24/day

Amazing hotel in Andersonville! Stayed here for a week while my daughter was attending a dance intensive near by. The rooms are truly an apartment! So spacious with a great kitchen with everything you need! 10 minute walk to many restaurants, bars and shops! Very safe area. Don't miss the 2 wonderful decks on top of the building!

Can not recommend this accommodations highly enough! We did AirB&B top class. We could not want for anything, very clean, staff extremely helpful, master suite and en suite so nice.

Amazing place in a hip district. Beautiful full kitchens in a converted old building with a lovely common area to hang out in, and tons of nice spots to visit in walking distance. Rooms are converted lofts with great furniture. The only thing it doesn't have is food service, but lots in walking distance or available for delivery. Staff were FIRST RATE. I travel a lot and this is now one of all time favourites.

My family and I stayed here the first week of June for a vacation and it was amazing! We had the 2-bedroom suite. Any question/problem I had they answered promptly. For example, the staff allowed us to change which garage we were to park in. We had an SUV and the other car was a van (they have two parking spaces per garage). Initially, I thought that not having TVs in the bedrooms would be a problem but since we were out most of the day we were too tired to even watch it :). I would 100% recommend this hotel. I would definitely stay here again if I ever come back to Chicago.

Authorize your self with either of these to view contact details, your information will not be shared to any one
Newsletter Subscription for Virtuous Reviews LLP
One more step and you will be subscribed to our newsletters
We have sent you a verification mail on your email id, please verify it.