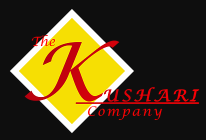 The Kushari Company
Restaurant
3250 Guadalupe St, Austin, TX 78705 USA
Claim Listing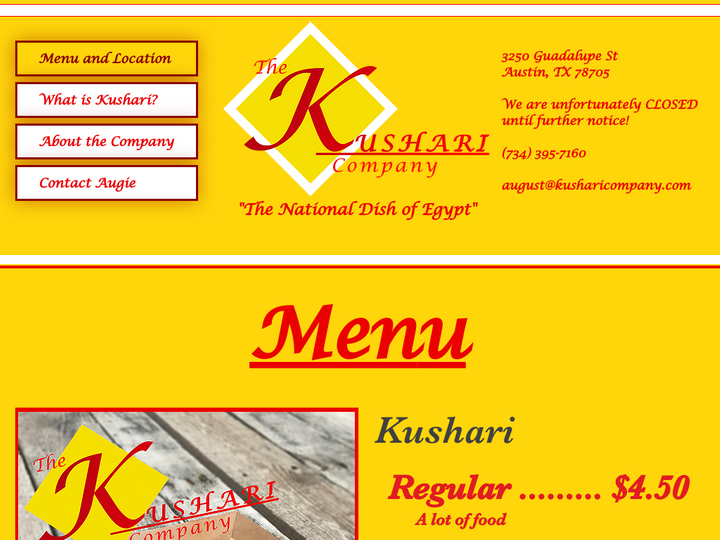 Company Description
A society where kushari is more affordable and accessible than a cheeseburger. A socially responsible fast food industry which uses its powers to feed people. A human race, relieved of its need to find food, which puts its energy into solving other problems.
Review & Rating

August and his hospitality, food, and sauces are amazing! Will definitely be coming back

Kushari and the owner are awesome! I stumbled on this place while I was taking a brief walk on Guad. I dropped by today (the second day in a row) to get some more of this delicious food. I was a little worried about it being carb heavy, but it kept me going through studying and preparing for a heaving round of tests this week. I think it's the combination of the lentils and chickpeas. Plus, he offers a variety of sauces that spice it up heat and taste wise. He gives you so much food for the price. But the best part of this food stand is the owner. I was a little frustrated with my work when I went to pick up some food today. He was so happy and cheerful when I walked up! Not only did he send so many positive vibes, he gave me a bunch of mints to help keep me focused until a huge test I had this evening! Apparently, mints help you focus which I didn't know I didn't know until today! Forget a lot of the gross places on Guad, especially the chains and support local business! If you're in the mood for some spicy or not so spicy deliciousness, check this place out next time you're walking down Guad close to the co-op.

I was in need of food for my student organization meeting —enough to feed 35 people, and August was so kind and receptive to my requests even though I had given him very short notice. On top of that I asked if he could fill my large aluminum pan with Kushari because I wanted to avoid creating extra waste. He didn't hesitate and even offered to let me borrow the condiment bottles and an extra scooper! I really appreciate August taking the time to get to know his customers and explain the story of the famous Egyptian dish and each of the ingredients. The food tasted amazing; everyone in the meeting loved it because it was so unique and flavorful, so we actually plan on catering again through the Kushari company!! Not to mention it is vegetarian, but still packed with so much protein with the lentils and black beans. I'm getting hungry now just thinking about it. It's conveniently located on Guadelupe, just west of campus, so I'm going to be back for sure. I would recommend this place to everyone!!

Wow. So as explained by August, stand up guy and very street wise btw, Kushari is Egyptian street food. Rice, vermicelli, beans, north African sauce, and some crispy fried onions. All for a fantastic price as well! Had it for the first time today, and will definitely be back for more in the future! Keep it up, you have some authentic food with an authentic attitude and personality. I love it!

If you have any hesitations about eating here, push them aside! I eat a decent amount and I found the regular to be a meal and a half! For 4.50 you will not be able to find a healthy meal as filling and delicious. If you're a fan of tomatos then you'll really like this. The complimentary sauces make the meal what you want. Tangy, spicy, hot! This is the perfect winter food

Great food, and a stand up guy! Auggie is always super friendly! The food is unique, tastes good and is probably the most affordable in the area! Check it out for an awesome experience!

Delicious, filling, and the cheapest meal in the area. Plus the owner is a very genuinely nice dude, spent time explaining what goes into making kushari and the sauces. Will definitely be back!

Very very good food at a very very cheap price and a large portion. Owner always manages to put a smile on my face while I'm there, and then again while eating the food. Try the Syrian style, extra 50 cents is well worth the great flavor.

Fantastic little food stand! Delicious interpretation of a meal that's a classic Egyptian street food for a reason. To say that the portion sizes are generous is an understatement--this is the only place in Austin where I can literally purchase more food than I can eat for $6.50. Even the regular size, for $4.50, is plenty for a meal, no matter how hungry I am. The many who works there is also very friendly and cheerful. I love the different selections of sauces. The only downside is that the generator that he uses is a bit loud, but that's a very minor quibble.

August is a super man. He spent careful time explaining to me each ingredient in his dishes, and laying out every option that I could order... this along with the current history of the food he serves. All of the food at Kushari is cheap, simple, delicious, and vegetarian! August is the type of man who cares about his customers, and if you treat him as a good friend, he will return the favor. He always has an open mind and a smile on his face. I stop by Kushari every time I'm around just to talk to him and let him waft my way any new flavors that he is crafting. If you give him tips or suggestions, either about his food or about life in general, August will tack it up on the wall of the restaurant so that he can remember it later. I even gave him a book suggestion the first time I met him, and he promptly wrote it down and stuck it on the wall. Seeing August always brightens up my day. Thank you for what you do!

Authorize your self with either of these to view contact details, your information will not be shared to any one
Newsletter Subscription for Virtuous Reviews LLP
One more step and you will be subscribed to our newsletters
We have sent you a verification mail on your email id, please verify it.