The Polyclinic
Physicians
904 7th Ave, Seattle, WA 98104 USA
Claim Listing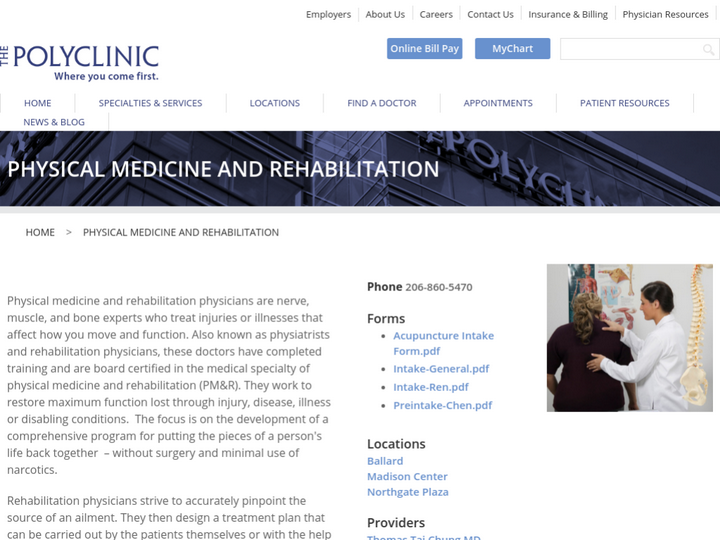 Company Description
At The Polyclinic, our primary care physicians bump elbows with our orthopedists. Our allergists share a coffee pot with our cardiologists.
Review & Rating

Had such a poor inexperience scheduling, I decided to look for another provider. The guy was rude, unhelpful and made me feel a complete inconvenience to his day. In addition, the system is cumbersome. In 2018, who requires a faxed referral then a 7-10 day wait for an appointment? I called Virginia Mason and received the polar opposite experience. Warm, helpful scheduler who booked me an appointment for two weeks time right away.

I went to this clinic to establish care with a new Dr. Her name is Scholls, she was very very unprofessional very rude and condescending I tried explaining my issue and she had no bedside manner at all I would recommend seeing anybody but her I've never been treated so disrespectful like this from a DR. In my whole life.

My elderly mothers primary physician is at this location and we are pretty satisfied, however the rating is for the Podiatry department. I would give them a minus score if that were possible. Mom has an ulcer on her toe that has been being treated with oral and topical antibiotics, she is a diabetic and says it aches in the bone. Her Dr gives her a referral to see the next available podiatrist next week for further evaluation and maybe to open the wound. So first thing in the morning I called the clinic and requested an appointment next week as early as possible. The first thing out of the scheduler mouth is full of attitude. She tells me the first available appointment is nineteen days out! I plead with the woman explain the urgency and the risks my mom faces being a diabetic. She says, well okay we can so her in fifteen days instead, and that's the best we can do. It seems to me, when one of the podiatrist are advertising that they are accepting new patience, and with the severity of the person seeking treatment, the scheduler would at least confer with a Dr or nurse before being dismissive, unprofessional and rude. I personally would fire the scheduler or demote her to servicing the exam rooms. It was an absolutely awful experience....

I was trying to cancel my appointment and the operator who answer the phone keeps directing me to the Doctor's number (not in the office at that time) instead of her office. The operator is lightning fast in dismissing me or my call. I feel she's in a hurry to get rid of me.

So great great experience, been coming here since Dec 2017.

They sent me a bill, I tried to pay it on line, their system wouldn't let me, couldn't find it, so I thought maybe I paid it already, so I thought nothing, now I have a collection agency chattin me over $30! Really, you are gonna turn me to collections over $30! Why bother asking for my phone number or email if you are never gonna email me or call me before you screw me over $30! Worse yet, the specialists doctor, nor his partner could diagnose me after two visits, still had to go to a real doctor in the end. Taking my business elsewhere next time.

I walked in this place the receptionists where on the phone and talking amongest themselves and when they were finished they didnt even acknowledge me for over 20mins very rude and poor customer service.lowlife disgusting trash .

Don't work OR be a patient at this company. It's all a scam and LEE ANNE PRIME loves terminating people. SHE BRAGS about it ON the phone WHILE A NEW EMPLOYEE was in the offie with her. She's rude, messy, not organized with scheduling her employees and her idea for the 2-3 week long training is completely unnecessary and a waste of time. PEOPLE COME TO WORK AND PATIENTS COME TO BE SEEN. Making patients wait for 30 minutes and people for hire in the lobby is a joke. This company is a JOKE. YOU HAVE BEEN WARNED.

Very professional, Dr. Cannon and his crew were Awesome. Thank you for taking such good care of me. 💜 Montana

The new building location is wonderful and modern with most of the needs inside the one location👍🏻 Plus Dr. Oren Townsend and his Team are wonderfully professional

Authorize your self with either of these to view contact details, your information will not be shared to any one
Newsletter Subscription for Virtuous Reviews LLP
One more step and you will be subscribed to our newsletters
We have sent you a verification mail on your email id, please verify it.