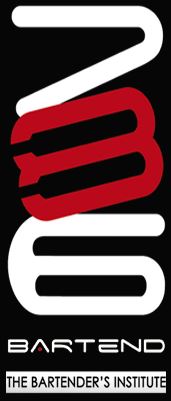 786-Bartend Bartending School
School
60 ne 11th street, Miami, Fl 33132 USA
Claim Listing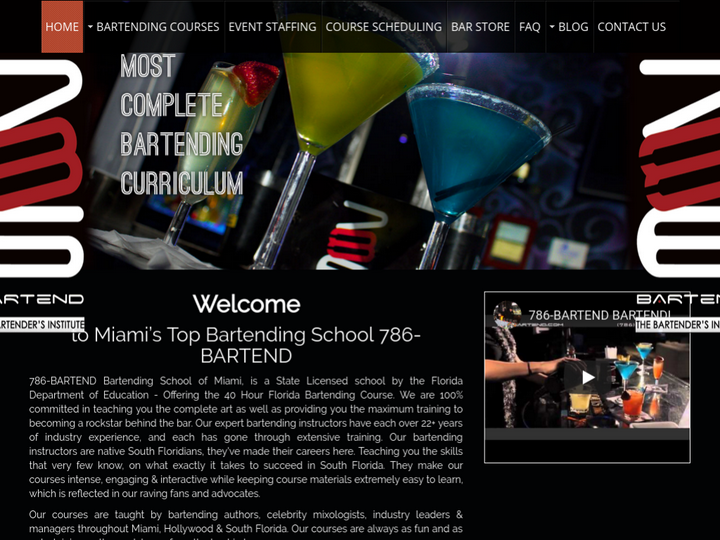 Company Description
786-BARTEND Bartending School of Miami, is a State Licensed school by the Florida Department of Education - Offering the 40 Hour Florida Bartending Course. We are 100% committed in teaching you the complete art as well as providing you the maximum training to becoming a rockstar behind the bar. Our expert bartending instructors have each over 22+ years of industry experience, and each has gone through extensive training.
Review & Rating

I has a amazing time @ 786-Bartender. Issac is one of the great teachers ever... I love this school + you can get a job asap!

Highly recommend this course! The course is fast paced but every second of class you are learning and absorbing. Isaac makes it really fun and easy to learn. The book is easy to follow and goes into detail behind each spirit, history, origin, and over 100 drink receipts (just to name a few topics). You also spend a lot of time practicing behind a real bar. This made it really easy for you to memorize drink recopies. The speed rounds were a lot of fun where you try to beat the time of other students (making over 10 drinks). You don't even realize you are learning!

I really enjoyed being a part of the 786-bartending course. It was really nice to have Isaac as our instructor. Besides being a really chill teacher, he took his time to explain to us how the drinks from each list are made, answered our questions patiently, And of course 100% at giving us the right attention. It may be a lot to remember once you start, but as you go and study your butt off, that's what will get you going. One good advice, do not be afraid if you fail the first time... Personally, I think you would be better prepared for that second time knowing everything, rather than barely passing with little knowledge. That way when you go out there seeking a good bartending job, you're not all lost. I could go on and on... But all I gotta say is, that I recommend this course to anybody who wants, and has the desire to become a bartender. You will be taught right, and will definitely gain the good starting experience in general. Thank you so much!

Great class for both somebody looking to get started in bartending, and people who have worked in the industry but want to perfect their craft, and increase their profits. Very educated teacher who gives you guidance on how to be a exceptional bartender who will have the knowledge to work in any setting. Highly reccomend 768 bartend class!

Excellent instructor, issac is very knowledgeable in what he practices. He provides superb training and hand on practice in class. I recommend everyone taking the course!!

This was one of the best experiences of my life! Leaving this class I know exactly the way to take my career the next level! Thank you Isaac!

Best teacher ever! Very rational and thorough! I recommend this school to everyone interested in learning MORE than the basics of bartending!! Isaac is the best!

I had the honor and pleasure of attending 786 bartender school, and it blew my mind away with how much information you obtain. My instructor was Issac whom was very knowledgeable and one of the best teachers I've ever worked with. He is very hands on, heavily involved, and still has passion for his art of bartending. He creates STARS! I wouldn't second guess about choosing 786! Thank you so much 😊

I took the 40hr Florida State License Bartending Course. Isaac is an incredibly knowledgeable instructor, and I was honestly mystified by how much I was able to learn in just two weeks. Part of his genius in the teaching process comes from using all the known forms of information retention; some people learn by doing, others by listening, others by reading, and others by watching. Every one of these is covered in his class. First, you read about the different types of liquors and liqueurs, their history, and what drinks are made from them. Then, Isaac shows you the bottles in person, familiarizing you with premium brands and showing you in detail how certain drinks are made. Next, you get behind the bar yourself, practicing free pours and making the drinks; grabbing the bottles, the brands, and seeing the colors of each liquor/liqueur you use. He even provides an audio CD so you can listen to drink ingredients and preparation instructions while driving. In the end, that covers all forms of learning: watching, listening, reading and doing. Highly, highly recommended course.

What a great learning experience. Isaac is an extremely knowledgable teacher. From an extensive list of drinks, all the way to the history of the liquors, how they are made, where the most popular drinks originated from, making the drinks, learning the dos and do nots when working, this class is definitely one that i would highly recommend. I went in from knowing absolutely nothing to now knowing information that even bartenders that i know are not aware of. I will definitely be back for more courses.

Opening Hours
Mon

Closed

Tue

5:00 pm - 9:00 pm

Wed

Closed

Thu

5:00 pm - 9:00 pm

Fri

Closed

Sat

Closed

Sun

Closed
Authorize your self with either of these to view contact details, your information will not be shared to any one
Newsletter Subscription for Virtuous Reviews LLP
One more step and you will be subscribed to our newsletters
We have sent you a verification mail on your email id, please verify it.