All Nations Worship Assembly Atlanta
Churches
1994 Perkerson Road SW, Atlanta, GA 30310
Claim Listing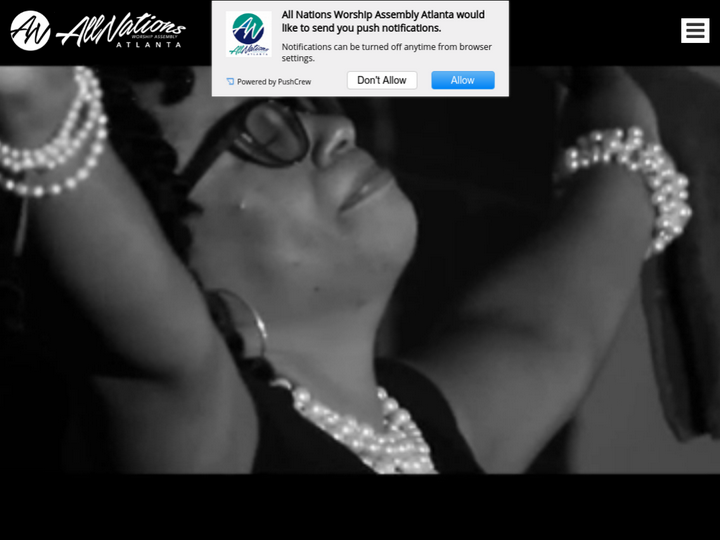 Company Description
ANWA-ATL is the first church plant of All Nations Worship Assembly — Chicago. The idea and concept of this plant happened after days of prayer and a breakfast meeting between our Apostolic Overseer, Dr. Matthew Stevenson; our Senior Pastor, LaBryant Friend; and Pastor Adrian Davis.
Review & Rating

I will NEVER forget the demonstration of the people holding the gifts at the Tuesday night service. That service was designed for me by my Heavenly Father. Everyone there was taken behind the veil to hear and see the heart of JESUS. It was my first time at All Nations Atlanta but it will not be my last. Thank you Holy Spirit for ordering my steps to find this church!

What can I say, this ministry has it ALL, wonderful worship, powerful prayer, deliberate deliverance and clarity of the preached word! This is an Awesome community of focused believers who operate with excellence in training and leadership! God bless you Pastor and Lady Friend

When my wife and I first visited we knew that we were home. These last few months have been nothing short of amazing. Every single Sunday there is a relevant practical word. I am thankful that we have been planted somewhere where our family can grow.

Trichelle TheCakelady Harrison-Robinson
UK
I decided to come to ATL for my birthday this past weekend. But I do not like missing worshiping with my local church family. So I began looking for a place to go for Sunday worship while I would be away. I found ANWA because I follow Min. Benita and listen to many of her worship services on YouTube. I found out she worships there at ANWA and so I decided to check it out. After reading through many reviews about the church, and praying about it, I decided I to attend. The spirit of God met me in the building. This church knows how to usher in the presence of God. I was so glad to attend a church, even as a 1st time visitor, and be able to freely engage in worship. It was great! The Word delivered after worship was just as great. It was an on time Word applicable to me right now, I had to pull out my phone to take notes for later. I know it was meant for me to attend. This was a great way to start my new year of life. And I thank God for leading me here. Whenever I come to ATL again, I will be looking forward to worshiping here again. May the spirit of God continue to move in this house. Be blessed ANWA family.

I loved my experience at ANWA! The people was so friendly from the park lot attendants to the greeters! If you live in there area or your visiting and need a church to visit this is the place to be!

Well I love it soooooooooo much that my family is part of the ANWA-ATL Flight Ministry (lol). We catch flights to feed our Souls. Pastors LaBryant & Phineka are people who cares about the family, loves you as family and imparts wisdome to you as family. Pastor LaBryant's teaching skills of the Word of God are second to none; and I have learned a great deal through his teaching. Proud of ALL that God is doing through the ANWA umbrella. All I can say is: GO GOD GO!!!

All Nation Atl is where the Spirit of the Lord dwells. True Praise & worship, True Intercession, True Deliverance! Not Church As Usual. My Pastor preaches from heaven to earth & not earth to heaven!! I Thank God For Placing me in a church where I can be made whole & also under an Open Heaven #ILoveMyTribe #AllNationsATL

I joined today! If you want to experience the move of God and sound teaching where the love of God abounds.....this your place! It was amazing! It was heaven on earth for me. I have been looking for my tribe for a while now. I am so blessed to be in community and relationship here. I was blown away by the way the members love God and one another. I was in awe! The bible says ,"by this everyone will know you are my disciples, if you love one another." Come and experience God's goodness! I did.

All Nations Worship Assembly - Atlanta was simply the truth today. Today was our first time visiting We felt welcomed from the time we reached the campus. The love that filled that place was needed in this very moment. Lady Friend touched so many areas in my life that my Mascara ran down my face the whole service. I was not picture ready after service however I do know that God is about to honor my sacrifices. For that I give him glory. We will be back this week. #churchselfie #allnationsworshipassembly #ruth&Naomi

Opening Hours
Mon

Closed

Tue

5:00 pm - 9:00 pm

Wed

Closed

Thu

5:00 pm - 9:00 pm

Fri

Closed

Sat

Closed

Sun

Closed
Authorize your self with either of these to view contact details, your information will not be shared to any one
Newsletter Subscription for Virtuous Reviews LLP
One more step and you will be subscribed to our newsletters
We have sent you a verification mail on your email id, please verify it.