Friendship Assembly of God
#89 in USA
#14 in Colorado Springs
Churches
3685 New Center Pt. Colorado Springs, CO 80922
Claim Listing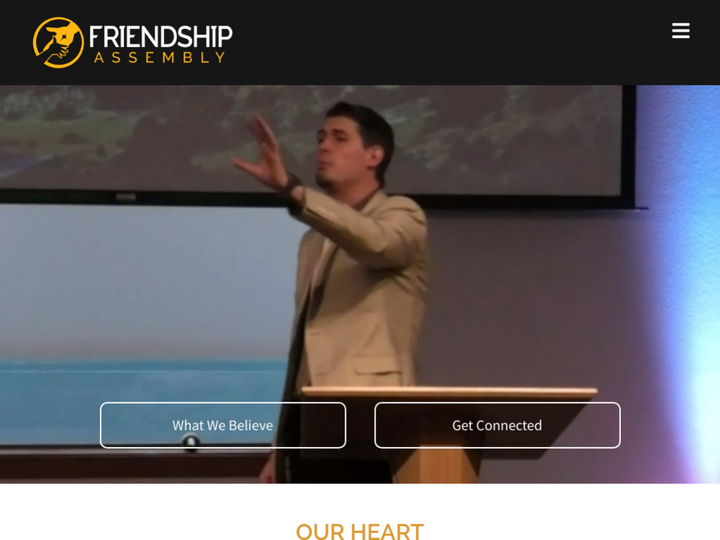 Company Description
Established in 1980 and located in the heart of the Powers Corridor, at the entrance to the First and Main Town Center, Friendship Assembly is a fellowship of Christian believers who seek to honor God through our service to this great community.
Review & Rating

Word of God preached, all ages and backgrounds welcomed. Great worship.

A warm friendly assembly of people seeking a closer relationship with our Lord. The Pastor, Bradley Williamson, has an extraordianry understnding of God's word and has a wonderful pastors heart for people. His caring and compassionate approach to everyone is such a blessing to this church and the community at large. Pastor Brad has a clear vision for the church and strong desire to see that vision fulfilled. This is a great place for young children. The childrens church leader is warm and caring. The youth Pastor Samuel has a deep and abiding love for the youth in this community and a willingness to lift them up.

This church is serious about living life with Jesus! They are Jesus Loving folks. No condemnation. A church that is friendly and encouraging. Teachings center around the Truth of the Bible Gods word. Great activities for any age. The Leadership does not Lord over the church. They get to know you, they pray for you. They been a huge blessing to my family. I have been through a tough year. No one here judging me. Always there to encourage each other. Very grateful I was called to this tight loving community of believers. You know we're family here. If you visit once you will be compelled to come back. Jesus loves you❤ 1 Thessalonians 2:13 KJV [13] For this cause also thank we God without ceasing, because, when ye received the word of God which ye heard of us, ye received it not as the word of men, but as it is in truth, the word of God, which effectually worketh also in you that believe.

Amazing place and people,the holy spirit is definitely present in this church.

Awesome group of people of all ages. Feels like 'home'...something I haven't had in a church in a long time. Great children and youth ministries - teaching our children maturity in Christ-- and music that is not a 'concert' - offers participation by all.

What a great church with caring people, they have dedicated people for all types of family ministries. They have a great young youth minister for teenagers and great facilities. A wonderful Royal Rangers group similar to Boy Scouts for young boys all the way to teenagers as well as girls ministries. A dedicated minister for young adults and married adults that have great outing events every month. The young Senior Pastor is a great speaker and has a very dedicated view of the scriptures.

I really wish you would control the kids that play there. There is no reason why i should be able to hear them scream bloody murder with all of my windows closed. Please do something about this.

I hesitated visiting at first due to the nasty reviews from people years ago. Obviously, they've never visited the church. Friendship is one of the nicest, most genuine churches I've ever been to. They run about 200 people between the 2 services with around half attending the Sunday 6pm service. They embody the definition of a close knit family church and are very true to their name of being very friendly. Sure, maybe years ago some pastor (who is no longer there) said something off, that doesn't mean the church was behind that 100%. The new team is committed to preaching the word, having a great kids and worship ministry and loving the community. I checked out a number of churches and this was a step above all of the rest.

This church is very anointed and our Pastor preaches the word of God. Very friendly church

This church is very anointed and our Pastor preaches the word of God. Very friendly church

Opening Hours
Mon

Closed

Tue

5:00 pm - 9:00 pm

Wed

Closed

Thu

5:00 pm - 9:00 pm

Fri

Closed

Sat

Closed

Sun

Closed
Authorize your self with either of these to view contact details, your information will not be shared to any one
Newsletter Subscription for Virtuous Reviews LLP
One more step and you will be subscribed to our newsletters
We have sent you a verification mail on your email id, please verify it.