Allstate Moving & Storage
Local Moving
822 Guilford Ave, Baltimore, MD 21202 USA
Claim Listing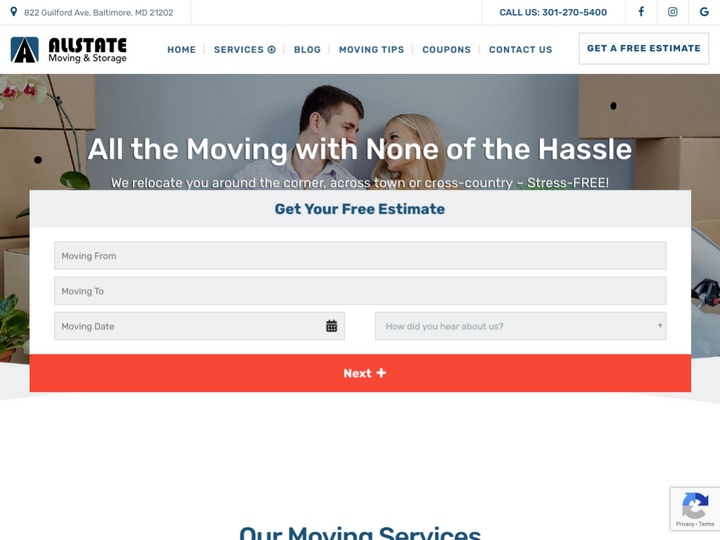 Company Description
Allstate Moving & Storage Company, expert movers in Maryland, founded in 1997, provides Maryland residents and businesses with all-inclusive household and office moving services. We are a full-service moving company that offers local and long distance residential and commercial moving services, together with packing and storage.
Review & Rating

My three of the experiences of working with Allstate moving were some of my greatest moments. I was relocating to Baltimore to Brooklyn. They come on time, prepared for work, and can handle the surprises that can come with a move. I had to move all my belongings there and my entire relocation was made wonderful by Javier.Thank you

Allstate moving are extremely professional and reliable. I have now used them on two different occasions. Each time they make it easy to book with them and have always let me know what to expect with an accurate estimate. They worked quickly and carefully with no problems or damage to my furniture.

If you are looking for movers who are professional, efficient, and problem-solvers, go with Allstate Moving! Even though we ran into some unexpected building issues, the team worked with us to make our move as smooth as possible. They showed up on time and were incredibly quick in their loading and unloading of our items. They wrapped all furniture to prevent damages and did a great job with disassembling and reassembling the entertainment center. Overall, the most professional movers I've ever worked with. I'll be using them again next time!

HORRIBLE HORRIBLE HORRIBLE!!!!! WARNING DONT BOOK THEM! Wow I had the worst experience with this company. I don't even know where to start! They gave me a quote on how much everything will be then came over be charged me THREE TIMES the price that they quoted me!!! It was around $3K THOUSAND DOLLARS at the end of it!!! I only had a king bed, crib, table with 4 chairs and boxes. I was moving out of an apartment. Then they charged me extra $300 for boxes and didn't tell me it would cost more . If they told me before I would have went and got free boxes up the street from a grocery store. Then they charge for extra distance to walk to my apartment when they knew ahead of time I was on the fifth floor! They charge you extra if you have mirrors, vacuum, toys or anything that you might forget to tell them. That's isn't even the worst part. They said it would take 3-13 days to deliver to me. It took them 21 days to deliver my things to me and MADE EXCUSES of why it was taking longer. They said they can't ship it because they are sending my stuff to another company who will be picking up other people's belongings and then deliver it to them first even though I was the first costumer! I paid them $3k THOUSAND dollars and they kept on lying and making excuses while I was in my new home with my 1 year old BABY with nothing for 3 weeks!!!!! They kept on pushing it off and pushing it off and saying the drivers are delayed because they woke up late and had to stop to eat and blah blah blah!!!! SO UNPROFESSIONAL!!!!!! DONT TRUST THEM! They will give your things to another company to send it if your traveling out of state!! They will lie and STEAL your money from you!!! They don't care about your stuff and how fast you need it!!! All they care about is your money and will SCREW YOU OVER!!!! The WORST company EVER!!!!!!!!! They don't even deserve a star!!

Ramon and his crew completed our move yesterday. We moved from a 2-bedroom single story to a 3 bedroom two story house. They completed it in less than the estimated time & these guys worked efficiently and quick. The booking process was super easy too. I had a word with Sabrina, she was very informative and accommodating, Thank you guys for your great effort.

I had a relatively painless experience for a reasonable price, which is all I could ask for. Moving from an apartment into a house is not an easy task. But they made it look easy and stress free. Allstate Moving made my moving day enjoyable. Would love to give 10 out of 10.

I cannot say enough things about Allstate Moving but his team were appreciable. Ramon and Roberto were prompt, professional, hardworking and very friendly. They took care of my stuff and did it in the timeliest manner possible. I don't look forward to another move anytime soon, but I would recommend them to anyone who need a moving job done right!

Great experience with Allstate Moving, I had an express same day move from Baltimore to NY, NY. The crew was professional and quick. The pricing was fair, they made sure no furniture was damaged. Highly recommend!!!

Great experience with Allstate Movers Baltimore, MD. I'm glad to have worked with them. Professional and quick. They made sure no furniture was damaged. They were quick and thoughtful of our items, smart with packing and unloading and just good dudes. I've recommended them to almost everyone who moves and will continue to do so. They're the best!

Opening Hours
Mon

Closed

Tue

5:00 pm - 9:00 pm

Wed

Closed

Thu

5:00 pm - 9:00 pm

Fri

Closed

Sat

Closed

Sun

Closed
Authorize your self with either of these to view contact details, your information will not be shared to any one
Newsletter Subscription for Virtuous Reviews LLP
One more step and you will be subscribed to our newsletters
We have sent you a verification mail on your email id, please verify it.