Belletti Photography
Posted in :
Claim Listing
Atlanta
(+1) 404-791-5503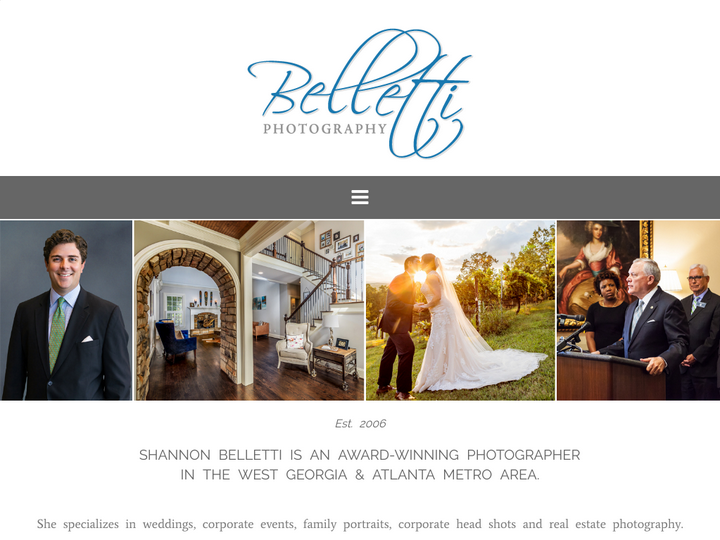 Opening Hours
Mon

Closed

Tue

5:00 pm - 9:00 pm

Wed

Closed

Thu

5:00 pm - 9:00 pm

Fri

Closed

Sat

Closed

Sun

Closed
Company Description
She specializes in weddings, corporate events, family portraits, corporate head shots and real estate photography. In addition, she supports a number of charity & nonprofit events throughout the year.
Review & Rating

A disgrace to our wedding day!! We want our money back!!! Our wedding day photos are the greatest disappointment either of us have ever experienced. We paid $2562.65 for this disappointment, failure, heartbreak, and devastation; if this were a post-pay service we absolutely would not have paid. Our photos were so far from what we wanted, discussed, expected, and anticipated, this is exactly how we are left feeling. Shamefully, we have declined to give the gallery password to our guests; the feedback we've received from many of those who had access is that same disappointment. We met with Shannon numerous times between August 2017 and April 2018, including a meeting at our venue just weeks before our wedding, to reiterate what we wanted, did not want, style preference, and showed her example photos, only to be left with a feeling of failure after reviewing our pictures since we were very specific in these areas and are not left with something we feel proud of. Our photos include a lot of what we specifically stated we did not want, a lot of the photos we wanted were not taken, and so much detail was missed. We could have spared ourselves a lot of the expenses and details we spent so much time and effort to include because they weren't captured, neither was much of the scenery and features our venue offered; much of it was not even photographed. We formatted our timeline with her to ensure enough time for photos so time constraints were not an issue. Regretfully, we went so far as to ask our guest not to take photos during our ceremony giving exclusivity to the photographers. Sadly, we feel the best photo we have of us on our wedding day was taken by one of our guest with their cell phone during the reception. We wanted to hire the best regardless of cost and after reviewing and researching the works of many, Shannon fit the requirements. We feel in regards to our photography, we are completely unhappy and just absolutely devastated that there is not one single photo we wish to have printed or framed, not a single one. Sadly, the pictures of our wedding day, the day we waited our whole lives for and invested so much time, money, and effort to make happen, will eternally simply just live in digital format on a hard drive. We feel ashamed and embarrassed because we raved and bragged about the quality of work our parents and guests could expect to see based on the reviews, awards, and previous works we saw. We do not feel Shannon lived up to her accolades and reviews and we just honestly feel like a new low has been set.

Taylor Rose ShahAhmadi
UK
Shannon Belletti is a photography God! She takes timeless pictures and is so much fun to work with in the process!

We contacted Shannon from out of state for a one-hour shoot on a tight schedule while we were visiting Atlanta. Not only was she helpful, responsive and accommodating, she was professional, friendly, communicative and gave us great photos for use in our marketing materials. An excellent experience all the way around.

From day one Shannon has been personable, punctual, patient and understanding . She believed in my vision and helped me make it reality. She helped me select my wedding venue based on my vision outlined in our initial meeting. To say she was proficient and professional would be an understatement. Shannon is OUTSTANDING , she's very organized , creative and her work is some of the best I've ever seen. She will be any brides dream photographer!!! Her works gives the epic finish to your special day and she always make you feel your best, and that you're number 1. Her customer service is excellent, she will do anything to be sure that you are always happy. With our engagement shoot she helped us select the location, captured great lighting and made us picture perfect. I hate taking pictures, so she made some of my awkward moments, my best . She has the perfect eye and can make any angle work in your favor. Of course a bridal boudoir shoot can be very uncomfortable and make anyone feel shy, because everything is out in the open. But she not only made me comfortable in an awkward space; I had a fun shooting. She perfected her vision, was very creative , and needless to say my photos were sexy, tasteful, I looked flawless and it was the perfect gift for my hubby . Last but not least, our wedding was everything I could've ever dreamed of. She organized a day of schedule , created a priority shot list and made sure every moment we outlined was pictured. Out of 1400 pictures, I can honestly say I loved all of them. Creating a wedding album after looking at pictures so many times can be a headache . But once you select all of the photos you love, Shannon will put your story together and ensures that things are cohesive. She's is very attentive to her clients needs, so by the end of the process she good with helping you select photos you will love. She's very patient and will allow you to edit things as often as you want, until your are 100% satisfied with the finish product. The most important thing when you're trying to plan a wedding and send out save the dates and meet deadlines is timing. Shannon was very efficient, we always received our proofs ( engagement session, save the date and post wedding invitations )and any edits in record timing. As my husband would say, "Shannon always follows up and follows through, she ALWAYS gets things done." There aren't enough words to describe how pleased I was with her services . Let me end by saying, Shannon is one of a kind, and the best decision you can make when choosing a photographer!!!

My husband and I truly loved Shannon and the work she did for our wedding! From our first contact, Shannon was quick, easy and fun to communicate with. She had plenty of experience at our venue and knew the places to capture the best shots which we will treasure forever. It was so simple planning with Shannon and she was able to capture the different styles we had requested with beautiful results! We could not be happier with our photos as Shannon made two people who aren't very comfortable in front of the camera feel at ease. Shannon was a blast to work with the day of our wedding and she seems to really love what she does. All of our friends and family had nothing but nice things to say about how sweet, entertaining and yet professional our photographer was and they also love the end results! We would highly recommend Shannon for your photography needs and would love to hire her again for future events!

Easy to work with, made sure she knew ahead of time what kinds of photos were our priority, sent us back the final photos in a timely manner, and of course, GORGEOUS results.

Newsletter Subscription for Virtuous Reviews LLP
One more step and you will be subscribed to our newsletters
We have sent you a verification mail on your email id, please verify it.