Columbia University College of Dental Medicine
College
630 West 168th Street, New York, NY 10032 United States
Claim Listing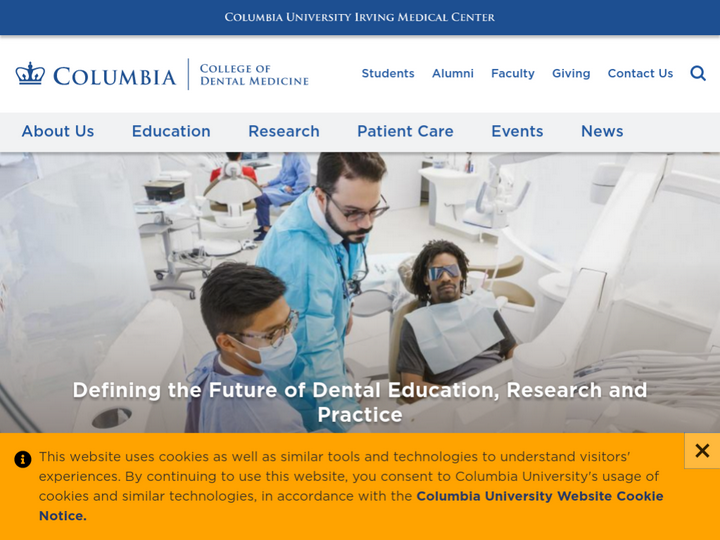 Company Description
Welcome to the Columbia University College of Dental Medicine, a private dental school established at Columbia University in 1916, with roots dating back to 1852. Leveraging our position within a world-class academic medical center at an Ivy League university, we advance dentistry's practice, teaching, and scientific research.
Review & Rating

At first didn't like the place but solve the problem. And when I kept going for apointment i got treated better is amazing how my dougther teeth came out beutiful now she can smile again.

I love it great work very nice people 🙌🏻🙌🏻🙌🏻🙏🏻

Avoid this place, they violate their own policies. I regret coming here for my treatment, unethical and unprofessional. They have a very efficient way to fix a problem; that is, they simply drop your case with no explanations. Go to NYU instead 100% different.

Literally the worst. I went in December and was surprised by how friendly the woman was who took my X-rays. 6 months later I have yet to see a dentist and every time I call they tell me wait 48 hours. Finally got connected to the supervisor's voicemail - two weeks and no return call. I'm glad I read the reviews, they are all true from my experience.

Dr.Kersch is full of high end talent, service and profit to Columbia University. We are lucky to have a great dentist as well a phenomenal professor in our era. Jeeva is a great student and will be a great dentist in a few years as well. Robert, the manager at Columbia is also a great host and will find his way to accommodate everyone in the schedule. I am impressed with the treatment I received today. DR.Kersch earned a HUGE Promotion, his talented work is fascinating. Thank you a lot Columbia Dental School. Cheers, Risilda

This was the worst experience I have ever had. Nobody should have to wait over 2 years to get teeth. Never & I mean never go here. I know it's a school but the run around is ridiculous they should be ashamef that the services they are rendering out just to bilk The insurance companies . Heads need to roll up in this place it's a Travesty !

HORRIBLE STAY AWAY if their emergency dental service is a reflection of this institution it's shameful. Went in for an emergency check up explained my situation as a student having to come in from long island with a persistent toothache. My regualr dentist clinic is NYU but had heard better comments on their emergency room. Boy was I wrong. The student dentist took an xray with my glasses ON before I could protest. The overseeing professor was rude and dismissive saying I should just get a wisdom tooth out because quote, "I didn't look like I was in pain anyway" after I specifically told then the pain was originating from a filling I had done and had possible recurring Carries. The guy never even looked at my mouth just a quick glance at the xray. They tried to impose on me to get the surgery done the same day. I said no and now have a useless charge of an emergency visit when they did NOTHING but give a dismissive glance. I'm going back to NYU dentistry to get a proper opinion. Side note the equipment in the emergency room is dusty and old. Not to mention the sad excuse of the radiation vests they put on you.

After taking my son to 6 different dental clinics finally I found one that was patient , new how to deal with children very professional and my son was not afraid. Thank you so much for the great efforts in making children feel relaxed. It was a wonderful experience. I really don't know why people are giving this clinic a 1 star it deserves a 10 star.

Grateful that this is a win, win situation for all of us. Students learn, service is excellent and deep, price works! Thank you Columbia. I have had great service and loving help here.

Ana Laura Font Hernández
UK
Their service is good and professional but, when you are a new patient, they make you go two times. The first time for a medical history check up and X-rays, and to assign you the best specialist. The second time is when you can get treated. I understand if this is the best workflow for them, but I think they should let the patient know in advance to properly plan, request days out of work, etc. Update: they make you go more than two times. The very first visit for X-rays. The second to examine your mouth and plan your treatment. From there, each patient goes a number of times determined by the treatment plan. At least four more if you have several cavities. So, if you're using this service, plan to go at least three times per year. Appointments are one month apart. The good thing, the entire service is very comprenhensive. Since students take care of you and they are trying their best to do well, you'll get everything check in detail. They also explain and show you how to floss and brush your teeth correctly, and give you a tooth cleaning kit to take home.

Opening Hours
Mon

Closed

Tue

5:00 pm - 9:00 pm

Wed

Closed

Thu

5:00 pm - 9:00 pm

Fri

Closed

Sat

Closed

Sun

Closed
Authorize your self with either of these to view contact details, your information will not be shared to any one
Newsletter Subscription for Virtuous Reviews LLP
One more step and you will be subscribed to our newsletters
We have sent you a verification mail on your email id, please verify it.