D & D Auto School
Training Institutes
360A Tremont street. Boston MA 02116
Claim Listing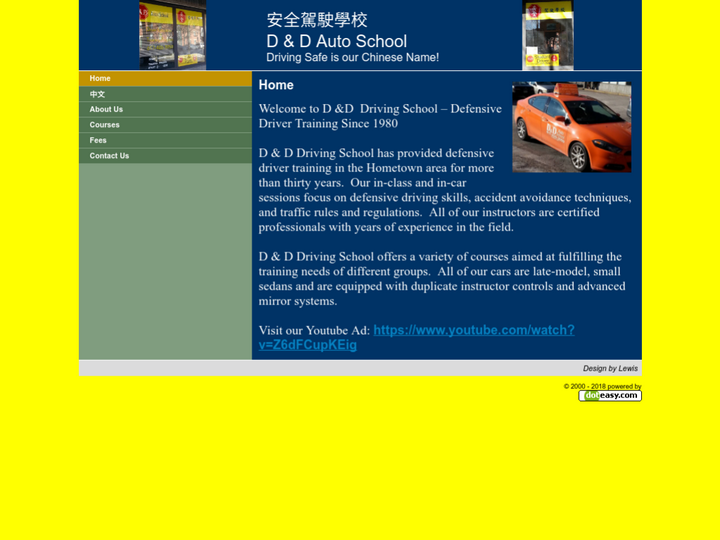 Company Description
D & D Driving School has provided defensive driver training in the Boston area for thirty years plus. Our in-class and in-car sessions focus on defensive driving skills, accident avoidance techniques, and traffic rules and regulations.
Review & Rating

Me: today I passed the quiz test, what I should do now? Woman: look on your shoulder, there is a sheet, read it! I said everything

The worst driving school, the only important thing is your money. People in the front are so rude.

everything was quick and convenient for me (a high school student)

They were very polite and Wei Choi was great to work with.

is a very nice school to learn how to drive. D & D driving school build my confident in driving.. Although i fail my road test with them but still is a very good school. i went to lynn -MA for my second road test and i passed.

They only worry about your money, they wouldn't teach you the important things that's required for the road test.

Poorly run driving school. Little instruction for driving lessons and disorganized scheduling for road test. Instructor was late and refused to refund the time and the driving instruction felt like more of a quick way for them to make money than meaningful instruction on how to pass the road test. If you already know how to drive and just need a car/sponsor, D & D Auto School meets the bare minimum requirements. If you need actual driving instruction and lessons that will help you pass the road test, I strongly advise that you try another driving school.

Choi is great to work with! Very experienced and patient! I learned so much after only the first lesson. Prices are great I would definitely recommend. See you soon D&D!

To start out with, I have been driving since last summer when my parents taught me. My parents live abroad (but we are American) so I figured I would take some lessons and get my license once I turned 18 now that I am in college. I chose D and D Auto School because they were the cheapest I could find and I am on a college student's budget. My first lesson was with Wei, a week before Winter Break. I then went abroad to visit my parents over winter break and drove about 30 hours with them as practice before my road test. When I returned to Boston, I went for a driving lesson to see if the instructor thought I was ready. My lesson was with David. Before the lesson, David asked me where I learned to drive. He then proceeded to make comments about how the driving in "my country" (I'm from California) is wrong and whoever taught me, taught me wrong, essentially insulting my parents. I found his comments to be ignorant and downright racist. I received some terrible advice from him including a remark about how "in the USA, your mirrors don't matter, you only need to look in front of you". I was criticized for following the law in some instances, notably, not changing lanes at his instruction in the MIDDLE OF AN INTERSECTION. I took another lesson on the day of the road test. 20 minutes before the test, the instructor went so far as to call me a lousy driver. Way to boost confidence. I ended up passing the test, so I'm grateful for that, but I accredit that more to my prior experience than the instructor. I suppose my personal experience with the school could have been worse but, if I didn't already know how to drive correctly, I would've been turned off completely from driving by my experience. People who don't know how to follow the rules of the road definitely shouldn't be teaching others driving.

Good place to learn driving. I wanted to take a 6 days course, and was willing to pay in advance, but they advised me to take two lessons at first, and test myself whether I could take a road test with fewer classes. What a nice sugesstion 😊 Scheduling was super easy. And, they boosted my confidence even before taking a class. Everyone was so polite. After reading few reviews, I was skeptical about this place, but places like these don't really care about the google reviews, and on the top of all they don't spend on buying fake reviews. Among hundreds of people they serve nicely, few people who are not happy with them for some reason turn out to be their reviewer. This is why this school has low rating, and few bad reviews. But, you should give them a chance, and I am pretty sure they wouldn't let you down. And, Danny is such a nice instructor. I would love to rate him 5/5.

Opening Hours
Mon

Closed

Tue

5:00 pm - 9:00 pm

Wed

Closed

Thu

5:00 pm - 9:00 pm

Fri

Closed

Sat

Closed

Sun

Closed
Authorize your self with either of these to view contact details, your information will not be shared to any one
Newsletter Subscription for Virtuous Reviews LLP
One more step and you will be subscribed to our newsletters
We have sent you a verification mail on your email id, please verify it.