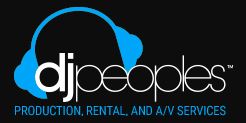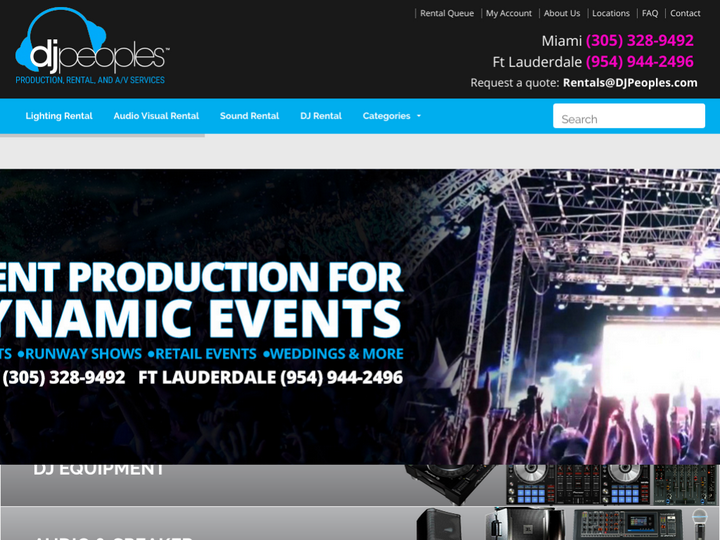 Company Description
DJPeoples Event Production & AV Rental Service is Miami's source to rent sound, lighting, and DJ equipment for the production of dynamic events. Since the year 2000 DJPeoples has actively serviced Miami's top event venues and hotels, and provided top-of-the-line gear to signature Miami events such as Miami Music Week, Winter Music Conference, Art Basel, and Miami Fashion Week.
Review & Rating

DJ People have great products and customer service. They are willing to work with your needs and budget.

Great company. Awesome customer service. Willing to help those in need!

We needed a DJ mixer asap on a day of an event and DJ peoples came through! Super great staff and carlos at DJ peoples is always willing to help us out.

DJ Peoples are the ONLY game in town! I've been DJing high-end, luxury events in Miami for years, and they are the only reliable pros around. Owners, Marc and Carlos, are dedicated perfectionists, who take pride in their work and are always responsive, professional, courteous and friendly, timely, and accommodating; and their team members and techs are all super well-trained and knowledgeable. I always recommend them to clients, as I know I can rest assured that everything will go smoothly and sound acoustically brilliant when they handle the sound, and that they will be able to troubleshoot any issues in a pinch when they do occur. They are worth every penny, and their equipment is always top-of-the-line and in superb condition. In my experience, whenever clients cut corners or go with other companies, there are always inevitably problems with acoustics, set-up, and/or inexperienced, amateur techs. DJ Peoples are just that -- folks that DJ (And engineer) -- so they know and intimately understand music, equipment, set-up, acoustics, even optics, and are able to anticipate the needs of DJs and clients and are prepared for anything that could go wrong. (Case in point: last night, there were sound issues at event I DJed that was not serviced by DJP, and the tech had gone off-site and took minutes to show up, resulting in momentary dead-air, which is horrifying at an event for both client and DJ, as each soundless second feels like an eternity. In the end, the tech -- although very nice and earnest -- was clueless and inexperienced, using Google to troubleshoot and research the issue?!! In the end, I wound up resolving the issue myself! This NEVER would have happened with DJP.) I can't rave enough about DJP -- they're simply the BEST! Thank you, Marc & Carlos!! (I seriously want to add DJP to my event contract!)

I have Worked in the Business for 22 years and this is My 2nd time working with the guys at Dj Peoples, and again they didn't disappoint. great replies on emails to get the orders rolling, Great guys who are thorough on load in and out and Awesome gear maintained and with everything you Need to make the show Smooth. keep it up guys. always here is I can help in la and NY.till Next time J

I am am an event producer and do large concerts in Miami. We rent all of our DJ Backline, monitors, stage lights and mics from DJPEOPLES. They have the best production team in Miami and provide top notch Audio rentals. If you need anything event related call these guys.

I've used Dj Peoples before for previous events and everything has worked perfectly. The production team is amazing and willing to help with any inconvenience. Very professional equipments and team!

I'm a Audio Visual technician in Miami and I always get my Video Equipment rentals from DJPEOPLES. They have all of the equipment that my customers are looking for and they give me a decent price. Very nice people to work with.

They were an awesome group -- reliable, smart and easy to work with. Thanks guys!

We used DJ Peoples to rent Lighting Equipment, Speakers and other Audio Visual Gear for a large corporate event we were producing in Downtown Miami. They have us great rates and delivered everything as they said. They also helped us set up some of our own TVs we had since we had no idea what we were doing. Great bunch of guys.

I currently work at Pandora media and I can't express enough how AMAZING it was to work with the DJ People's team for our private event in Miami.The team on-site were absolute ROCKSTARS and truly brought to life our vision of the stage ☺ Everyone in attendance loved the performance and it wouldn't have been such a success without the DJ People's team. Thank you again for everything, we truly appreciate it and can't wait to work with them again! If you haven't looked them up- you're missing out! :)

Opening Hours
Mon

Closed

Tue

5:00 pm - 9:00 pm

Wed

Closed

Thu

5:00 pm - 9:00 pm

Fri

Closed

Sat

Closed

Sun

Closed
Authorize your self with either of these to view contact details, your information will not be shared to any one
Newsletter Subscription for Virtuous Reviews LLP
One more step and you will be subscribed to our newsletters
We have sent you a verification mail on your email id, please verify it.