Down Home Delivery
Restaurant
2 Bowdoin St., Dorchester, MA 02124 USA
Claim Listing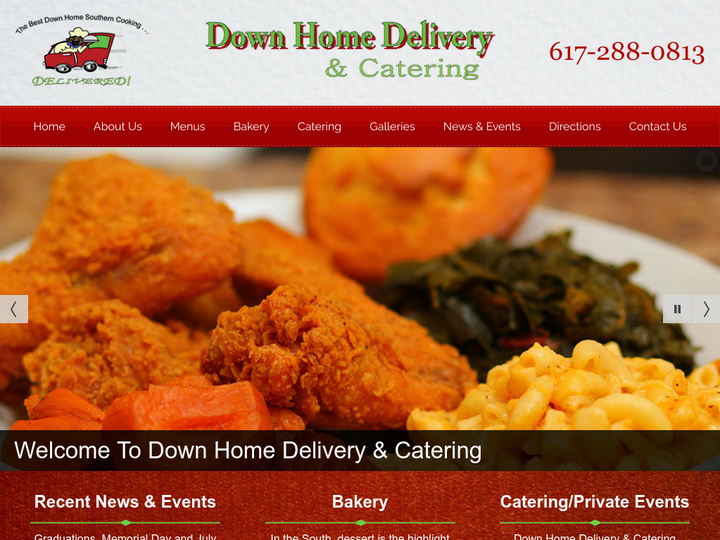 Company Description
Down Home Delivery & Catering is located in the heart of Dorchester, Massachusetts in the vibrant Four Corners section. Down Home Delivery features authentic homemade Southern fare with excellent value and generous portions.
Review & Rating

I was so excited to go here because my mother loves this place and I was here visiting. I ordered our food and they charge an extra dollar for using your card. No problem. The three customers that ordered after me all left before me and one guy had a huge order. The cashier asked me twice what the name of order I was waiting for and still I waited. There were others who ordered ahead of time and they waited as well. This was very disappointing! The food was decent and portions are worth the price. My only discrepancy is that egg shell in my Mom's potato salad. Like a visible piece. Never had that happen before. Also the hush puppies were not to my liking. So unfortunately I would like some more fish, but I can't wait forever. God bless but my time is precious to me.

Pick-up chicken , potatoes salad and deserts. I'm all ways satisfied with Down Home Delivery because I enjoy home cooking and great service

Their food is so good! Their cabbage reminds me of when my grandma was alive and cooked me cabbage anytime I asked for it. It's like having a home cooked me fresh and good no matter what time a day you eat their food.

I live in Colorado and am visiting Boston for a couple days. Found this place on Google which wasn't to far from the hotel so decided to try it based on reviews (and the fact I really haven't had any southern style food) MAN!!!! This food is AMAZING!! Definitely worth eating here! I can tell you, if I ever come back to Boston this is definitely a stop!! Cheers!

Every time I go to Down Home Delivery the woman that takes orders is VERY rude! While I am waiting I even notice she is rude on the phone with customers! I called 30min before closing just to ask if they had any sides and no one answered so I went into the restaurant and they were already getting ready to close. The same rude lady that takes orders looked at me and said "we are closed, we don't have any food!" Maybe you should make note that you all may close 30min prior to the closing time posted. This is not a one time occurrence but because I am tired of the poor service consistently I am now writing a review in hopes that the owners of this restaurant will resolve this issue. It's great to have great food but you will lose customers if you don't provide exceptional service.

I have been to and ordered from Down Home countless times, but today I was fed up with the lack of customer service. The lady behind the counter is VERY RUDE! I first tried to place and order over the phone, but it either went straight to voicemail or no one picked up the line to simply say, "please hold". So when I drive down there, I got to the counter and the lady who was answering the phone/taking orders, walked passed me a few times and didn't acknowledge me. The phone rang, and she picked up the phone and began to take the customer's order. When I brought this to her attention. She was rude, defensive and instead of having an apologetic attitude, said to me, "yeah, we're busy," and told me there were other people behind me that needed to place an order. Unbelievable!!! I have little tolerance for people's nasty attitude and I am too old to have to deal with it too. Maybe you'll have better luck then I did.

food is good.. very happy to have a soul food place in Boston. Staff is very pleasant.

I ordered the fried chicken wing dinner, with baked macaroni & cheese, plus collard greens.. . Yummy! It was good right through the last bite. Nice soul music was playing in the background and the volume was just right. The service was quick and friendly and I'm going back tomorrow for sure!

I've seen this place and the delivery van for many years - who knew. The fried catfish I ordered was delicious 😋! So good that I ate the leftovers because they gave me more than enough for 2 meals. This will be my new go to place. Happy that they're a part of the community!💖

I love this spot! They provide sensational food, their menu is large, The chief cook in that spot is well trained, I like a lot tasting all their food. The dishes are always of high qualtity, the service towards the guests is good. I visit often this place and I not even once was unhappy. I highly recommend it.

Opening Hours
Mon

Closed

Tue

5:00 pm - 9:00 pm

Wed

Closed

Thu

5:00 pm - 9:00 pm

Fri

Closed

Sat

Closed

Sun

Closed
Authorize your self with either of these to view contact details, your information will not be shared to any one
Newsletter Subscription for Virtuous Reviews LLP
One more step and you will be subscribed to our newsletters
We have sent you a verification mail on your email id, please verify it.