First Coast Barber Academy
Posted in :
Claim Listing
625 Julia St N, Jacksonville, FL 32202
(+1) 904-779-7963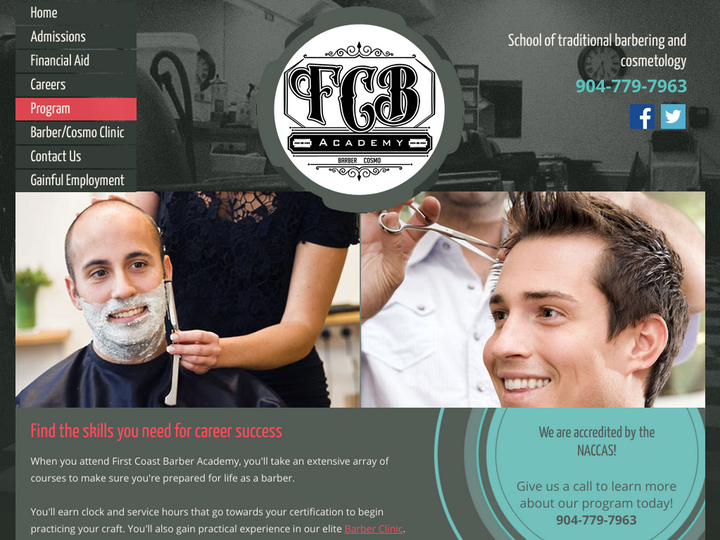 Company Description
Enjoy a new career as a barber or cosmetologist. You'll find creativity and versatility to work together for a perfect combination.
Review & Rating

I always get a buzz cut and have been here maybe half a dozen times. Never had a single issue with any of the student barbers. But remember, they are learning, so if you want something fancy, be patient.

I went to this school and had never picked up a pair of clippers a day in my life and came out doing clean cuts and I am a full time barber now. I was curious and read some of these reviews, and to the guy Ryan who gave a 1 star review and a crazy rant, I say this. You went to a school, for a $5 haircut, where STUDENTS are LEARNING to cut hair, and you are complaining about your haircut not being top notch? You went to a school to get your haircut man. These students have to practice on someone, that's just how it is, otherwise they will never learn.

I went here to get my hair cut and a girl tgats been there for more than a year used broken buzz clippers and she tore up my hair line gouging my skin and was horrible and didnt know how to cut a white guys hair at all I ask her 3 different times to use a #4 on the sides of my hair and she wouldnt do it and tge manager had to come over to finish my hair after going home and washing my hair I could clearly see how screwed up my hair was also tgey will not poi t you in the direction of the mirror while your hair is being cut due to bad hair stylist and or bad lighting either way i will never go there again . And my recommendation is if your whit do not go there because they only know how to cut black peoples hair . And thats not being racist thats being honest

Had a guy cut my boys hair from thos barber school he did an amazing job on certain days they open up the doors and allow the public too come in for 5$ hair cuts some of these guys are better than licensed barbers

I love this place! For $5 a haircut, who minds the wait?

I sent my son to get his hair cut. He got there at 4:30, paid his money and sat patiently to get his hair cut. At 6:45 they come to him and tell him they about to go, they can't cut his hair. Over 2 hours was wasted, and I wish he would have called me first. He was the last customer. What kind of service this is??? He could've been doing something else why they just wasted his time, then they told him to come back tomorrow. I will be back but it won't be to get a haircut 😡

Great prices and very friendly

Love the haircut. It's just take a while to get cut.

All About Them Herring's
UK
These barbers are amazing, but the lady who takes the money is rude and disrespectful. We paid the school and tip our barbers $10 each. Thank you Chris and Jasmond for the amazing cuts and patience with my children. Rachel or whatever your name is😡. YOU will be the reason this school loses money. The fact that you don't care about how you represent SOMEONE ELSE BUSINESS IS DISGUSTING. I seen how fake you really are. You smiled at some people and were nasty to others. If you ever treat me this way again you will be Facebook famous. I would have recorded you but I didn't want to ruin the OWNER'S BUSINESS OR CREDIBILITY. If you don't like your job quit and start your own. I BROUGHT 6 heads to this school and that means $$$. I would love to have feedback from the owner or owners. The 1 star is for Rachel and not the school!! I just had to make an edit. I would love to show you the video of her acting a fool!!!

My stylist had decades of experience in Las Vegas. Staff is courteous. Very professional all the way around. I am from Manhattan and have had haircuts at Astor Place and this compares very very favorably. Highly recommended on all accounts.

Newsletter Subscription for Virtuous Reviews LLP
One more step and you will be subscribed to our newsletters
We have sent you a verification mail on your email id, please verify it.