Mastercutter Academy
Posted in :
Claim Listing
25 W 19th St, New York, NY 10011
(+1) 212-995-9334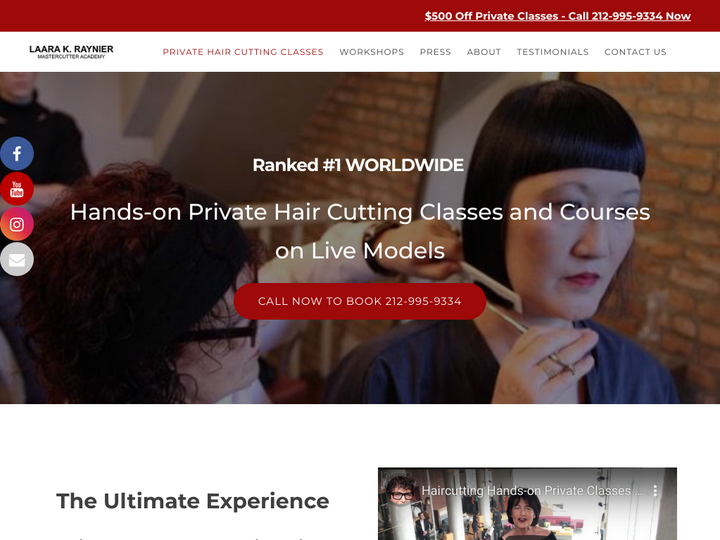 Company Description
Working with Laara is unique because of her elite pedigree. she was trained in London and New York and was the protégé of her mentor, the legendary Roger Thompson, who was the first world art director of Sassoon's in London, known as the Picasso of haircutters. Raynier was a top stylist and educator when she worked with him at the Roger Thompson salon at Barney's New York for 10 years.
Review & Rating

I have been a hairstylist for 15 years and wanted to refresh my skills and learn precision cutting. I'm opening my own salon and I decided to research different schools in the NYC area, as I am from Connecticut. Upon searching the academys in the area I realized that some of the most popular I had already attended and I didn't get the one on one experience that I desired. Then I found Laara Raynier's Mastercutter Academy. I loved the reviews that I had seen online on both You Tube and her website. I also watched a couple of You Tube videos featuring Laara. I first signed up for two workshops, 'London Trends" and "Trade Secrets". I loved both of the workshops and met different hairstylists from all over the world. She asked if we wanted to give an honest review about the workshop when we were done but I declined because I get camera shy. So here I am now with my honest review. When I returned to the salon my clients could already tell the difference in my approach to their hair. I decided that I would definitely benefit from one on one training with Laara and signed up for 10 private classes. I'm so happy I did. I just got home from my training and I am so excited to incorporate what I have learned into my craft. In hiring someone to be my personal mentor I wasn't interesting in someone being soft on me or tip toeing around the truth regarding what I need to work on . Laara was just what I needed. I told her the first day that I wanted her to really be honest with me and she was, which I fully appreciate. Gaining confidence, skill in everything from parting correctly to cutting a clean, beautiful line, the way I consult with clients, everything has changed. She really gave me the confidence and skill boost that I desired before I open my salon, The Violet Lily in Marlborough, CT. I have gone to other famous academys in the city and spent alot of money. Teachers have large classes of approximately 20 students and maybe spend 5 minutes with you before moving onto the next student. Laara was next to me the whole entire time. She was really funny, warm and sincere. She is a strong, passionate teacher which I really appreciated. You can tell she loves teaching. I wanted her to be honest, which she was. It made it easy because it was just Laara, the model and I in a private studio. Which I loved because I didn't feel awkward at all with the honest feedback and motivation. It made learning everything so much easier in a comfortable, non intimidating enviornment. My models all came from the salon apprentice program and they were really happy with their cuts. I didn't know that there was a website where you could volunteer to be a model for hairstylists in training. So if you are ever looking for models, look at salon apprentice. I had alot of fun and learned alot from her because she is a master of her craft. It is easy to say that I learned more from this training then I ever learned at the other major brand named academys in the area. I'll be back for more.

Best hair cut of the century by Laara Raynier. There are hair dressers, hair stylists, and hair cutters, but Laara goes way beyond this, she's a true artist and genius at cutting hair to perfection and made me feel and look the best I've felt in years. Love it, love it, love it!!!!

I recently attended the Trade Secret Training in NYC with Laara Raynier. It was ABSOLUTELY amazing! There are not enough words to express how thankful I am to have not only met Laara, but to actually be in same room with her, training, learning, getting motivated , feeling inspired, and leaving more confident than ever .......it was more than I could have asked for. It was well worth the many hours of drive from Pennsylvania. Her energy, and expertise as a hairdresser is what we all need to stay on top of our game in the beauty industry. I am a stylist, and salon owner. I am both thankful and blessed for the experience that I had with Laara, and highly recommend attending classes/training with her! Let me add that her partner , Carollyne Bayler is a sweetheart! She is amazing in her own field as well, a true motivational coach/life coach. I loved both of them, and look forward to meeting up with them again. My experience would not have been this great without the two of them teaming up together to make the Trade Secret Workshop the BEST!!

I took the trade secrets workshop in January and it was amazing. I learned so much and my clientele has grown. Since then I have achieved a new level professionally. Today I participated in Laara's private master classes. Great environment. Awesome models and the knowledge I received is unparalleled. I will be back to learn more. There's no one like her! She's a fun, extremely talented teacher and a MASTER haircutter with a great personality. This experience will inspire and change your hairdressing career exponentially.

I did not know what a good haircut was until I met Laara! When my hair was longer, I would cut it myself just to save money. Now that I wear it short, I have been relying on heat styling and products to make it look decent. I first met Laara as a bob model for one of her students, after many attempts with student hairdressers at other salons that left me with haircuts I might as well have done myself. Now that I have found Mastercutter Academy, a good haircut has become priceless to me. I now realize how good my hair can look and I really don't trust anyone else. Laara's precision is impeccable, and even though she is coaching a student through the process, I can always rely on her expertise and obvious mastery of her craft to ensure that I leave with a great cut. I am always flooded with compliments after my appointments with Laara and her students, and I've even been asked out more than once after these appointments, and I am sure it's not a coincidence. Thanks to Laara, my hair has never looked better.

What an awesome class!! I realized that on my one on one cutting sessions , my strengths and my weaknesses in haircutting. Laara Raynier is an expert at what she does and I'm glad I found this class. It went beyond cutting hair but focused on me as an overall Hair Stylist . She is a motivator and her focus is on you succeeding!! What a Great class !

I came to Laara for an advanced haircuting class. I already have 18 years in the industry and was looking for a teacher that would actually improve my skill set. There is a lot of the same information out there. The same things over and over. Boring mediocre information that's not very helpful. But Laaras methods have given me a new approach to some of the haircuts I use often. Specifically short haircuts. The feedback I have received from my clientele is extremely positive. They like the results I am achieving with my new techniques I learned at laara's class. I told my colleagues to visit her when they are in NY and I will definitely visit her again next time I'm in NYC. It's one thing to be average but it's much harder to become exceptional. Laara will help move you through to the next level if you are ready and willing. Her expertise and skill is outstanding. It was very generous of her to provide all of the live models. What a daunting task that can be. I have spent years in my career rounding up models for educational events. Not my favorite thing. So I was very grateful she did it for me. If you want to become a better hair cutter, she will help you do it, that's for certain! Thank you so much Laara.

WoW, just wow, this woman is such a genius!! She saved my hair. I ve been a hair model to other academies and they always gave me haircuts just to look edgy for the class and then I'm stuck cause those teachers don't care about my hair just for them to look cool to the class! The worst haircuts. But with LAARA RAYNIER First time she Gave me a haircut at her mastercutter academy I could see my hair react to her touch and cut. It is as if she could hear them talk. I have never experienced this before. I like to call her the hair whisperer cause it is impressive to watch her cut hair and give life to not only your hair but your soul. To the point that i was so inspired by her I wanted to learn from her. So I took a class with her one, did 2 haircuts on live model and I mastered the bob technique!! It is known as the most difficult haircut and she taught me so well and with such passion, guidance and technique and honesty I can now cut precision BOB! So if I can do it, i can only imagine how it can change the life of hairdressers to learn from her. And it would change my life too to know I can go to hairdressers that have her technique so I don't have to worry about getting a bad haircut anymore

Laara is an amazing Mastercutter and I feel so lucky to have had the opportunity to learn from her. Since I've completed training with her my haircuts have been more precise and my eye has been so much more creative. Not to mention all of the texts that I have received from my extra happy clients. I have a whole new energy and excitement when i go to work now. I highly recommend Laara and Carollyne's "Trade Secrets" workshop and private classes with Laara to anyone who just wants more! Laara will get you there!!

Laara is an amazing teacher, she gets incredible models with great hair and is right next to me coaching me throughout the hair cut which gives me confidence in my hair cutting. When I came to laara I was just out of beauty school, and I bought the continuing education package and I also attended the Trade Secrets workshop which is amazing!! Ive learned so many great techniques from Laara. My bobs looks great, my short haircuts are edgy, clean and precise and I now understand how to cut hair, I even know how to do a great consultation and im only 19! Laara has a great personality and is very passionate about sharing her knowledge. Mastercutter Academy is a great environment to learn and grow in. Thank you and your team.

Newsletter Subscription for Virtuous Reviews LLP
One more step and you will be subscribed to our newsletters
We have sent you a verification mail on your email id, please verify it.