Fort Worth Birthing & Wellness Center
#96 in USA
#17 in Fort Worth
Centers & Stores
622 Hemphill St., Fort Worth, TX 76104 USA
Claim Listing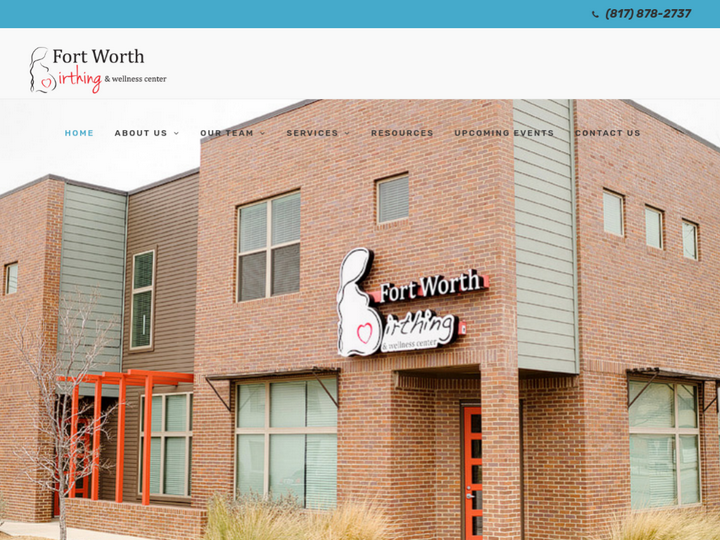 Company Description
Birth Centers invite you to receive personalized, family-centered care from holistic, professional, health care providers.
Review & Rating

Shannon is a huge problem. She insensitive, rough, condescending, and does not listen to the patient's wishes. Everything else was wonderful.

I would absolutely recommend the entire midwife team at beautiful beginnings!! My first birth was less than desirable with a popular OBGYN and experienced a nightmare of a C section in the hospital. When we got Pregnant with our second son, we went straight to Amanda Prouty and was given the most amazing birth!! From prenatal to postpartum care, they deserve nothing but glowing reviews!! I love my dream team!

The whole FWBC team was wonderful! When my pregnancy became high risk and I needed to be induced they all worked hard to get my little trouble maker here in the most supported unmedicated birth despite all the crazy health problems! I recommend them to any family looking for high quality personalized care!

Best birthing experience I could have asked for. The staff is top notch and become like family. No long waits to get in for your appointment. The amenities in the birthing rooms are beautiful and finished off so well. This place deserves more than 5 stars. Highly recommended!

The care was fabulous. From the moment I walked in I was always told of EVERY option I had and whether or not they could accommodate me. I loved this as I have had 2 previous live births in which I was not given such options. Very knowledgeable and helpful! Thanks!

I had a sono done here with baby #3 and the staff was very friendly. I have no personal complaints. I had to go with a different provider at the time due to my change of insurance. I am now expecting #4 and while considering my options (and reading reviews etc. Again) I noticed something fishy. The one star review almost directly quotes the first part of their review from a review above by I believe "Shannon." I am not saying something did not happen, but I just thought that seemed off and should be pointed out. It is almost identical even down to the way certain words are capitalized etc., but the fact about their baby dying is thrown in also. I was almost misled by that review myself, and would hate for anyone to dismiss this birth center (or birth center/midwifery care in general) out of fear or possible lies alone. Disclaimer**The midwives or employees do not know me or that I am even writing this review in their defense. I have no idea if the person that reviewed was in fact a patient etc. I just wanted to point out the concern of authenticity, and then let others decide.

I left the center at 12weeks pregnant. I was a Medicaid patient, I called several times to ensure my insurance information was logged and known to all staff. Somehow, months later I'm receiving bills from Quest Diagnostics stating I owe over $2,000 in medical bills by Referring Physician: Meagan Alpha. Quest Diagnostics stated over the phone that they never received any other insurance information from the wellness center. I also had to put down a $500 deposit at my 3rd appt before 12 weeks pregnant, since I decided not to use the wellness center I asked for it back. The center told me I would be refunded but months later I only received $254 back of my $500 deposit that is for the initial $3500 for the tub birth. Since I did not continue on with the center they decided not to properly input my insurance information I guess so they can try to make life harder for me? I'm pregnant, this place has been very petty with dealing with my situation. Only reason I ever went here is because I was referred, I will make sure everyone I know does not go here. With all the money they're making I find it disgusting of the owners to not have refunded my full deposit knowing I was already a Medicaid patient meaning I cannot afford the expenses that this center charges.

Having my first baby in January and looking to have the baby in a very natural way so obviously I started looking up birthing centers near me. I found three within a distance I could drive comfortably but this one was by far the closest which as a first time parent definitely would put me a little more at ease. So I called and scheduled an appointment to tour the facility. I will say that right off the bat, I was put off by the girl who answered the phone, she didn't speak very clearly and didn't seem very knowledgeable about prices, options, or procedures. I assume she was just new to the front desk. But I made an appointment for a weekday at 1pm and brought my husband and my MIL to see it and help me ask questions. The next off putting instance was when we showed up 10 minutes early to the appointment (as anyone should) but the door was locked. We knocked and knocked and finally someone came to the door with an attitude saying that the midwives weren't back from lunch yet. I had to ask if we could sit inside and wait and she relented. Did they just except a pregnant women and a women in her 70s (my MIL) to stand outside in the Texas heat? It didn't make sense. About 5 minutes later another pregnant couple showed up but they had re-locked the door, so I let them in without a thought. After the midwives showed up and took their time putting their stuff down we finally got a short tour. I thought the facility was very nice. The only issue was since my MIL does not do stairs well and the birthing suites are upstairs with no elevator, she was a little disappointed that it would be very hard for her to come see me. By the end of the tour I said I would give them a call back when I had made a decision and book my first official prenatal appointment. The final decision maker to NOT use this birth center was about three weeks later when I called to book that first appointment... no one answered. I sent a message through their website asking for a return call. No response. I called a second time that week. No answer. I called three times the next week all at different times of the work hours and left a voicemail. Still no response. I decided, even if they did call me back, why would I want to spend thousands on a birth center who doesn't answer the phone, and how can I trust that they'll be there when I go into labor or have an emergency? I'm sure this birth center has been great for others, but there definitely could be some improvements on the "customer service" side of things.

I loved my experience with this birthing center, up until it came time for my check ups after giving birth. I was transferred to the hospital for an emergency c section because our little one had breached. I can honestly say the ladies were so sweet to come and check up on me in the hospital when we were recovering--there is not a midwife in this center we didn't just absolutely love and appreciate. I genuinely loved the care I got at the center, and every check up until the birth I looked forward to. However, about 3 months after giving birth something happened and my belly got very inflamed. When I called, because I trust these ladies and at least wanted to come in so they could look at it, they immediately pointed me in the direction of seeing my doctor who performed the C section and said they "could not help me." Additionally, when I accidentally missed my second follow up appointment due to working full time/being a new mom/everything associated with that, they never bothered to call to see how I was doing or why I missed my appointment. They had promised to put our little one's feet on the wall and give me an herbal bath, but that will likely never happen now. I just now don't feel important to any of them since giving birth to our little boy/paying our dues. I was already heartbroken because we had our hearts set on a natural water birth and decided to pay thousands of dollars for their service, but when I called in tears to see if they could just see me and check to make sure everything was okay... They couldn't even do that. All in all, the ladies are warm, welcoming and care a lot about their clients, but could make more of an effort following up with their patients after birth--especially the ones who have a very difficult, unexpected recovery/ have an emergency c section. I thought of all people they were the ones I could count on for support when something like this happened but now my family and I are left very disappointed and defeated. After all, we need all the support we can get.

I have delivered two babies at the Fort Worth Birthing Center. Both experiences were excellent. I feel that the quality of care that I received throughout my pregnancies could not be matched by an OB. The midwives were personable, attentive, and caring. Coincidentally, both of my deliveries were attended by the same midwife, Lissa, who happened to be on call for those days. I feel that both births were made significantly better because of Lissa. She was not just a provider to catch my babies, but also a partner and coach throughout my labors. She made me feel supported, she gave me courage, and she did everything possible to make sure that my experiences were positive. I may not have known the midwives three years ago, but I now hold them in high regard as fellow mothers. Thank you for what you do and how you pour yourselves out so that other mommas can have the birth experiences that they deserve.

Opening Hours
Mon

Closed

Tue

5:00 pm - 9:00 pm

Wed

Closed

Thu

5:00 pm - 9:00 pm

Fri

Closed

Sat

Closed

Sun

Closed
Authorize your self with either of these to view contact details, your information will not be shared to any one
Newsletter Subscription for Virtuous Reviews LLP
One more step and you will be subscribed to our newsletters
We have sent you a verification mail on your email id, please verify it.