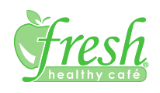 Fresh - Healthy Cafe Restaurants
Foodie Delight
3000E 1st Ave, Denver Colorado 80206
Claim Listing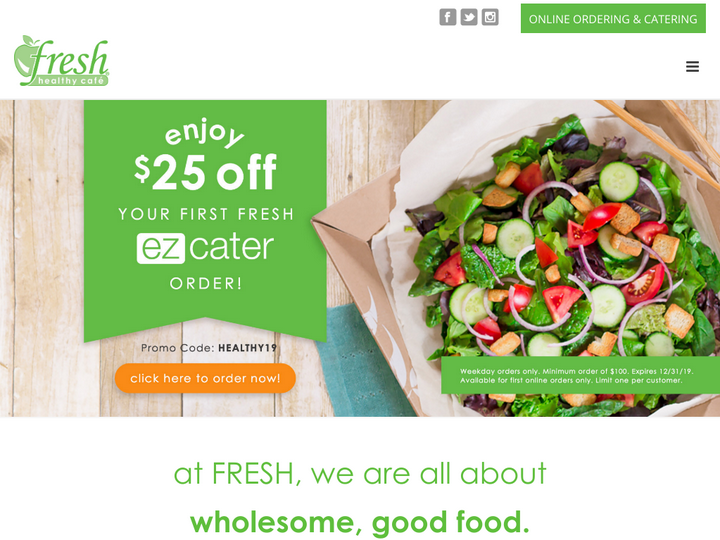 Company Description
Since day one at Fresh, we've been sourcing and serving the freshest, highest-quality ingredients we can get our hands-on. Because we know a nutritious and balanced diet does something amazing to your body and mind. We believe the choices we make today will not only affect ourselves but our planet as well. That's why we strive to use biodegradable packaging materials in all of our stores. We always choose the natural way.
Review & Rating

Flavor is good but prices are high and staff is not friendly at all. Paid 7.20 for a "regular size" acai bowl... not worth it . Let's see how long this place lasts.

There's only two stars here because the smoothies are pretty decent. Otherwise, avoid this place. The staff is extremely rude and act like you are an inconvenience for trying to order. The three times I've been here, I've sat at the register and waited for someone to acknowledge me. The last time, a girl rudely approached me and just said "what". I then waited 10 minutes for a small smoothie. Overall, the staff is never dressed appropriately (usually lacking hats or hairnets to keep their hair out of food or wearing sweatpants), the service is terrible, and the food is average quality for the price. Won't be returning here again, despite it being the only healthy option in the food court.

The acai bowl total waste of money. I really wish I could give this place 0stars. And my kale smoothie gross... I enjoyed wasting my money with you guys. Thanks alot!!! Jugofresh is wayyy better

Food is great. The salad was fresh and excellent healthy smoothies. Great service.

Very poor service. My girlfriend ordered a smoothie and simple asked if the base liquid for another. The person I assume to be the manager or owner told us that it could not be done because that would be, "changing the recipe and would taste bad." Probably the most ridiculous response we could have gotten. I didn't know swapping the liquid was an impossible feat. For you to deny a customer who is more than willingly to per the extra service charge to change an item on the menu with something as poor and rude as "it will taste bad", is insane.

I wish I could rate this place a zero star. I went to this restaurant a few days ago and had the pineapple paradise smoothie and it was great but today had the same smoothie and it tasted sour. I went back and spoke and to the manager and he was rude and insulting. He basically called me a liar and said it was not sour and that they use fresh fruits and products. I asked for a new smoothie and he said it would taste the same so I asked for a refund and he declined. They gave me a new smoothie and it was the same very disgusting. Very poor customer service👎 👎 👎 👎 👎 👎 🚫🚫0️⃣

Every time I come here I have an awful experience. Since I work in the mall I come during my lunch break. If it wasn't the only healthy place to eat here I wouldn't come at all. The customer service is extremely awful. They have the "if you don't like us don't come.. dont buy" attitude. They can care less if you're a happy customer or not. They are extremely rude and unfriendly when they speak to you. And don't ask for any altercations on your food. They will raise hell. Smh.

I wish I could rate this place a zero star. I went to this restaurant A few Days ago and had the pineapple paradise smoothie and it tasted sour and no flavor at all , I went back and spoke with the manager or the owner and he was rude , He basically called me a liar and said it was not sour and that they use fresh fruits and products. I asked for a new smoothie and he said No that it will taste the same, that they did what they supposed to do on the recipe, So drink it like it or NOT, He needs to know that the Custumer it's always right and if i paid 7 $$ for something that supposed to be good and was NOT , he doesn't know what He is doing . Oh Well i would NOT going to that place Never Again ..Very poor customer service, and NOT a good place to buy food either, not so clean..

If I could give it a -star rating, I would. Ordered the Turkey Panini, with extra avocado. They charged me a $1 extra which is fine, except the avocado wasn't ripe and wasn't extra. I complained to the Manager. He didnt even care nor acknowledge my complaint. Said, and I quote: That is our avocados. I responded you are serving green (as in not ripe) avocados. He didn't even flinch. Best part? He offered to refund me only the $1 I spent on the extra but not the half of the sandwich, I couldn't even eat. Told him to keep it & buy ripe avocados with it. Will never go back here! What store? The one in the Broward Mall.

I am very unhappy with the food in this place. I am a believer of selling what you promote. I ordered a fresh squeezed juice and got a smoothie. When I was addressed by the manager or owner (tall Caucasian male) he stated to me that they squeeze certain fruits and mix it in the blender with other frozen fruits. If you are a health fanatic you know that does not constitute as a freshly squeezed juice. This place sales to those that are not familiar with real healthy dieting. I also ordered a Ginger shot as I would in Wholefoods and it had residual beets from the machine. Very unhappy wish I could not rate it.

This is one of the best places I have eaten at. They have things that are really healthy and smoothed in which you can put turmeric and other super vitamins. The price may be a little high, but the food is good and I have come here more than once.

Opening Hours
Mon

Closed

Tue

5:00 pm - 9:00 pm

Wed

Closed

Thu

5:00 pm - 9:00 pm

Fri

Closed

Sat

Closed

Sun

Closed
Authorize your self with either of these to view contact details, your information will not be shared to any one
Newsletter Subscription for Virtuous Reviews LLP
One more step and you will be subscribed to our newsletters
We have sent you a verification mail on your email id, please verify it.