Frisco Feeding & Speech Therapy
Doctors
4645 Wyndham Lane, Suite 210, Frisco TX 75033 USA
Claim Listing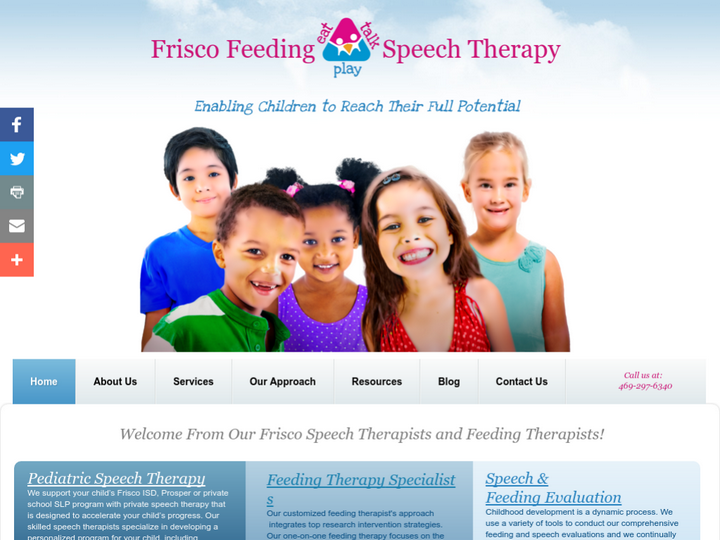 Company Description
Jeanine Roddy and the certified speech pathologists at Frisco Feeding & Speech Therapy are committed to providing exceptional pediatric speech, language, and feeding therapy for their clients.
Review & Rating

As a parent you worry about your child's development and hope to find someone that will care about their needs at the same level as you. And we have found our place! My son is 3 years old and we have seen such growth in his language skills in just a few short months! I was highly discouraged after I took him to Frisco ISD to be tested (not to mention the wait to even get the ball rolling there). I was overwhelmed, confused by their reasoning and they left us feeling hopeless. I had one phone conversation with Jeanine and I hung up feeling hopefull and encouraged! Ciara is the one working with him and she is an exceptional speech therapist! My son looks forward to going to see her every time. She is fun, matches the children's energy and has created fun ways for my son to learn. He has a new confidence that i love seeing and I'm so thankful for this team. I wish I could give them more stars!!

Jeanine has worked with my children on speech therapy needs and her attention to detail is unbelievable. She is so kind and really cares for her patients. My children love her and can't wait to go to their appointments.

My son Jack had a lisp that I wanted to address before kindergarten. Jeanine helped Jack quickly fix his "s" while giving me plenty of support for at home reinforcement. He loved going to his sessions with her and was so confident when he "graduated" in less than 10 months!!!!!!

My son started seeing Ms. Jeanine twice a week when he was about 2.5 years old. My son was severely speech delayed and had almost zero language when we started. Ms. Jeanine was able to turn on a switch in my son's head and after a few weeks my son started repeating simple words. I know that doesn't seem like much, but my son is incredibly stubborn and had previously refused to utter even a single word. Then after a few months of seeing Ms. Jeanine, we started hearing new vocabulary almost every day! Ms. Jeanine made learning new words really fun and my son was always really excited to go. I can't even describe the amount of improvement we saw in my son's speech. I would highly recommend Ms. Jeanine if your child needs a speech therapist.

Jeanine is such a great speech therapist who is extremely knowledgeable in her field and has so much passion! She has worked with my daughter to help her articulation, and my husband and I are so pleased with her process (and our daughter's progress!). She has truly created a fun learning atmosphere - my daughter LOVES going - and has provided me with great material for areas that need improvement that I can help reinforce at home!!

When I first met Jeanine my daughter Debbie was 3 years old and she was eating just blended food and crackers! she just refused to chew!We couldn't eat out as a family as there was never anything on a menu she would eat. After her initial evaluation at Frisco feeding therapy, Jeanine let me know it would be a slow process. After 6 months, she started eating fruits. However, something clicked around after that 6 months mark and she tried pancake. This was a huge step! I was finally able to make some Red lobster's biscuit which she really loved to eat . After the biscuit came some small victories like different breads. Then Jeanine was trying some chicken nuggets and at the beginning it was very frustrating as Debbie was refusing constantly! and then suddenly after a long time ( 2 months) she has started to chew that! In the last few months she's added 11 new foods to his diet, including piazza and few vegetables, shrimp, fish etc. I highly recommend Frisco feeding therapy if you have a problem feeder. Jeanine has been so helpful, she is patient, loving, caring and understanding. Thank you Jeanine! just give her a call and you will get your solution!

We have loved working with Terra, and she has been the perfect fit for our little boy! She is so patient and loving, but she also has the magic touch of getting our stubborn 18 month old to work hard for her! The office is so warm and fun, and we highly recommend them!

We have had a wonderful experience with our providers at FFST! They work amazingly with my 2 year old. We have seen great progress and I highly recommend this practice. Our therapist and the owner are helpful, friendly, professional, and just plain pleasant. They definitely enjoy working with children which results in happy, productive children.

Mrs. Jeanine was awesome! She did the initial evaluation on my son because we thought he might be delayed. She reassured us that he is typical and that he will start talking very soon, sure enough with her resources on teaching phonological awareness, our son is doing great. I would highly recommend her

I highly recommend Frisco Feeding and Speech! Jeanine Roddy is an experienced professional who is fun, energetic, and makes speech an all around fantastic experience. She has a fastatic play area that all kids will love. She is easy to schedule appointments with, prompt in replying to messages, and really individualizes a therapy plan specific to your child. We have been with them since October and have received excellent communication with our therapists and seen major growth in our sons communication. I can't say enough positive things - this is the best place in Frisco!

Our almost 3 year old son has been coming here for nearly a year now and I can't say enough good things. He is currently working with Ciera and we adore her! She is so sweet and patient. She gives us tools to use at home and changes his treatment plan as he progresses. He has come so far, which in and of itself was the goal, but as a cherry on top he has fun every week. He gets excited on "speech days" to go "play" and races to the door; but we know he's learning and growing the whole time. This has been such a great experience at Frisco Feeding and Speech for our son and family.

Opening Hours
Mon

Closed

Tue

5:00 pm - 9:00 pm

Wed

Closed

Thu

5:00 pm - 9:00 pm

Fri

Closed

Sat

Closed

Sun

Closed
Authorize your self with either of these to view contact details, your information will not be shared to any one
Newsletter Subscription for Virtuous Reviews LLP
One more step and you will be subscribed to our newsletters
We have sent you a verification mail on your email id, please verify it.