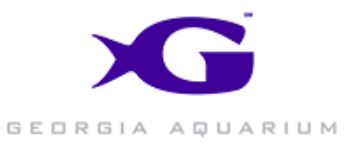 Georgia Aquarium
#85 in USA
#43 in Atlanta
Hire
225 Baker Street NW, Atlanta, GA 30313
Claim Listing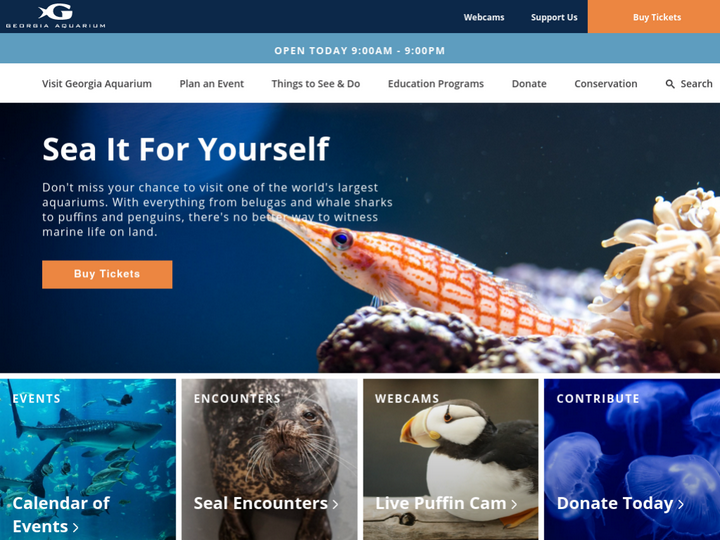 Company Description
Georgia Aquarium is a nonprofit committed to inspiring awareness and preservation of our ocean and aquatic animals worldwide.
Review & Rating

This place is awesome! Loved it a lot! My favorite were the live sea lion and dolphin shows. The animals were fun and cute to watch. They have restrooms,a cafe with a variety of foods, places upstairs and down to sit, and a gift shop. They also have othe things going in like little shows for kids and other sea life places. I also got to see whale sharks which are located no where else in the U.S. They plan on expanding the place so looking forward to that. Definitely recommended!! Also great for people of all ages.

The Georgia Aquarium is perfect for anyone who loves the ocean. It has a huge window where you can see whale sharks, all sorts of types of fish and much more amazing creatures. The dolphin tank is my favorite! You can see dolphins swimming, playing, and the tank is very big. If your worried about the animals happiness, you don't need to!! The dolphin show is also super fun!! The trainers are very friendly to the dolphins for the show and anytime. If your lucky you can see one of the whale shark caretakers riding on its back! The Georgia Aquarium is a great birthday place, or a place to hair have fun!!

Hands down my favorite vacation so far. We loved this aquarium. The adults may have been more excited than the kids. It is very large and has a lot of areas to visit. The dolphin and seal shows were much more than I was expecting. It can get busy and crowded, but we were able to find other exhibits to go to when one got overrun. The food selection was awesome if not predictably expensive. Pro tip: dolphin show splash zone does not mean you will get lightly sprinkled. For some unknown reason, they have actually trained the dolphins to end the show by creating a series of giant waves to soak the front rows. When they say don't sit in the front tens rows, they mean it!

The Georgia Aquarium is a very great place to go especially if you like underwater aquatic animals. They have a lot of great shows you can go to the specially they have dolphin shows which I had a really great time seeing. This place is great for little kids teenagers and generally anybody who likes aquariums. They have really cool tanks and other stuff and things that you can touch here. It's a great experience to go and I hope you would consider going here and the place around in Atlanta is actually a really convenient place they have other great places you can go. They also have some food places within the court and some shows and there's a bunch of other things. I hope you consider going here. I've been here many times and I still have fun every time I go.

This aquarium is really neat! They have whale sharks! And a lot of other cool animals! The aquarium is grouped into a handful of different themed exhibits branching off of a central room. The exhibits are all great, and the cafeteria area where you can get food is actually good too! There's variety and pretty good prices for an aquarium cafe. Lots of good stuff to see here.

I went here with my kids and their dad the weekend before father's day, so not super busy, but having mobile tickets somehow made the process of entering even harder. Luckily, Heather at will call was helpful and friendly. The exhibits were nice, but the place was actually pretty dirty, which was a little surprising compared to the number of staff they have walking around. The cafeteria is a great idea, but they should have better signs leading to the sitting area upstairs. It was a great experience, but not something I'd want to do regularly.

I love this aquarium. The staff are amazing. They are so passionate about the animals. The animals themselves are wonderful to watch. You can see a wide variety of marine life here. They do have a seal of approval from this one organization as a humane aquatic center. To be able to see the whale sharks in person made me so happy. Without the Georgia aquarium I would not know about the whale sharks or their situation in the wild. I have an annual membership. That is the way to go. My little girl really loves to visit the aquarium. It's a great place to visit in the summer because it is all indoors and climate controlled. I really recommend visiting here if you are an animal or marine life enthusiast. If you have kids you won't regret visiting The Georgia Aquarium.

Overall, we had good luck. We came in and went to everything so orderly that we didn't have to wait in line for long and got in fast and out. So, personally it was a great experience especially if you have younger kids (7-12) I think they would really enjoy it. I was in there for a good 5 hours with plenty of stuff to do and overall I didn't everything cause some things were for kids. So, overall great trip, nice things and place is one of few with a whale shark so if possible book a way to see it up close. ✌👌 (Dolphin shows, sea lion shows, walking areas, etc)

I've been to this aquarium at least once for the past three years & it never gets old! So of course it was a must when my cousin who was visiting from out of town mentioned wanting to go. 🤗 We were able to find a special where the tickets were almost half off before a certain hour. Definitely check their website for more details. To my surprise they had a couple free shows like the otter & sea lion show, which was fun & informative, as well as, the Dolphin show. Tips: there's a no splash zone for both shows & absolutely no recording allowed! I really enjoyed the shows, but my favorite parts will always be the Penguins & the Tunnel. This is a great date (but eat elsewhere) or family night out spot! 🤗

Awesotheus MuttonHammer
UK
Aquariums are super cool, and this one is certainly no exception. Famous for, among other things, shipping by UPS a whale shark to their largest tank. Additionally, they rehabilitate a number of sea creatures, including turtles, dolphins, and manatees. Some such dolphins they trained to perform a spectacular stunt show in another area of the aquarium. One could easily spend +5 hours inside. Yes, there is dining. And a liquor cart, for some reason. I suppose you can drink like a fish while you watch them

Best Aquarium i have ever visited till today. I love the big tunnel to walk under where whales were above it. Second cool thing was to seat in front of the big glass wall tank full of aquatic life. All of their exhibits are well thought. The dolphin show and the sea lion show were also wonderful to watch. It's a worth visit place for some unique experiences.

Opening Hours
Mon

Closed

Tue

5:00 pm - 9:00 pm

Wed

Closed

Thu

5:00 pm - 9:00 pm

Fri

Closed

Sat

Closed

Sun

Closed
Authorize your self with either of these to view contact details, your information will not be shared to any one
Newsletter Subscription for Virtuous Reviews LLP
One more step and you will be subscribed to our newsletters
We have sent you a verification mail on your email id, please verify it.