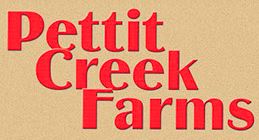 Pettit Creek Farms
Hire
337 Cassville Road, Cartersville, Georgia 30120 USA
Claim Listing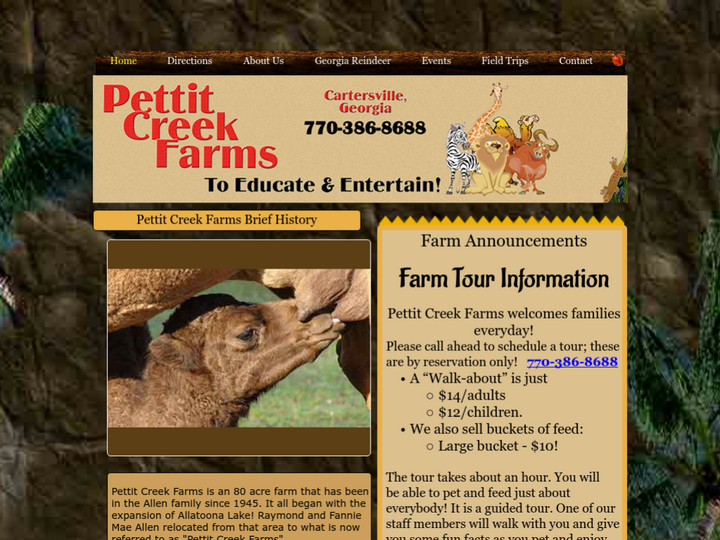 Company Description
Pettit Creek Farms lays nestled in the foothills of North Georgia in scenic Cartersville! This 80 acre farm has been in the Allen family since 1945. It all began with the expansion of Allatoona Lake! Raymond and Fannie Mae Allen relocated from that area to what is now referred to as "Pettit Creek Farms".
Review & Rating

Very good. Nice staff but the live nativity was obviously teenagers who all but one of them would have rather not been there. One of the wise men was sitting with his head down on his knees.

Love that it's an actually working farm. Not like other cookie cutter farms that we have been to. They have many animals you wouldn't normally see on a farm (including a giraffe, camels, kangaroos) along with animals that are typical on a farm. Kids love the hayride and petting zoo(you can purchase food to feed them). I like the fact it had real bathroom facilities. You can do anything from a farm tour, birthday parties and Christmas lights in December. I seen some people complaining about pumpkins being brought in during November.( hint: ALL pumpkin farms do this, why you single them out is beyond me). They also bring in top quality Christmas trees (they beat box store trees hands down) that last twice as long, because they are kept in water to stay fresh. I would recommend calling before hand to arrange a time, if you are doing a farm tour. The farmers wife, June is really helpful and answered all the questions we had. Hands down we got to experience more and see more than at any other farm we have went to. Prices ran about the same as other places we had been to. Check Groupon to save on admission prices.

My family visited the holiday light display on a week night. We were disappointed. There is a short drive through a light display......and that was it. No petting zoo. When you park, you can walk into the "party zone" where you can look at 2 reindeer and have a photo op. It was $15 for the car entry. Bounce house was charging an additional $5/person so we declined. We all agreed is was not worth the 30 minute drive out there or the $15. If you go, learn from my mistake and go on the weekend when they supposedly have more to do.

Love going over there would love to go back

Very disappointed. The website makes it appear that you can feed the animals and enjoys lots of activities for free. Just pay the 15 dollar fee to drive through. However that is not the case. The "mile long" light show was very basic. Also you have to pay for everything including feeding the animals. I am almost certain you have to pay to see Santa although I am not 100 percent sure. I did see a man with a money pouch....very disappointed I paid 15 dollars. Also very very very muddy.

Wow. What a ripoff. We went here for the "Christmas lights". First of all $15 is WAY overpriced for the lights. Secondly, there is ZERO signage directing you on where to go. We turned the wrong way and bypassed the huge loop of lights because there was no sign telling you where to go. Also, just FYI, even though when you call, the recording will say they accept all forms of payment, that does NOT include the concession. I figured the pony rides, etc would be cash only, but when you say "all forms of payment accepted" a reasonable person would assume that includes concession items. So we waited in line for 30 min for hot chocolate and got to the lady and found out "sorry! Cash only-there's an ATM over there". Even though there was no sign stating cash only. Luckily our friend had cash so she paid for our $3 hot chocolate, which btw did not come with any marshmallows or whip cream. This place is a total rip off and is grossly unorganized. Please do not waste your time or money.

The environment is outstanding, kid friendly, and just gives off an all around good and fun country feeling. As far as the staff is concerned the do not fall shirt ANYWHERE! Very kind and helpful staff anytime you need them they're there. I would HIGHLY recommend this to anyone as a couple or even couples with children, it's GREAT! I look forward to going again not only diring fall but for their Winter lights as well! GREAT JOB GUYS!

Sara Thomayvdrgfsggffkvvbggbs
UK
Absolutely a wonderful experience! My 6yr old and I Loved it sooooo much! Highly recommend!

A great family friendly place to visit. Hot chocolate on a cold night, a ride through kangaroos, Zebras, and reindeer. Rode a camel named Clyde. Friendly staff and the animals had plenty of land to run on-the- young camels seemed to be having a good time racing around the pasture.

I payed them $300 for a birthday party for my daughter. What a waste of my money. When we got there there was no one there to greet us or show where we need to set up. After asking around they gave me 2 dirty park benches. There were a few farm animals about 10 ft away that looked miserable, had open sores with flies going in it and were under feed. Finally we found the owners and ask when we could see the rest of the animals. We were told that unless we payed more money, that we were not allowed to walk the property. My guests suggested not to give him any more money. Everyone was extremely disappointed. Terrible experience for my daughter, buyer beware!!!

Opening Hours
Mon

Closed

Tue

5:00 pm - 9:00 pm

Wed

Closed

Thu

5:00 pm - 9:00 pm

Fri

Closed

Sat

Closed

Sun

Closed
Authorize your self with either of these to view contact details, your information will not be shared to any one
Newsletter Subscription for Virtuous Reviews LLP
One more step and you will be subscribed to our newsletters
We have sent you a verification mail on your email id, please verify it.