Kesh Events Inc
#96 in USA
#41 in Chicago
Decorators
730 W Lake St #8212, Chicago IL, 60661
Claim Listing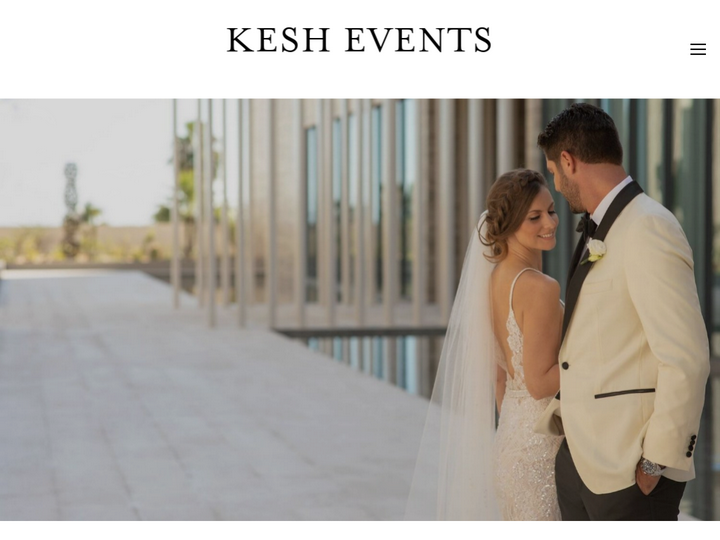 Company Description
Kesh Events is an award-winning event planning and design firm located in Chicago. Known for our flawless eye for details, opulent over the top florals and design aesthetic, Kesh Events has quickly become the go-to planner and designer for clients of the most discerning tastes internationally! Under the attentive eye of Akeshi Akinseye, Kesh Events offers a hands-on approach to weddings and events; orchestrating a one of a kind curated approach to life's most unforgettable celebrations.
Review & Rating

every thing in my wedding was horible except the bride thanks any way

I had been looking for a florist for an event and was excited when I found Kesh's. she replied within 48 hours to my first inquiries, but after following up the next day I received no response. I sent a second email the next week and still no reply. Very disappointing and unprofessional.

My wife and I got married in November at Harold Washington Library. Akeshi and her team at keshevents were beyond amazing. Everything was well executed, decor was beautiful. She was a support system for my bride and went above and beyond her call of duties. No complaints. Happy wedded couple.

I was at an event coordinated by this company a while back and the way I saw the coordinator speaking to the vendors was very off-putting. She was very terse and demanding of waitstaff, dj, photographer, etc., who seemed to be doing a fine job. The event was beautiful, but most weddings I have been to I hardly notice the coordinator because they stay in the background, but it wasn't the case here.

Kesh Events is simply a God send.. Professional & they pay attention to detail... Akeshi and her team set the bar when it comes to events. They did our grand opening party and now they are working on our 1 year anniversary soiree.. I would highly recommend them for all things planning and design... Phenomenal experience to say the least.

Enjoyed​ working with Akeshi for our wedding! She's very detailed and a pleasure to work with.

Working with Akeshi and her team was one of the best decisions we made regarding wedding planning. She is meticulous and organized. Her follow up and follow through were just what we needed. Akeshi handled all of the communication with vendors during the planning stages and on the wedding day. By engaging Akeshi and her team we truly had peace of mind that everything would go smoothly and it did! I did't realize what a huge help her team would be on the wedding day. Their presence and coordination allowed us to enjoy every single moment of our big day completely hassel free. I would highly recommend not only hiring a planner, but that it be Akeshi and her team. She is professional, accountable and wonderfully friendley - she is top-notch!

Where do I begin...when I think of Akeshi and her team, so many wonderful things come to mind. My wedding was 7-7-17 and I reached out to Kesh Events in January after reaching out to a few event planners in the industry. From the initial phone consultation with Shalamar I was greatly impressed. So I had to meet Akeshi in person and from entering her warm, fabulous office space I was amazed at her work. Most importantly she understood my vision for our special day right away...so not only was I beyond impressed with her planning capabilities but also her vision for the design. Without much thought we immediately went with Akeshi and her team for planning and design. Let me tell you her team has the connections and move quick to exceed your expectations!!! Our minds were blown away...anytime we thought of something within a couple days appointments were made and/or tasks were confirmed and completed!! Talk about Wonder Woman!! Considering my husband and I were extremely busy leading up to our big day...Akeshi and her team made everything effortless and I completely had trust in her. Although always professional they seemed like an extension of our family and that meant a lot to me...we were more than just a "customer", she was passionate from beginning to the end and she wanted to fully execute my vision. I can go on and on and write a book about my positive wedding experience with Kesh Events and team. So let's get to the big day...I had an idea of what to expect but what took place was beyond my imagination!! Everything was exceptional and with excellence...I was wowed, our guests felt like royalty, here we are months later and people are still raving about our fabulous wedding that should've been televised (LOL no seriously 😉). I'll end with this I'm not a "crybaby" especially in front of people...but when I saw how she had transformed the venue I cried like a baby (there are pictures to prove this😩). I cannot thank Akeshi enough and give her enough props...if I had to do it again, I would do it all over again and I definitely wouldn't change a thing!! There is no wedding without love and...Akeshi in the mix!!!😊

Working with Akeshi and the staff at Kesh Events was such an amazing experience. Akeshi took the time to sit down with me and figure out my vision for our big day and boy did she ever make that vision come to life. There was not a single detail that was missed. From the beautiful bouquets, to the table centerpieces, and our amazing chuppah decor. Additionally, the team members were so amazing to work with and super sweet. They were always there to make sure I had everything I needed and also to ensure that everything went according to schedule and by the numbers. If you are planning a wedding and want a top notch planning and design expert who truly cares about all of her clients, I HIGHLY recommend Akeshi and Kesh Events.

Akeshi and the entire Kesh Events staff is so awesome to work with. She takes her time to learn every single detail about what you're looking for and brings it to life in such a way that left me breathless. From the beautiful flowers that she arranges herself, to the handmade centerpieces, the love and the passion that she has for her craft is bar none. Thank you Akeshi and Kesh Events, I look forward to working with you again soon!

Authorize your self with either of these to view contact details, your information will not be shared to any one
Newsletter Subscription for Virtuous Reviews LLP
One more step and you will be subscribed to our newsletters
We have sent you a verification mail on your email id, please verify it.