Kia Atlanta South
Test Drive
7310 Jonesboro Rd, Morrow, GA, 30260
Claim Listing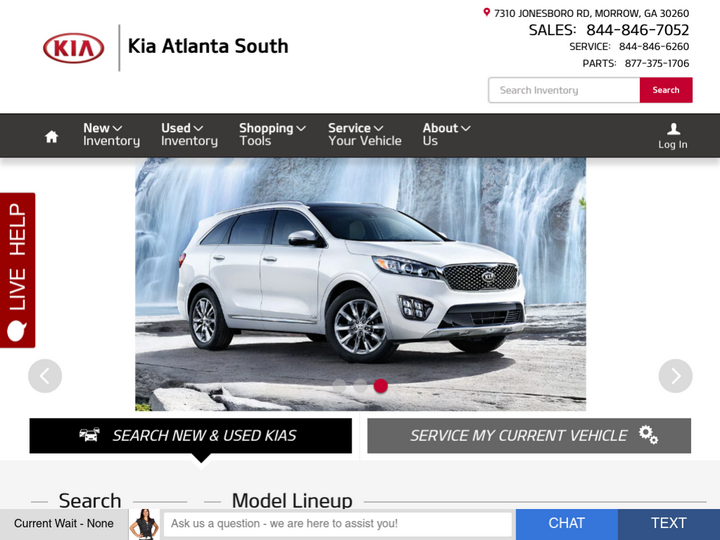 Company Description
We have a strong and committed sales staff with many years of experience satisfying our customers' needs. Feel free to browse our inventory online, request more information about vehicles, set up a test drive or inquire about financing!
Review & Rating

Great customer service and quick car care.

I am on my 2nd car from Kia Atlanta South. Everyone has been awesome. I tell everyone looking for a car to go see them.

I was promised by a former dealer/current finance rep Delroy that if filed bankruptcy ( with a bankruptcy attorney that he personally knew and referred me to) that "I will have no issues getting you in a brand new car". I went and filed the bankruptcy and waited the two days, like he advised , only to get to the dealership and not be approved at all for some bs random reason that made no logical sense. Now I'm stuck paying 2,000 in legal fees for a bankruptcy I didn't even need to get a new car. Please, if you're gonna buy a Kia, stay away from this location. These guys are complete crooks. As an insurance agent, I will definitely be spreading the word at how much of a scam and waste of time this place is. I was able to walk into a Chrysler dodge Jeep dealership and get a brand new 2019 vehicle on my own within 2 and a half hours. If your credit is less than perfect, don't let this dealership scam you like that got me. And as bad as I wanted a Kia, my new Jeep is EVERYTHING. As a professional myself, STAY AWAY FROM THIS KIA DEALERSHIP!!!

Mr. Sonny was spot on! He is very easy to talk to because he Listened to us. Thanks.

I originally gave this dealership a five star review. But after taking my car to get the brakes changed I'm taking back my stars. 1. They messed up my steering wheel and called me back saying that they could do the back brakes and the "recall" would fix the steering wheel. I don't know what all these people messed up in my car but now I have to find out. Damn.

I took my car to Kia because of the recall in November my car was doing great after they did the recall my check engine light came on when I took it ack to Kia Atlanta South they claim they would not know until they did a diestanic test on it and wanted to charge me over a hundred dollars for it I refuse but when I got the car back the light was out the tricks people play and this time people who is on fix income does not have time for games.Never again will I go their because they were not honest to say it was something they did.

Amazing!!!! Treat you with the up most respect, take care of the customers one on one, greet you with a awesome smile and Hello. The service department is the BEST !! They go above and beyond. Mrs. Kim and her team, Awesome, Awesome.

Worst experience I have had with a service department in my life. I arrived at 11:30 for simple routine maintenance, which the workers apparently have no idea what that is. At 1 they come and ask me about my oil change and if it is okay that the do it since the price is $89! Ridiculous! Other Kia dealerships charge $69. I asked them to check my parking sensors, they can't even do that right telling me that it is my lane departure alert beeping. And they have to take the car back again to check the parking sensors. It is 2pm and here I am still waiting for my car to be finished, absolutely ridiculous to wait for an oil change and tire rotation for 2.5 hours. The workers are nice enough, Miguel was helpful, but there is no way I will ever come back to this Kia dealership, if I could give 0 stars I would. Avoid this service department like the plague, they over charge and seem incompetent at their job.

I went in for an oil change and tire rotation. One of my hubcaps was damaged and they fixed it free of charge. I also got a complimentary wash and vacuum. Everyone was pleasant and professional. They have free WiFi and have snacks and water in the lounge area.

I'm not knocking anyone or they hustle you get it how you live, but I went here one time I was young and ain't know no better, so I went as an first time buyer. This place is an big fraud I kid you not they already had the car (picked out an everything) I mean went all out and beyond to get me in that car wanted me to file bankruptcy, open up checking accounts, Write bounce checks that they knew was gonna bounce but insist that it would give you your money back I'm so happy I pulled out I would've been screwed. I wouldn't recommend anyone to go here honestly they just running an (legal)scam on folks that's all

Authorize your self with either of these to view contact details, your information will not be shared to any one
Newsletter Subscription for Virtuous Reviews LLP
One more step and you will be subscribed to our newsletters
We have sent you a verification mail on your email id, please verify it.