Lambs Music
#83 in USA
#7 in Fort Worth
Musical Instrument Accessory Dealers
8127B White Settlement Rd, Fort Worth, TX. 76108
Claim Listing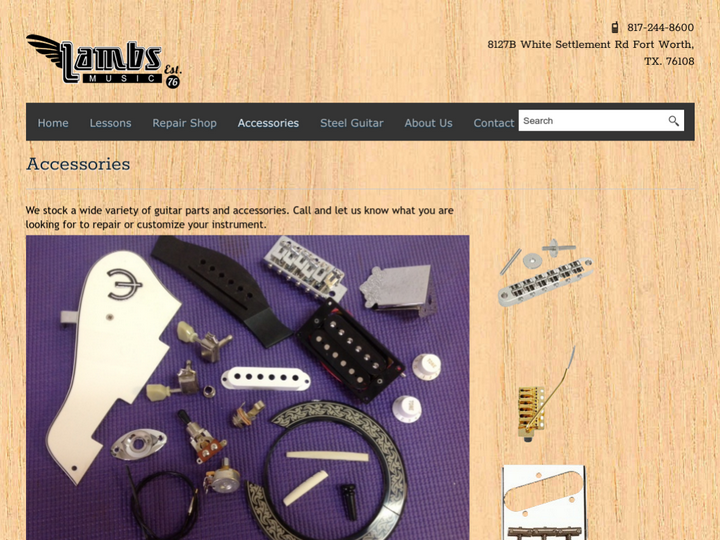 Company Description
Family Owned and Operated, Lamb's Music has been serving the musical metroplex for over 30 years. Offering warranty on almost every brand of stringed instrument, Lamb's Music has been the go-to spot for repairs and customizations for companies like Guitar Center, Gibson, Gretsch, Taylor Guitars, and Fender Musical Instruments as well as many others.
Review & Rating

When I was given the task of making major repairs to the 'Toadies' main guitar (Vaden Todd Lewis' beloved L6S) I took it to Lamb's music. The work they did on this guitar was exceptional. I really like/trust these people and their family run business. By the way, if you ever want to test the abilities of a luthier, give him a vintage style stratocaster and tell him to 'set up' EVERYTHING' on it. I recently did this with my beloved strat at Lamb's and dare I say; I think the guitar may actually be perfect.

I've been dealing with Lamb's for years, from my long hair rocker 4 set a gig days and my now balding 1 set and done days 😄😄 they have always treated my fair and took care of my guitar needs. Excellent family and outstanding workmanship!!!

I got music lessons here many years ago and I am still using everything I have learned. Lambs is also great with repairs and setups.

I brought my bass in to have the nut replaced. It was so misaligned and off center it was unplayable. I had to take it somewhere else. They also put polish on my natural oil finish, which left a waxy residue. I had to have it cleaned. What the heck? Awful experience.

Had two guitars restrung, a 80 year old fiddle gone through, and I couldn't be happier. Professionals here, real musicians. Highly recommend.

Steve did some warranty repairs on my Taylor electric (replacing pots) and I was very happy. He was busy but worked me in sooner than I expected and the repairs were factory quality. He's a good a resource for guitar repairs.

The best in DFW! I will gladly make the hour long drive to Ft. Worth to get any kind of work done on my guitar here. Thank you Steve for an all around amazing experience!

Need sonbasic repairs and setup. Really nice job. I'll be back.

Steve has repaired several of my guitars over the years , you cant get better repair are friendlier. Service anywhere i Highly recommend them for all your music need .

I brought Steve a 1974 Martin D-28 with a broken headstock. it was an ugly break with the whole tuning head being held on by the top veneer. Steve glued it back together and reset the neck while he was doing the repair. The headstock is a good as new and the guitar has never played better thanks to the neck reset. Amanda did the refinish work so skillfully its difficult to find the break with a magnifying glass. They even found a back cover for one of the Grover tuners that had been missing for years. They did the work for a reasonable price and did it on time while they were moving their shop. I live in Oklahoma City but consider it a short drive for this kind of expert work. Nice people too. Thanks to the Lambs!

Lamb's Music is a first rate guitar repair facility. They did a great setup on my Martin acoustic. I've brought quite a few guitars in to them for setup and repair over the years and have always been treated honestly and fairly.

Authorize your self with either of these to view contact details, your information will not be shared to any one
Newsletter Subscription for Virtuous Reviews LLP
One more step and you will be subscribed to our newsletters
We have sent you a verification mail on your email id, please verify it.