Lethal Rhythms
#87 in USA
#45 in Atlanta
Entertainment Agencies & Bureaus
1376 Chattahoochee Avenue, Atlanta GA 30318
Claim Listing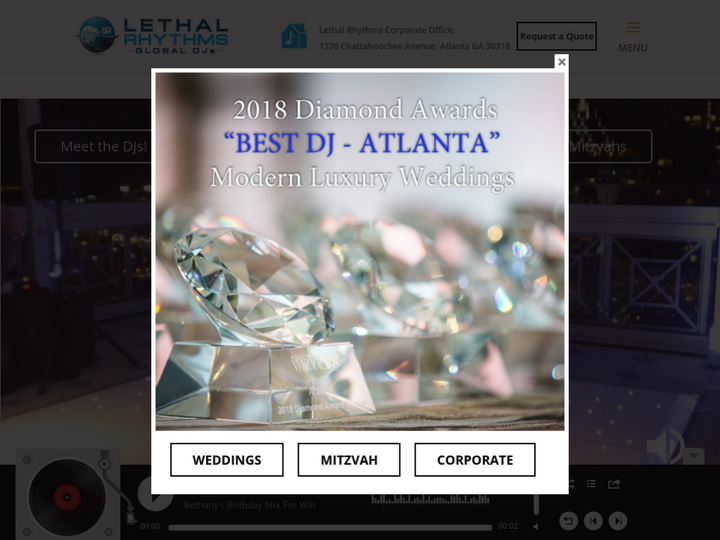 Company Description
Welcome to Lethal Rhythms! Home of International award-winning DJ Joel Rabe and his Professional Mix Atlanta DJ Team Why are so many brides RAVING about our amazing packed dance floors?? Since 2005 we have been ROCKING weddings! NO YMCA, NO CHICKEN DANCE, NO ELECTRIC SLIDE! Listen to our LIVE DJ mixes now – be prepared to dance!
Review & Rating

Thanks so much for an awesome wedding! I highly recommend Joel to other brides!

The owner is a pro. I had to witness first hand and enjoy his service and quality. Plus he knows how to deal with other vendors and collaborate with them. He is alert to his surroundings and knows your style! - Andrey Solo Films

DJ Joel Rabe is the absolute best!!!!! If you want an amazing DJ then Lethal Rhythms is the way to go!!!!

Lethal keeps the party rockin'. If you want entertainment, a party, and a truly memorable experience then this is a top-notch crew to deliver above expectations.

We have worked with Lethal Rhythms on several weddings, and they never disappoint. DJ's are pertinent to keeping a party going, and LR knows how to party! We always have plenty to capture as photographers when LR is running the sound table. We look forward to working with them, and refer them on the regular.

Jennifer Stewart Lackey
UK
Enjoyed working with DJ Rob last night at Brittany and Michael's wedding. He was on time, efficient and did a great job playing what the client wanted. I look forward to working with LR again soon!

Joel is amazing!!! The most important thing to my husband and I at our wedding was the photography and the music. He helped me pick out the ceremony music which was perfect! Not only did he get the dance floor moving, he had the dance floor crowded all night! We couldn't be more thankful!

His music selection is on point. We provided him with a list, weeks beforehand and he was able to put together his own stuff as well that suited our taste and style. His ear for music is without question, impeccable and accurate. Joel was also punctual to the wedding so he'd have time to set up, meet the wedding coordinator, etc. The lighting was excellent and made it more fun to dance. Not-so-Positives: Without putting all the blame on Joel, for whatever reasons and technical difficulties (software updates), he wasn't able to pull all the right songs, i.e. garter toss. However, it didn't matter much because he improvised and there was a super fun go-stop-groom-crawling game that had the crowd roaring. Then he was able to get the right song and all was good. The one thing that did irk me a little, was this: My sister (who is very, very pregnant and was my maid of honor) approached Joel several times throughout the night for either questions or clarification about a few things, and his responses were not very friendly nor personable. I completely understand that Joel may have been flustered due to the music/software technical difficulties, but I know that he could have been a bit more cordial to her. I'm sure he was just frustrated and to be perfectly honest, everybody was probably a bit stressed all night, but I know it wasn't easy for my sister to have to ask him questions when she had them. We'd met for lunch months before the wedding to discuss our music taste, event, etc. Joel promised a pre-party mix if we sent him a list of stuff we liked, so we did. This never materialized. He then promised to make up for that and this never happened either. I'm a very reasonable and patient person, but after failing to hold up his end of the bargain MORE than 3 times, I had to write an honest review. I don't like being jerked around and if a vendor is making promises, then they should deliver. Period. Talented? Without a doubt. Would do business with again? Not a chance.

Joel did an AMAZING job DJing our wedding. He knew exactly what would get 99% of our guests on the dance floor! Once the grandparents had made their way back to the hotels I gave Joel the go ahead to bring it up a notch, and that's exactly what he did! The dance floor was full the entire time. Everyone can't stop raving about how amazing our DJ was. He used uplighting to make the space fun and a great party! He also let me DJ for a minute, which was kinda fun and interactive for the guests! Great Job Joel we are overly excited that we were able to book you!

Joel is THE BEST and we had zero hesitation in his taste or professionalism. He is a bit of a fast talker but that is only because he is an expert and knows what he is doing. We have no doubt he will execute your event flawlessly like he did ours and get a crowd on the dance floor. Just a tip: Joel helped us pick a dance floor for our venue and it was STUNNING. It was white with twinkle lights and interactive. I'm telling you it really set the scene. We got so many complements. Also to this day people tell us how fun our wedding was + how good the music was and we can really only credit Joel with that. We are so happy and can't wait to hire Joel again. Maybe for a house party!!

Authorize your self with either of these to view contact details, your information will not be shared to any one
Newsletter Subscription for Virtuous Reviews LLP
One more step and you will be subscribed to our newsletters
We have sent you a verification mail on your email id, please verify it.