PEACHTREE CHRISTIAN CHURCH
Chapels
1580 PEACHTREE STREET NW ATLANTA, GEORGIA 30309
Claim Listing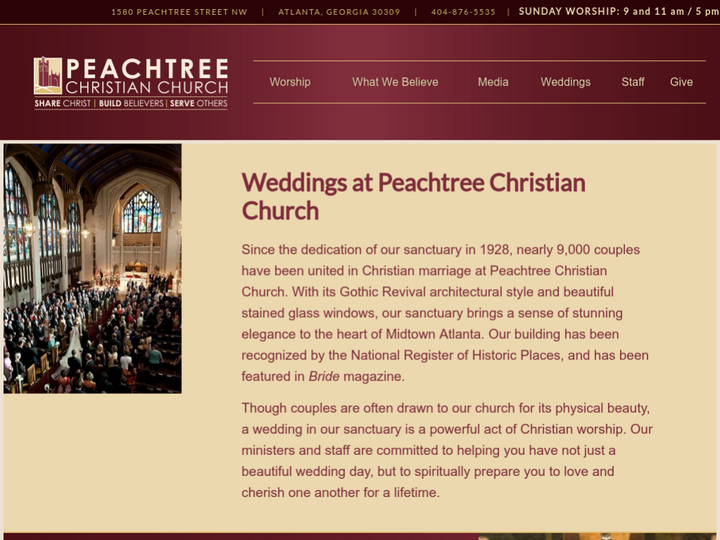 Company Description
Since the dedication of our sanctuary in 1928, nearly 9,000 couples have been united in Christian marriage at Peachtree Christian Church. With its Gothic Revival architectural style and beautiful stained glass windows, our sanctuary brings a sense of stunning elegance to the heart of Midtown Atlanta.
Review & Rating

Visited this church for a Sunday impromptu sermon, and we were welcomed in, served lunch afterwards, and our daughter was able to attend the children's sermon and Sunday school as well. It worked out better than planned. The church's interior architecture, the choir, the sermon, were all exceptional, adding to the worship experience. Thank you.

A beautiful place to worship. My family is a diverse one and we have always felt welcomed, loved and cared for. The Pastoral staff TRULY cares about their community. I've read some of the negative comments that were made about the closing of Childtown day care and while that saddens me, it was never a core part of the church's ministry. I encourage you to come a few times and get to know the church - you will likely love it.

Peachtree is an incredible community of people who care about each other on every level. The sanctuary is drop dead gorgeous, and worshiping in it is always a moving experience. And the new minister is awesome! I've been loving his sermons recently. They are definitely the type of messages Midtown Atlanta needs right now... challenging, intellectual and centered on loving ALL people. After walking out of the 11 O'clock service today, we were treated to lunch (courtesy of the church) as the children performed in their annual Christmas Pageant. In every adorable (semi-chaotic) way, the show was EXACTLY what I remembered from my own days in a children's choir. I'm so glad I decided to join this community of faithful, caring individuals.

We truly feel we have worshipped God when we are there.

Warm, welcoming church..beautiful too! Lots of great programs for kids including highschoolers!

PCC has been an incredible blessing to myself and my family that is frankly hard to describe in words. More important than our breathtaking place of worship in the heart of Atlanta is a community of the most loving, genuine, welcoming, and caring individuals you could ever imagine. If I were to look back 10 years from now, I was lost and skeptical about Christianity and my faith. PCC offered me a safe place to draw closer to Christ at my own will and pace without judgement or pressure and it has changed EVERYTHING for the better. Now some of my greatest, most trusted and loving friends are PCC members with whom we spend time on a regular basis. We've supported each other through great times, hard times, and incredibly sad times as well. Alongside my amazing brothers and sisters at PCC, I'm thrilled to be raising our children in the life of this church, to serve others as we're called to do, to navigate the gray that is life with people who genuinely care, and to welcome many... many more people into the grace of our community and the love of Christ.

I am always greeted with huge, warm smiles and genuine concern for me and my family. Fellowship and activities keep us involved and focused on what matters most.

Katlyn Elizabeth Chambers
UK
I am beyond proud to call this church my home. The staff (from the pastors to grounds keepers) are some of the most hospitable, compassionate, and kind people I have ever met. The pastoral staff tackles difficult topics with grace and humility. The congregation cares about making all welcome and greeting every new face we see. The worship services are so thoughtfully planned down to every little detail, and the music is PHENOMENAL. Peachtree is a great place for anyone in search of a community committed to working out life together.

Such an amazing place to worship and enjoy the gifts of god! The people here are so warm and friendly! Amazing children and family programs all year round including Sunday school, family movie nights, plays, and an amazing youth group! I could not be more grateful for the gifts and friends this church offers!

This is my favorite place in Atlanta! I can only tell you to please visit this community and share in the love and worship with people from all walks of life. Peachtree is in the heart of mid-town and has a wonderful community of young adults and students from SCAD and Tech. Peachtree Christian Church is more than a church it is a wonderful Christian community! We are so blessed to have found such a great place to worship and grow in our Christian walk. We have been welcomed and blessed by everyone at this church. There is a great group of staff and leadership at Peachtree Christian Church that makes PCC a very special place to worship.

Peachtree Christian Church is not just the most beautiful church around, it is so much more. The clergy, staff, and congregation are the most welcoming people I have ever met. They offer two Sunday morning services, a contemporary Sunday evening service, and a Wednesday noon prayer service. I always enjoy the Sunday morning service and sermon. The choir creates BEAUTIFUL music that touches me deeply. The 5pm evening Evensong service has an amazing group of musicians. I cannot say enough good things about this church. I am blessed to have found them and be a part of such a beautiful thing.

Opening Hours
Mon

Closed

Tue

5:00 pm - 9:00 pm

Wed

Closed

Thu

5:00 pm - 9:00 pm

Fri

Closed

Sat

Closed

Sun

Closed
Authorize your self with either of these to view contact details, your information will not be shared to any one
Newsletter Subscription for Virtuous Reviews LLP
One more step and you will be subscribed to our newsletters
We have sent you a verification mail on your email id, please verify it.